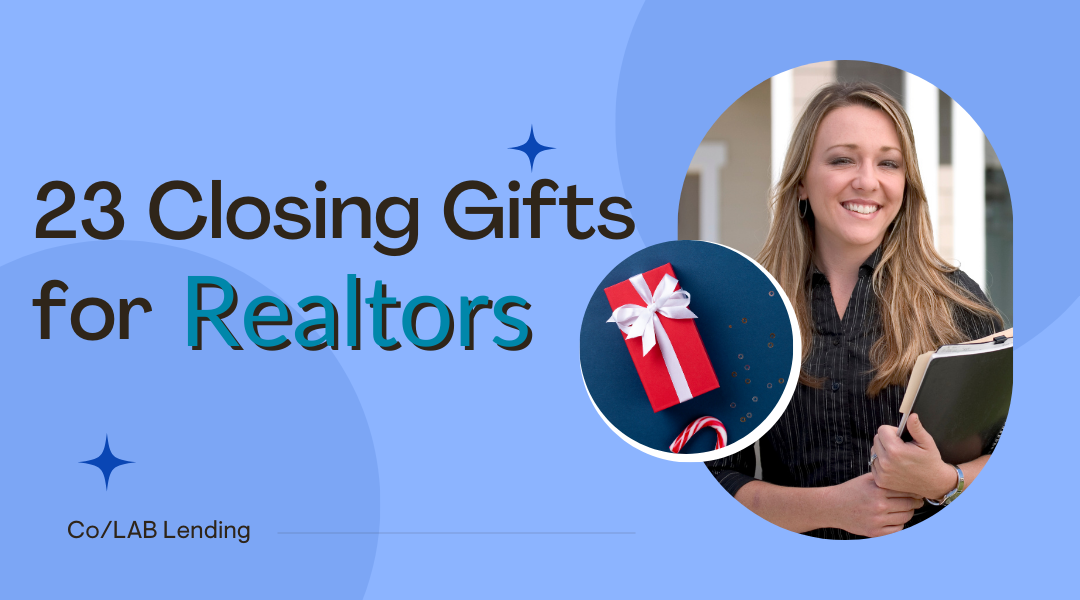 23 Thoughtful Closing Gifts to Show Your Appreciation for Realtors | Co/LAB Lending
* This post contains affiliate links verbiage.
Any good real estate agent is worth their weight in gifts!
Buying or selling a home is an incredibly involved process, and having the right realtor at your side makes all the difference in finding the perfect fit for you. In fact, according to research, 87% of buyers use real estate agents or brokers when buying their homes. With such an important role in closing on a home, it's only natural to want to show your appreciation with a closing gift. This article will provide 23 thoughtful closing gifts that you can give to your realtor as a token of gratitude for all their hard work. 
Never feel weird as a new homeowner or client that giving a gift is not the status quo.  Any successful real estate agent will tell you that receiving gifts from clients only happens once in a while.
Working with and alongside realtors for the past 20 years has given me the opportunity to explore and find some of the best gifts for the same realtors that are helping you buy and sell a home. Some gifts were a home run and some were a flop, so I want to share with you the best gifts I have found and doubled down on until today.
While you read through my suggestions while looking for the perfect gift, know that all of these gifts are great, but picking a gift that uniquely matches your realtor is where the magic happens and you will find the best closing gifts. Giving your gift at closing is a great opportunity to
Some of the best closing gift ideas don't cost much. Real estate agents work hard to help their clients, much harder than most people realize. Therefore the most simple acts of gratitude go a long way when done intentionally and sincerely.  Depending on your agent's personality and your time with them, here are a few categories of gifts and then some examples of gifts that have been very well received!
Personalized Gifts

Practical Gifts

Thoughtful gift

Local gift

Gourmet gift baskets
Personalized & Unique Closing Gift
Any personal gift that you pick out specific to your realtor is going to blow them away.  We are all very busy, so taking time out of your schedule to customize something for your real estate professional is going to leave a lasting impression.
Personalized Thank You Card
A personalized thank you card is the perfect closing gift for your realtor. It's a simple, yet meaningful gesture that shows your appreciation for their hard work throughout the closing process. Not only will they appreciate the thoughtfulness of the gift, but they will also be able to keep it forever as a reminder of your closing. You can find personalized stationery on many websites but my favorite is Etsy, like this one here.
A fun personalized gift from Etsy
Etsy is the perfect place to find closing gifts for your realtor. With thousands of unique and personalized items, you are sure to find something that shows your appreciation while being thoughtful and meaningful. From engraved pens and keychains to custom-made home decor items, Etsy has it all. Whether you're looking for a closing gift that's small but special or something bigger and more impactful, Etsy will have the perfect item for you. So take a look through their selection today – you won't be disappointed!
Make sure if you decide to order one of these personalized items, that you pick a seller within the United States and purchase the gift with enough lead time to get it by the closing date.  Here are a few I have personally purchased myself:
Mugs, Shirts & Sweatshirts that make your realtor feel like a superstar

Personalized Desk Pad, Perpetual Calendar, or Planner from Erin Condren
Gifting a personalized planner, desk pad or calendar from Erin Condren has been a favorite closing gift for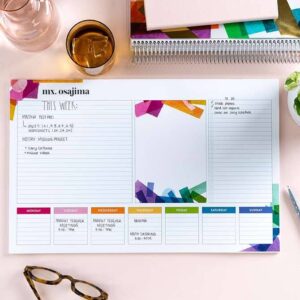 many of my clients. Erin Condren's range of stylish and functional products are perfect for helping your realtor stay organized as they manage their busy workload. From desk pads and perpetual calendars to planners, there is something for everyone. You can upload pictures and customize categories and dates that would be important to someone involved in the community.  I also want to mention that I have used this gift for employees, teachers, and family members.  If you can't tell, it is one of my favorites!
Thoughtful gift
Thoughtful gifts are the gifts that take up more of your time and energy to put together for someone.  Get your whole family involved if they went house hunting with you and ask them to add their own note or comments to the gifts below. 
Home-baked goods like cookies or cake
A thoughtful closing gift for your realtor could also be home-baked goods like cookies or cake. It's an easy way to show your appreciation—just make sure to include an extra batch, so they don't have to share with the rest of their team!
Give an Online Positive Review
Giving a review might seem like a simple gesture, but to real estate professionals who are constantly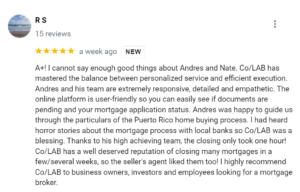 trying to stay top of mind and catch other clients' attention, a well-thought-out Google Review or a video
review in your new dream house, would be a gift that can keep on giving long after your closing.  No real estate agent will ever have enough positive reviews to not appreciate one that you leave.
A donation made in their name to a charity of their choice
The closing of a home can be an incredibly emotional experience – you're closing the door on one stage of life and opening the door to another. It's only natural to want to show your appreciation for the realtor who helped make it possible. A closing gift that will leave a lasting impression is one that keeps on giving.
Habitat for Humanity is a charity that a lot of real estate agents care about.
Gifts Pet owners
If you know that your realtor is a Fur Mommy or Daddy, grabbing a gift that they can enjoy with their fur puppy or kitty is a great way to touch their hearts.
Practical Gifts
A practical gift is any gift that your real estate agent can use in their daily lives that makes their day better.  Practical gifts are a great way to help someone check off something on their to-do list or save them from making another stop.
A plant for their office or home
A living closing gift is always a great idea and will be appreciated by your realtor. A money plant is one of my favorite closing gifts as it is both meaningful and beautiful. You can order one online or have it delivered to their office.
The Sill has a wide variety of plants you can pick from- https://www.thesill.com/

Urban Succulents also has a nifty niche – https://www.succulentlyurban.com/product-category/succulent-gifts-and-more/cactus-collection/
A bottle of wine or champagne
A bottle of wine or champagne is a great closing gift for your realtor. Not only does it show your appreciation for their hard work, but it's also an easy way to celebrate the closing of a home. Wine and champagne are classic closing gifts because they represent a special moment in time – when you have found the perfect home, If you are leaning toward a bottle of booze, do some research to see if there is a local brewery or winery that you can buy from. Even better is if you can give a bottle with a gift card to visit the local business to taste other varieties.
In Erie, PA we have a number of special wineries that dot the coast of Lake Erie.
A "Realtor Gear" bag for their car
You can also get your realtor a "Realtor Gear" bag for their car. It includes an insulated lunch box, a first aid kit, a flashlight, and other useful items.  You could also add items to this idea that are for protection, such as mase or an alarm.  Real Estate agents find themself in some sketchy situations! This closing gift is both practical and thoughtful—perfect for any real estate professional on the go.
When I gave this gift, I ordered a custom bag to put the gear in, like this one
An engraved pen or keychain
An engraved pen or keychain is a thoughtful closing gift for your realtor. Engrave their name, the closing date, or any special message to show them how much you appreciate their hard work and dedication throughout the closing process.
A useful and personalized gift from Etsy
Subscription to a real estate magazine, Ex. Inman
The importance of staying abreast of industry knowledge and trends cannot be overstated in the real estate profession. That is why a subscription to Inman or another industry publication is an excellent closing gift idea for your realtor. Not only will they appreciate the gesture, but they will also reap the benefits of staying up-to-date.
An Audible Subscription for the year
Gifting an Audible subscription for a year is a great closing gift that your realtor will appreciate. Audible subscriptions offer access to thousands of audiobooks, podcasts, and other audio content, so your realtor can stay informed about the latest trends in the real estate market. They can also listen to their favorite books or audio stories while driving around town.
Gourmet food or gift baskets
A Realtor's job is to know your town and all the hidden gems in it. They need to be the Area experts that other people go to with insider information on where to eat, shop and visit. If there is a local coffee shop or restaurant your realtor has never been to, give them the gift of a great meal somewhere they will want to tell other clients about. Don't go for chain locations, pick somewhere locally owned and operated.
A gift basket with gourmet food items – here are some of my favorites!
You can show your appreciation for your realtor by giving them a closing gift. One special closing gift idea is to have gourmet food items delivered to their home. It's a nice surprise that will make them feel appreciated!
Carmel Covered Apples from Mrs Prindables – Now I might be biased here.  I LOVE caramel-covered apples, so I assume everyone else does too.  The biggest thing for me is that I like to get things that others have not thought about.
Cupcakes by Melissa – is the perfect surprise for any realtors with kids or a team. When you order these treats, they are sent within 48 hours and come in a colorful box with the message of your choice. You can pick your flavors or send a box of favorites.
Tickets to a local event or show
You can say 'thank you' to your realtor by giving them a gift they can enjoy with their family members. You could get them tickets to something fun like a sports game, comedy show, or play. It's a nice way to show them how much you appreciate their help.
There are no wrong or right closing gift ideas when it comes to what you decide, but these closing gifts are sure to please your realtor. Ultimately picking a closing gift depends on personal preference and your agent's interests. Choose something that you think will make your closing special and memorable – it's the thoughtfulness of the gift that counts the most.
Tags In