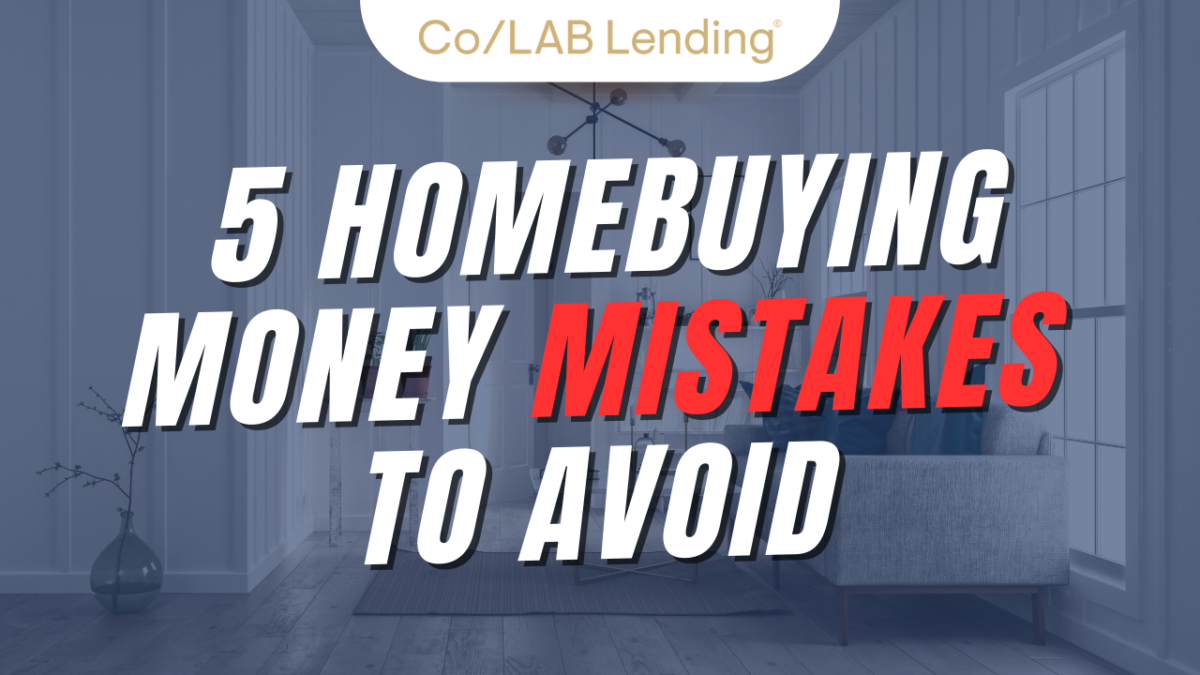 5 Money Mistakes to Avoid When Buying a House
1. Don't take out a mortgage that's more than you can afford
It's worth mentioning that this mistake can be avoided by getting preapproved upfront before searching for a home, but know your budget before getting preapproved, because your loan officer may tell you that you qualify for more than what you are comfortable paying each month.
Following these tips can go a long way in ensuring your success as a homebuyer and saving you from making costly mistakes along the way.
2. Don't forget about closing costs- they can add up quickly
As a first-time homebuyer, there is so much to think about when buying a house. To avoid running into money troubles during the process, remember to account for all of the costs associated with your purchase. From your deposit and down payment to title and legal fees, you should make sure that you are aware of all of them before actually buying your house.
Another important expense that people often forget to include in their budget is closing costs: these add up quickly and should be clearly communicated by the loan officer you talk to beforehand to ensure there are no surprises at the end when it's time to close on your new house.
Pro Tip:  As a mortgage expert who only helps clients with mortgages, we see sometimes that banks and some lenders do not quote all of the closing costs you will have.  It is important to understand that your closing costs should be similar at all lenders, so if one person is much higher or lower, you need to find someone you trust to walk you through the costs.
3. Don't buy a fixer-upper if you're not experienced in home repairs
House hunting can be an exciting journey to take but is also a significant monetary investment that shouldn't be taken lightly. It's important to do your research and avoid common home-buying money mistakes. One of the most important is to not buy a home that needs a lot of repairs (often referred to as a "fixer-upper")- if you have no home maintenance or repair experience. Unless working with experts in home renovations and repairs, taking on this kind of project could end up costing you significantly more than intended; so please approach with caution, because what looks like a killer deal, could be a killer wallet suck.
4.  Don't forget about the hidden costs of homeownership – aka – budget for repairs and maintenance
Buying a home is an exciting experience, but it pays to be prepared for the hidden costs of homeownership. One such cost that home buyers often forget about is home maintenance and repairs. It's important not only to budget for planned upgrades but also for emergency home repairs that are bound to pop up throughout homeownership. It's best practice to set aside a portion of your home budget each month in order to build a dedicated emergency fund. Doing so will help alleviate financial stress if the appliance repair man comes knocking or the weather takes a toll on your home. Home maintenance may not be the most glamorous part of owning a home, but it should absolutely be factored into your budget before signing those final papers!
5. Don't wait too long to buy a house
When you're ready to buy a home, don't second-guess yourself by waiting too long. In most cases, you'll benefit immediately from amortizing your mortgage, plus you'll reap the added bonus of appreciation rewards, especially if you plan to own for longer than five years. While change can be scary and there will always be people telling you why you should wait, it's important to remember that real estate is an investment in your future and it pays to take advantage of good opportunities right away.
There is no interest rate that should deter you from buying, just like you should not stop putting money into your 401K when the market is down, the same is true for buying a house.
As an example, if you are in the market for a house that costs $200,000, and decide that the rates are too high and you instead keep renting for 5-6 more years, the cost of appreciation (which is the home going up in value) and amortization (which is the act of your monthly payment coming back to you when you sell)  is estimated to be $61,284.  And as we all have heard, this type of money also has a cost when compounded.  So don't wait if you are ready to be a homeowner, just make sure you look for something in the price range that you are comfortable with.
In conclusion, buying a home can be a rewarding experience, but it's important to avoid common money mistakes. By doing your research, creating a realistic budget, and seeking the advice of professionals, you can make informed decisions that will benefit you in the long run. Remember, the key is to be patient, take your time, and prioritize your financial goals. By avoiding the five biggest money mistakes when buying a home, you can ensure that your investment will pay off for years to come.
If you're ready to take the next step towards homeownership, don't wait any longer to apply for a mortgage. With a wide range of options available, there has never been a better time to buy a home. Contact us today to learn more about the application process and find out which mortgage options are best suited to your unique financial situation. Your dream home is waiting for you – take the first step towards making it a reality by applying for a mortgage today.