First Time Home Buyers – Ready To Take The Next Step?
The easier a mortgage lender makes this process, the better, especially for first-time homebuyers, who feel lost by the complicated process getting a mortgage has become. It's crucial that these potential new homeowners have a trusted authority like Co/LAB Lending to both guide them through what can be an intimidating and expensive process.
INTERESTED IN A

 FRANCHISE 

OPPORTUNITY?
BUYING A FIRST HOME: A LITTLE GUIDANCE
Let's face it – the benefits of homeownership are well-known. But for first time home buyers, mailing a check once a month isn't the problem; it's the closing costs, down payment, mortgage insurance that can sometimes be frightening.
There are many low down payment options available for first time home buyers who do not have tens of thousands of dollars to go toward purchasing their first home. Understanding the impact of a lower down payment is where many buyers do not get the correct guidance.
For example, many fail to recognize that the down payment has a ripple effect throughout the mortgage loan's term, which can last up to 30 years in some cases. Generally (but not always!), the higher the down payment, the lower the interest rate.
Ideally, this down payment is equal to or greater than 20 percent of the home's purchase price. Anything below that will require additional mortgage insurance, which obviously increases the size of that monthly mortgage payment. However, depending on your circumstances, there may be products or programs with no mortgage insurance with less than 20 percent down.
Closing costs can be thought of in two categories — recurring and non-recurring.
Recurring closing costs consist of homeowner's insurance and property taxes. Property taxes fluctuate based on the political climate and financial situation of the jurisdiction in which the property is located, as does the price of homeowner's insurance. Property in high-density urban neighborhoods usually costs more to insure than rural or suburban homes because of crime and the threat of fire spreading from building to building.
Non-recurring closing costs include the fees directly related to the real estate transaction itself, including credit report fees, recorder's fees, notary fees, and title insurance you obtain through a title company or attorney.
If you're looking to ditch your landlord, you need a trusted mortgage broker to hold your hand through this sometimes headache-inducing process. Contact Co/LAB Lending today, to help with your first time home buyers loan, and we'll be with you every step of the way!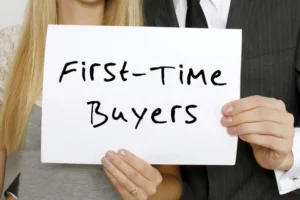 Some of the first time home buyers loan programs that you will want to make sure you understand are:
FHA 203K Streamline Mortgages
USDA Mortgages
3% Down HomeReady® Mortgage
One of the loan originators at Co/LAB Lending would be happy to sit down with you and discuss which of the above options could help you get your first time home buyers loan, with programs available for no down payment or 3.5% down payment.
Buying a home doesn't have to be difficult or even frightening
One of our experienced licensed loan officers will guide you through the entire process.