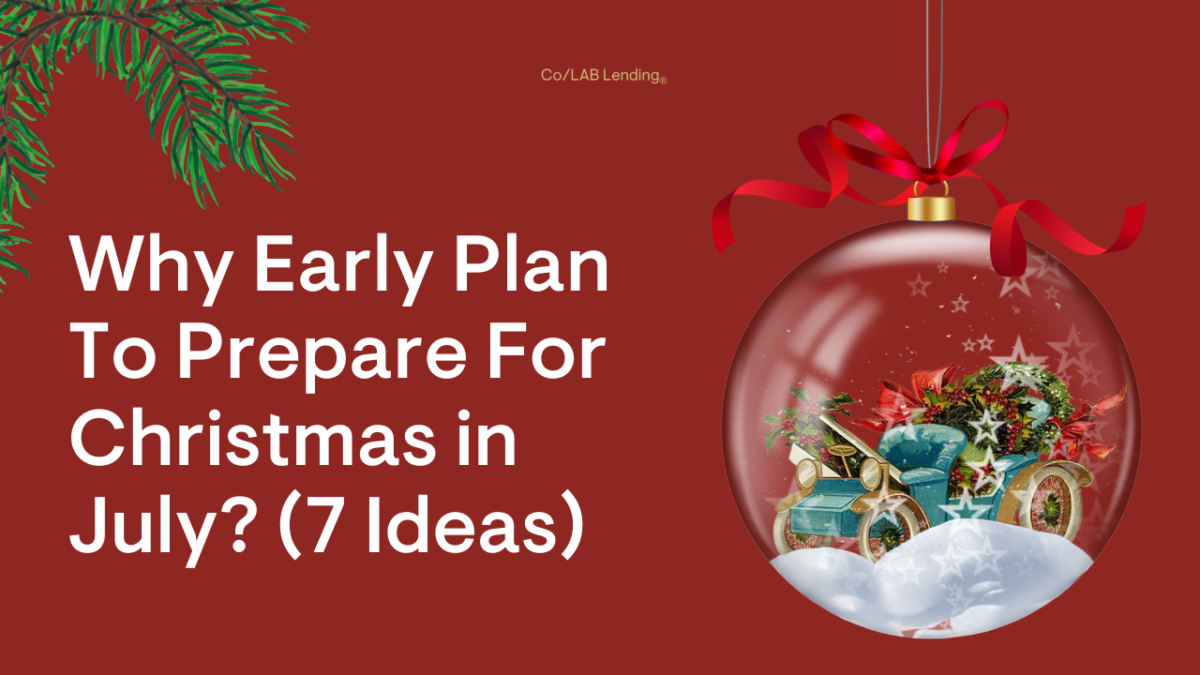 7 Ideas To Prepare For Christmas Right Now
.
The holidays occur at the same time every year yet when it comes to paying for all of those presents and food, we never seem to be prepared. Here are 7 tips on how to great ready for Christmas starting now in July!
Review Last Year's Christmas Spending
Right now you likely don't have the emotions of the holiday season looming over your head which is in your favor. You can decide exactly how much you want to spend and why during Christmas. Before you start making a budget, you need to see what you've done in the past so that you can better prepare for the future. Go back to old credit or debit card statements and review exactly how much you spent and from what stores you bought from last year. You can take it one step further and go back to websites to do a thorough review of your shopping cart. Take note on if you spent extra for expedited shipping or if you chose to buy online at a higher price than you would have bought it in-store because they were out of stock.
Make a List and Check It Twice
Now that you know what you spent, you need to make a list of who you want to buy presents for. Has your family expanded this year through weddings or births? Have you stopped talking to your Aunt Karen or Uncle Bobby? Next, you need to consider your food expenses. Do you plan on cooking at home or will you travel? If you're not normally home, will you be cooking for just yourself or your family? If you plan on hosting, will all of your family gather at your house? Will your previous plans change due to COVID? We don't know what the world will look like in 6 months and it's a good time to create a backup plan now. If you plan on traveling and plan to fly, look to see if you can get a deal on an airline ticket but make sure you have the option to change the date in the future in case you will have to. If you don't plan on traveling, will you mail your gifts instead? These are all things to consider when making your list.
Create a Christmas Budget
Create price points for each person, food, and travel. How have the holidays changed over the years? Is there anyone you used to shop for that you don't plan on shopping for now? Can you convince your family to do a "Secret Santa" style this year? That can help with eliminating everyone buying multiple presents for each other. My extended family is big and years ago we all decided to bring a gift for $20 and then we play a game where we steal each other's gifts. This really helped everyone spend less money as well as adding a friendly, competitive game while we digest our dinner and get ready for dessert.
Start Saving Now
Many people stress out in December when they don't have enough money in their bank account for the things that they want to buy. Others turn to credit cards to be able to float the money and then when their statements are due in January, there is an added level of stress after you get through the holidays. Take the total number that you'd like to spend and divide that number by six, which will then give you the monthly amount that you need to save from now until December. Then decide on how often you get paid (bimonthly, biweekly, weekly, etc.) and take that amount and put it away in savings or another account so that you won't touch it. Do you normally get a Christmas bonus that you use for gifts? Keep in mind that bonuses are not guaranteed. If you work in an industry that has been negatively impacted by COVID, you may not get one as planned like previous years. On the other hand, are you working in a position where your company is offering overtime and can't get enough help? Take advantage of that if you can, especially if it is something that is not normally offered. Are you in a sales position where you are commissioned? If so, is there any opportunity to put a few more hours in each week to close more deals? Additionally, are you able to pick up a part-time side hustle that could accommodate your current schedule? There seem to be so many different types of jobs today that are flexible. With COVID, our habits have changed and it's possible that you find yourself having more time on your hands than you ever have.
Take advantage of current sales
Is there anything that you can purchase today that will still be something that your loved one will want in six months? Many stores especially those with physical locations are offering crazy deals. I was just at DSW this afternoon and they had shoes for 70% off. You can put a serious dent into that budget by buying now when companies are incentivizing you to spend your money. They are desperate for business as many have been closed for months and need the revenue right now. Many stores have also extended their return policy since you are unable to try on clothes in the store so that can help with planning too. When you are out, ask if you can receive a first responder discount if you qualify. Many stores are offering 10-20% off right now for those on the frontline. It's unclear what kind of deals will be offered on Black Friday which is normally a major discount day. I've heard of a few stores recently that have already announced they won't be participating in Black Friday deals and there may be others that follow suit since they are offering discounts now.
DIY gifts
Instead of buying something, is there a gift that you can make yourself? COVID has given many people the opportunity to learn a new skill or have more time on their hands at home and this could lead to creating your Christmas gifts rather than purchasing them. Some ideas include making homemade candles, building something out of old wood lying around the house, or collaborating with your children on handmade crafts.
Price Hacking
Take advantage of different websites that track sale prices. "Camel camel camel" is an example of a browser extension that will track changes in pricing on Amazon. Make sure to check out different websites like these that can help save you additional money. I've also heard that "Honey" is a beneficial add on. Do you have any credit cards that offer cash back in the form of gift cards? Many credit cards offer gift card deals and they add on $5-10+ additional dollars to the gift card when you cash in your points.
The holidays are hard enough without adding in a global pandemic and whatever else 2020 wants to throw at us. You don't have to do all of these at once but even one should help eliminate some of the stress that occurs during the holiday season. Happy Saving!
Mortgage Consultation Today!
Talk to a Co/LAB Lending Loan Officer to discuss your mortgage options. Our team is happy to answer your questions and help guide you to the perfect mortgage options.
Tags In