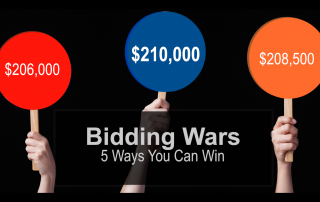 Five Strategies to Help You Win a Bidding War
Between the romanticization of house-flipping through the advent of reality TV and a relatively low mortgage rates, real estate is hotter than ever. With this perfect concoction, you may just find yourself in a bidding war.
However, just because there are other offers on the table doesn't mean you should be discouraged. Below, we outline five of the best strategies to boost your chances of winning a bidding war.
 1. Write a Letter
There is something so sincere and nostalgic about a handwritten letter. However, an old-fashioned letter can be a powerful and persuasive tool in the homebuying process. Tell the owner about your situation and why you want the house. Is it because it seems like a perfect family home? Is it the history of the property that you find fascinating and intend to maintain?
All too often we forget the emotional attachment we have to our homes. While real estate is driven by dollar signs, sellers may hit the breaks for a moment to read a well-polished handwritten letter.
In an interview with Nerd Wallet, real estate agent Eileen O'Reilly said, "I even have [potential homebuyers] add a couple of photos of them and their kids or pets. I've had selling agents tell me that it was the letter and the complete offer packet that won my clients the listing."
2. Hire an Experienced Real Estate Agent
While it's not mandatory, having an experienced real estate agent on your side can make a huge difference. They'll be able to lend insights into your local market, guide you through negotiations, and advocate for you during any tough conversations that can make a seller's blood boil and ultimately kill the deal.
Before you decide on a real estate agent, make sure you ask about their experience and talk to others who have worked with that realtor in the past. Moreover, you want to find someone who you can converse easily. While knowing the right questions to ask is important, "A conversation is more important than anyone question in particular," says Tom Nicastro, a real estate agent for Coldwell Banker.
3. 
Use an Escalation Clause
Strengthen your offer by using an escalation clause. An escalation clause sometimes referred to as an escalator, is a real estate contract that allows potential buyers to outbid other "competitors" by stipulating that he or she will increase their bid by a certain percentage in order to come in over the other offer(s). This addendum generally has a cap.
For instance, if you put an offer on a house that is selling for $200,000, and other bids begin to roll in, your bid could stipulate that you're willing to come in $1,000 over other offers up to a set amount, say $215,000.
This strategy works well for two reasons. One, it shows that you're serious about the property. Two, it allows you to beat other offers (up to a certain amount).
 4. Limit Contingencies
Depending on the market, the seller can have a significant upper hand. When this is the case, he or she will be looking for strong offers that are clear and concise. For this reason, it's important to limit your contingencies in a competitive market (a contingency is a provision in a real estate contract that stipulates certain criteria must be met in order for the agreement to be binding).
While there can be just about any contingency spelled out in a contract, common specifications include a satisfactory walk-through, a passing inspection, or a hard closing date. Try to be flexible and your bid will count for a lot more.
5. Get Preapproved for Financing
Some sellers won't even accept an offer from a potential buyer unless they're pre-approved. For that reason, it's critical you have your preapproval letter in hand if you're shopping in a competitive market. This sends a message to the seller that you're serious and all systems go.
You may ask yourself, that's all well and good, but what is a preapproval? Well, here you go: to be pre-approved means that a bank or lender has checked your credit history, determined that you're eligible for the loan, and has determined how much they're willing to let you borrow.
Being pre-approved allows homebuyers to act quickly when they find a home they want. Moreover, it removes the stress of writing an offer and submitting it for pre-approval simultaneously.
Finding Financing
Finding a mortgage can be a headache, especially when you're trying to find a loan that works for you. At Co/LAB Lending, we have a huge range of options that we can align with your individual home financing situation. If you're looking for a loan, contact us today by clicking here.
Mortgage Consultation Today!
Talk to a Co/LAB Lending Loan Officer to discuss your mortgage options. Our team is happy to answer your questions and help guide you to the perfect mortgage options.