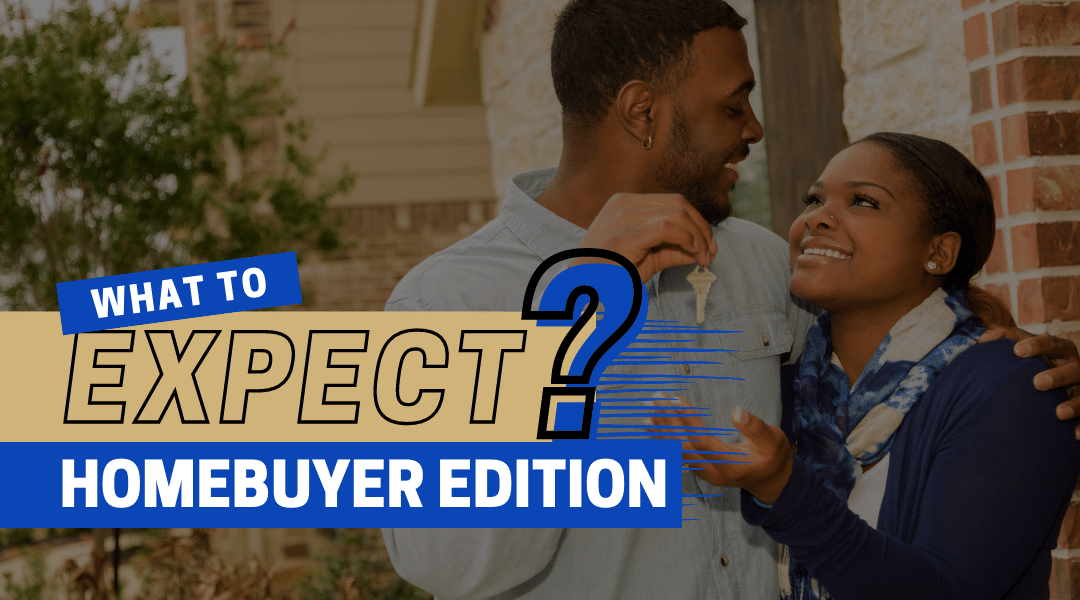 Homebuyer Edition: A Comprehensive Guide on What to Expect
The Home Buying Process: What to Expect
Can you believe January 2022 is almost over? It seems like so much has changed in the last two years. Whether you are looking to get back to normal or trying to create a new normal one thing remains true; homeownership is a sound financial investment. If you're looking to purchase your first home this year, consider this your what to expect when you're expecting:  homebuyer edition.
Before you fall in love with that house on your morning walks through the neighborhood you want to live in, start planning the new paint colors for the kitchen and imagine yourself throwing dinner parties in the garden; be prepared to make the most competitive offer with a pre-approval. Yes, there is a difference between a pre-qualification and a pre-approval. The latter is verified with documents necessary for underwriting, loan approval and the data run through an automated underwriting system to ensure the loan meets the necessary guidelines according to secondary market requirements. All of those big official words mean a pre-approval is much better than a pre-qualification.
Understanding Pre-Approval in Home Buying
2 years of employment history to show that you have stable and continued income
60 days of bank statements to reflect the necessary funds toward the transaction from a verifiable source
Driver's License
Social Security
Authorization to pull a credit report
Sounds easy, right? Well, it can be, but it can also be that the items listed above require additional documentation to explain inconsistencies or abnormalities. A pre-approval gives you the opportunity to address this before you submit an offer and add a timeline of 30-60 days to get it all done. I'll admit an often ignored secret about the home buying process is that it is stressful. It is the single most expensive purchase some people make in their entire lives.
You may have multiple parties included and not limited to the seller, real estate agents, insurance agents, title agents, mortgage bankers, appraisers, inspectors, friends, and possible family. Every person in this situation is going to try and provide their expertise, advice, and opinions. Let's take a moment to talk about what real estate agents do for the sellers and you as the buyer.
Seller's Real Estate Agent
They will meet with the seller to understand their needs when it comes to their listing. The seller's agent will have to show the seller that they have knowledge about the home selling process as well as their marketing and negotiation skills. This means that the seller wants someone who will help them get the best price for their house. With that being said, the buyer's agent will do all they can to help you get into the house of your dream.
After the seller decides that this is the agent they want to work with, the agent will take the listing to the appropriate listing services to get the house on the market. Then they will take photos of the house for the listing and help the seller present their home. Lastly, if the seller decides to have an open house, the seller's agent will stage the house to make it look perfect for possible buyers. Moving on, let's go on to the buyer's agent.
Buyer's Real Estate Agent
 So, you decided you wanted to buy a house. But you aren't quite sure if you want to work with a real estate agent or not. Let us explain what to expect when you're buying a home. First, you'll have to meet with an agent, who will interview you and try to understand your buying needs. Once you obtain a real estate agent, they will then search their listing services to find a house that fits your needs.
Could you imagine trying to find showings and open houses on your own that work around your schedule? With a real estate agent, you won't have to! They will do that for you. When it comes time to put an offer in on a house, your agent will demonstrate to you, their skills. At the end of the process, you should have a set of keys in your hands that will open the door to your new home.
We have more of what to expect so back to the Process
You may end up needing what feels like ten thousand pieces of information to be disclosed, verified, and reconfirmed within a short period of time. That can be, and often is, stressful. But getting pre-approved can help mitigate some of that stress.
What else does a pre-approval offer?
To your agent, it reflects your commitment to purchasing a home.
To the seller's agent, it indicates your qualification as a buyer with financing secured.
The process of finding a home and having your offer accepted can be less than 30 days or it can take months. During that time, it is important that you do not make changes to your financial portfolio. That means no new credit cards, auto loans, recreational vehicle loans, and/or 0% interest financing for appliances or furniture. Keep your employment and income the same because your approval may be based on a 2-year average of income. Don't move money around between accounts which may trigger disclosures regarding a suspicious activity report. Most importantly, if something unavoidable happens, contact your mortgage broker to discuss how it could impact your pre-approval.
Last thing we have on our what to expect list is:
As you wait for the home of your dreams, you might as well learn a bit more about the other people involved in the process.  You've already become familiar with the real estate agents – one for the buyer and another for the seller- your respective fairy godparents to ensure their wants and needs are met throughout the transaction. An insurance agent will help with your homeowner's policy and if necessary, flood insurance. Another form of insurance issued during the purchase is the title insurance policy which protects against claims of ownership. It is issued at closing by the title guarantee company and handled by the title agent or attorney preparing the legal documents for signature at closing.
There are several different types of inspections that occur. The first are the ones you select as part of the sales agreement which may be required depending on the type of financing. An inspector will spend time examining the home to determine deficiencies that may need to be addressed.
The home buying process may not always be easy but in the end, it is worth it. Last year, there were 7.1 million houses sold in the U.S. alone. Imagine having a home that is yours. You have a space all to your own, to throw parties, grow a family, or just to be on your own. Today is your day to start the process and achieve your dream of being a homeowner.
Related Article: How To Get Preapproved For a Mortgage
We hope that we covered everything you need to expect when you are buying a new home. Remember that you can book a free consultation with us: SCHEDULE YOUR FREE MORTGAGE CONSULTATION
Mortgage Consultation Today!
Talk to a Co/LAB Lending Loan Officer to discuss your mortgage options. Our team is happy to answer your questions and help guide you to the perfect mortgage options.