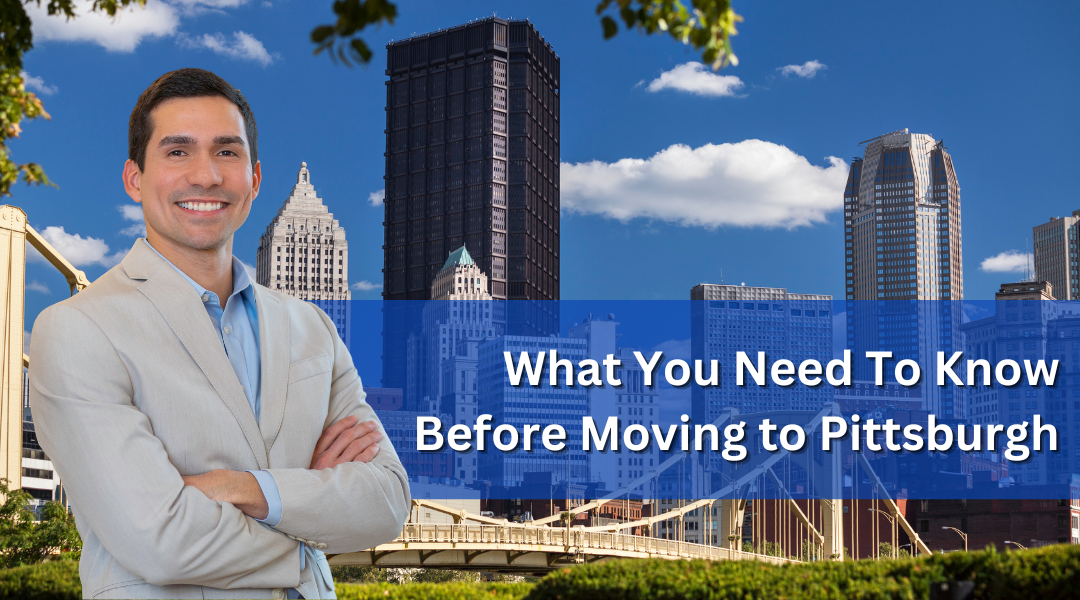 Living in Pittsburgh 2023: Fun Facts and Helpful Tips for New Residents
Are you curious about what it is like to live in Pittsburgh PA?
If you are, you are in the right place because today I am going to be talking about Pittsburgh Living & all the things to consider if you are planning on moving to Pittsburgh Pennsylvania. What are some things to consider before living in Pittsburgh, PA?
Fun Facts and Helpful Tips for New Residents
Get ready to fall in love with this city of bridges! Known for its stunning skyline, friendly people, and rich history, Pittsburgh is an ideal place to call home. Here are some interesting facts about this vibrant city that will make you want to pack your bags and move in right away!
Did you know that Pittsburgh has more bridges than Venice, Italy? With over 446 bridges, the Steel City has earned the nickname "City of Bridges." While this makes it easy to get around, it can also be easy to get lost. So, make sure to use a navigation app like Waze when traveling around!
Pittsburgh's climate is another unique aspect of the city. Despite its location in the northeastern part of the United States, Pittsburgh has more days of rain and snow than Seattle, Washington. This means that it's important to be prepared for all types of weather when you're living in Pittsburgh.
For thrill-seekers, Pittsburgh has a treat in store: the steepest street in the United States. Some of the houses in Pittsburgh are set up on hills and steep inclines, making for a challenging but exciting driving experience.
If you're interested in higher education, you'll be impressed by the University of Pittsburgh's Cathedral of Learning, which is the second-tallest university building in the world. This 42-story Gothic Revival skyscraper is a must-see attraction in Pittsburgh living.
For sports fans, Pittsburgh has a rich history that includes hosting the first World Series in 1903. The Pitt Pirates played against the Boston Americans in a thrilling matchup that went down in history. Today, Pittsburgh is home to several professional sports teams, including the Pittsburgh Steelers, the Pittsburgh Penguins, and the Pittsburgh Pirates.
For those who love a good night out, Pittsburgh has more bars per capita than any other city in the country. With 12 bars per 10,000 residents, Pittsburgh has a vibrant nightlife that's sure to keep you entertained.
If you're ready for Pittsburgh living, the most helpful tip is to get to know your neighbors and get involved in the community. Pittsburgh residents take pride in their city and are always willing to lend a helping hand. With a population of over 300,000, Pittsburgh can feel like a small town where everyone knows everyone else.
As a Pittsburgh resident myself, I can tell you that there are plenty of resources out there to help you learn about the city. However, nothing compares to the advice of those of us who live here. In some of our upcoming videos, I'll show you around different areas of Pittsburgh to give you a feel for what it's like to live in this town.
To get started, check out websites like UncoveringPA.com, which has a section dedicated to Pittsburgh, and Niche.com, which provides statistics and rankings for various neighborhoods. With its rich history, stunning architecture, and friendly people, Pittsburgh is an amazing place to call home.
The Real Estate Market in Pittsburgh
Whether you are relocating for work, family, or just looking for a change of scenery, the Pittsburgh real estate market has a lot to offer. However, with so many different neighborhoods and areas to consider, it can be overwhelming to know where to start your search.
First things first, it's important to understand that the Pittsburgh real estate market is still a seller's market. This means that there are more buyers than there are homes for sale, and competition can be fierce. However, the good news is that homes are now selling under the asking price, compared to the bidding wars that were happening just a year ago.
The median sale price for a 3-bedroom home in Pittsburgh is around $225,000, which is very affordable compared to other major cities. However, keep in mind that this number can vary depending on the location and size of the house.
If you're unsure where to start your search, it's best to work with a good buyer's agent who can help you navigate the market and find the perfect home for you. Our team has helped countless people find their dream homes in Pittsburgh, and we would be happy to do the same for you.
When it comes to choosing a neighborhood or area, Pittsburgh has a lot to offer. The city expands into multiple counties, including Allegheny, Armstrong, Beaver, and Butler. Within these counties, there are numerous cities and townships to choose from, such as Wexford, Shadyside, Allison Park, and Cranberry Township.
For those looking for the best townships in Pittsburgh, there are many options to consider. Aspinwall is ranked as the #1 best place to live in the Pittsburgh area, while Fox Chapel is said to be best for families. Knoxville is the most diverse, while McMurray is one of the best areas to buy a house. Bradford Woods boasts some of the best public schools, while North Braddock and West Brownsville are some of the most affordable areas to consider.
Ultimately, the key to finding the right home in Pittsburgh is to work with a knowledgeable and experienced real estate agent who can help you navigate the market and find the perfect fit for you. If you're planning on moving to Pittsburgh or just considering it, please reach out to us. Our team is here to help and guide you every step of the way.
Pittsburgh Living: Things to Do, Day or Night
First up, for those who love history, you can't miss the Carnegie Museum of Art. Located in the Oakland neighborhood of Pittsburgh, this museum is one of the most comprehensive art museums in the country, with over 35,000 works of art spanning from ancient times to the present day. From paintings and sculptures to decorative arts and design, the Carnegie Museum of Art has something for every art lover.
Another must-visit for history buffs is Bicycle Heaven. This unique museum in the North Side neighborhood of Pittsburgh is the largest bicycle museum in the world, with over 3,500 bicycles on display. From antique bikes to modern-day models, Bicycle Heaven has it all. They even offer guided tours, bike rentals, and repairs, making it a one-stop shop for all your biking needs.
For families with kids, the Pennsylvania Trolley Museum is a great choice. Located in Washington County, just outside of Pittsburgh, this museum features vintage trolleys from the 1890s to the 1950s. Visitors can take a ride on a restored trolley and learn about the history of public transportation in the region. There's also a museum store and picnic area on-site, making it a fun day trip for the whole family.
If you're looking for a unique shopping experience, Playthings Etc. is a toy store like no other. Located in Butler County, about 30 minutes north of Pittsburgh, this store features over 3,000 square feet of toys and games, including hard-to-find items and vintage toys. Kids and adults alike will love exploring the aisles of Playthings Etc.
For those who love the outdoors, Pittsburgh has plenty of options. The Ghost Town Trail, located about an hour east of the city, is a 46-mile trail that winds through the beautiful countryside of Cambria and Indiana counties. Along the way, visitors can explore the remains of old coal mining towns and take in stunning views of the surrounding hills and forests.
For a more relaxing outdoor experience, check out the Todd Nature Reserve in Sarver, about 40 minutes north of Pittsburgh. This 175-acre nature preserve features hiking trails, gardens, and a pond, making it a great place to escape the hustle and bustle of the city.
And for those who love a good holiday light display, Shadrack's Christmas Wonderland in Butler County is a must-see. This drive-through light show features over two miles of twinkling lights, synchronized to music that visitors can tune in to on their car radios. It's a magical experience that's sure to put you in the holiday spirit.
If you're a night owl and love to explore the city's nightlife, Pittsburgh won't disappoint you. The city is home to numerous breweries, distilleries, and bars, where you can savor a wide range of local and international beers, wines, and spirits. One of the best places to check out is the Levity Brewing Co., which offers an impressive selection of craft beers made on-site, along with live music and events.
If you're the creative type and enjoy hands-on experiences, you must visit the Pittsburgh Glass Center. Here, you can try your hand at glassblowing and create your own unique glass art pieces. The center offers classes, workshops, and events throughout the year, so you can learn from the experts and unleash your creativity.
For sports fans, Pittsburgh is a paradise. You can always find an exciting event happening at PNC Park, the home of the Pittsburgh Pirates baseball team, or Heinz Field, where the Pittsburgh Steelers football team plays. Whether you're a die-hard fan or just looking for a fun night out, these iconic sports venues are sure to give you a memorable experience.
In conclusion, Pittsburgh has a lot to offer, and this is just the tip of the iceberg. Keep an eye out on our YouTube Channel for upcoming videos where we will show you around the city and introduce you to some of the amazing professionals that can help you make the most of your time here.
Mauricio Gonzalez-Roberts
Director of Sales & Loan Originator
NMLS 1500467
412.596.2056
Tags In