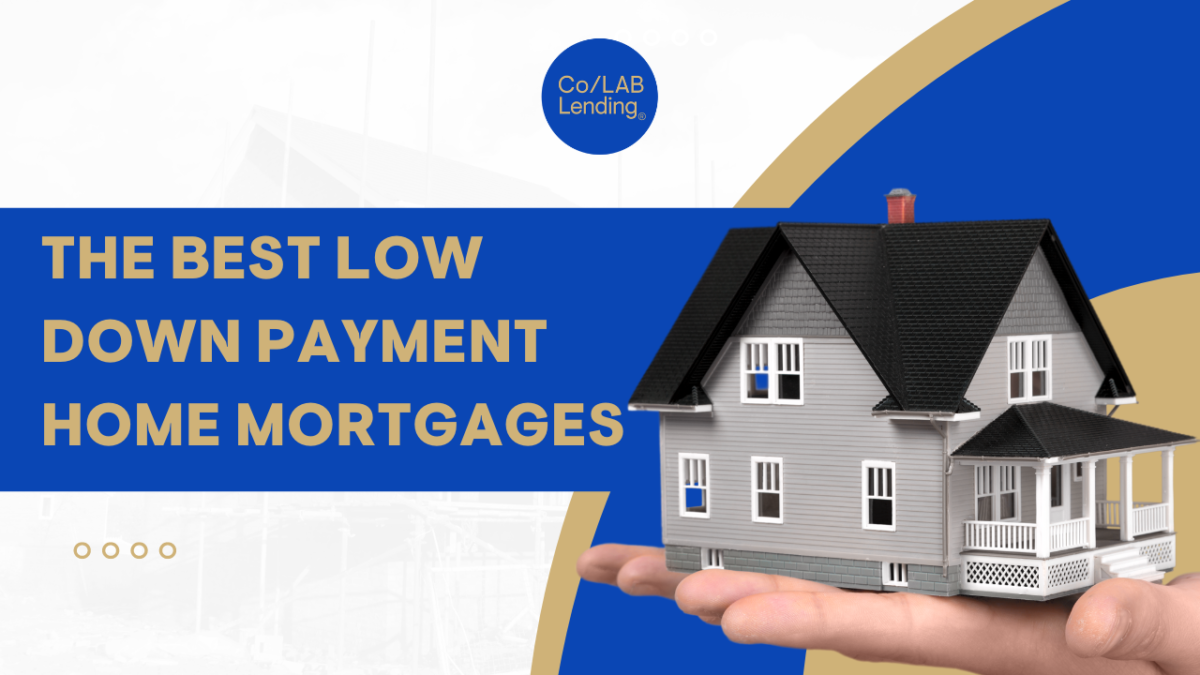 The Best Low Down Payment Home Mortgages
.
There are a lot of moving parts when it comes to securing a mortgage and buying a home, but for many people, one part of the process starts long before your first meeting with a realtor or loan officer: saving for a down payment. Today we are going to share with you the best low down payment for a home mortgage.
You might spend years squirreling away money in hopes you'll have enough to meet the minimum you need to buy a home. But what if you didn't need to save as much? What if you could keep more of that money in your pocket, so you still have funds left in your bank account to cover emergencies and all the new costs associated with being a homeowner?
There are home loan programs out there that can save you serious cash when it comes to your down payment, and we'll cover three of the best in this blog post. These loan programs are open to first-time home buyers and experienced home buyers.
U.S. Department of Agriculture (USDA) home loan programs
The first program you should know about is managed through the U.S. Department of Agriculture (USDA). According to the USDA website, its home loan programs help approved lenders provide low- and moderate-income households the opportunity to own a property that will serve as a primary residence in eligible rural areas. This loan program requires the lowest downpayment of the three options we'll review today. Believe it or not, USDA requires 0% down on USDA-approved properties. The loan also provides an avenue to receive up to 6% in seller's assistance, which can be used to cover other expenses associated with buying a home such as closing costs.
That all sounds great, but USDA mortgage loans do have requirements you must meet in order to qualify, including limits on income and property location. Eligible properties must fall in approved areas and there is an income cap based on your area. Home loan experts recommend a minimum credit score of 620 for the program. It's important to note that two credit scores are required for this program, so if you're someone who hasn't built up their credit, this might not be the loan for you. The program also requires your debt-to-income ratio to be 41% or less. Your debt-to-income ratio is the percentage of your gross monthly income spent on monthly debt payments like rent, credit cards, and student loans.
Traditional home loans often require buyers to acquire mortgage insurance if they cannot meet the minimum down payment—typically 20% of the home price. Mortgage insurance is an insurance policy that protects the lender if you default on payments, pass away, or cannot meet the contractual obligations of your mortgage. With a USDA loan, the monthly burden of mortgage insurance is cheaper than a traditional loan. For example, on a $100,000 home purchased with a USDA loan, the monthly mortgage insurance payment comes to $30 for the life of the loan.
USDA Summary
Minimum down payment: 0%
Seller's assistance: 6%
Minimum credit score: 620
Debt-to-income ratio maximum: 41%
Income restriction: Yes
Location restriction: Yes
Federal Housing Administration home loans
Next up is a Federal Housing Administration (FHA) loan. These loans are designed for low-to-moderate-income borrowers who may have lower than average credit scores. They require a down payment that is lower than traditional mortgages—sometimes as low as 3.5 percent. Similar to the USDA program, seller's assistance of up to 6% is available. Compared to the other two loan types mentioned in this blog, this loan is the most flexible when it comes to credit scores and income restrictions.
Another important characteristic of an FHA loan is that it is funded by a lending institution, such as a mortgage company or bank, and the mortgage is insured by the U.S. Department of Housing and Urban Development (HUD). That means if you default on your loan, the FHA will pay a claim to your lender.
Technically, there is no minimum credit score for FHA loans, but there is a process that loan officers will plug your information into to see if you automatically qualify or if a bit of legwork needs to be done to get you a loan. It's best to have a credit score of 580 or above for this type of loan. Unlike the USDA loan, there are no income or property location restrictions.
Mortgage insurance on  FHA home loans can run as much as or more than a traditional loan. For a $100,000 home, the monthly payment comes to $61.
FHA Summary
Minimum Down payment: 3.5% with a credit score of 580+ and 10% for a credit score of 500 to 579
Seller's assistance: 6%
Minimum credit score: 580
Debt-to-income ratio maximum: 52%
Income restriction: No
Location restriction: No
Conventional loan
The third type of home loan program to consider is conventional loans such as HomeReady and Home Possible. Both the HomeReady and Home Possible options require a down payment as low as 3% and offer up to 3% in seller's assistance. Key features of these loans include low down payments, fixed-rate mortgages, reduced mortgage insurance coverage levels, flexible closing cost funding options, and no cash-out refinancing.
Your credit score will determine several elements of this loan, from the interest rate to your mortgage insurance. If you're buying a $100,000 home and have a credit score of 740, your monthly mortgage insurance payment would come in at around $47. If your score falls closer to 655, that could double or triple the amount you'll pay for mortgage insurance.
Conventional Loan Summary
Minimum down payment: 3%
Seller's assistance: 6%
Minimum credit score: 620
Debt-to-income ratio maximum: 41%
Income restriction: Yes
Location restriction: No
Every person's life situation is different and one of these loans might be a better fit for you than the others. It's important to sit down with a loan officer and review your options in order to find the right program for you that gets you into the house of your dreams.
Mortgage Consultation Today!
Talk to a Co/LAB Lending Loan Officer to discuss your mortgage options. Our team is happy to answer your questions and help guide you to the perfect mortgage options.