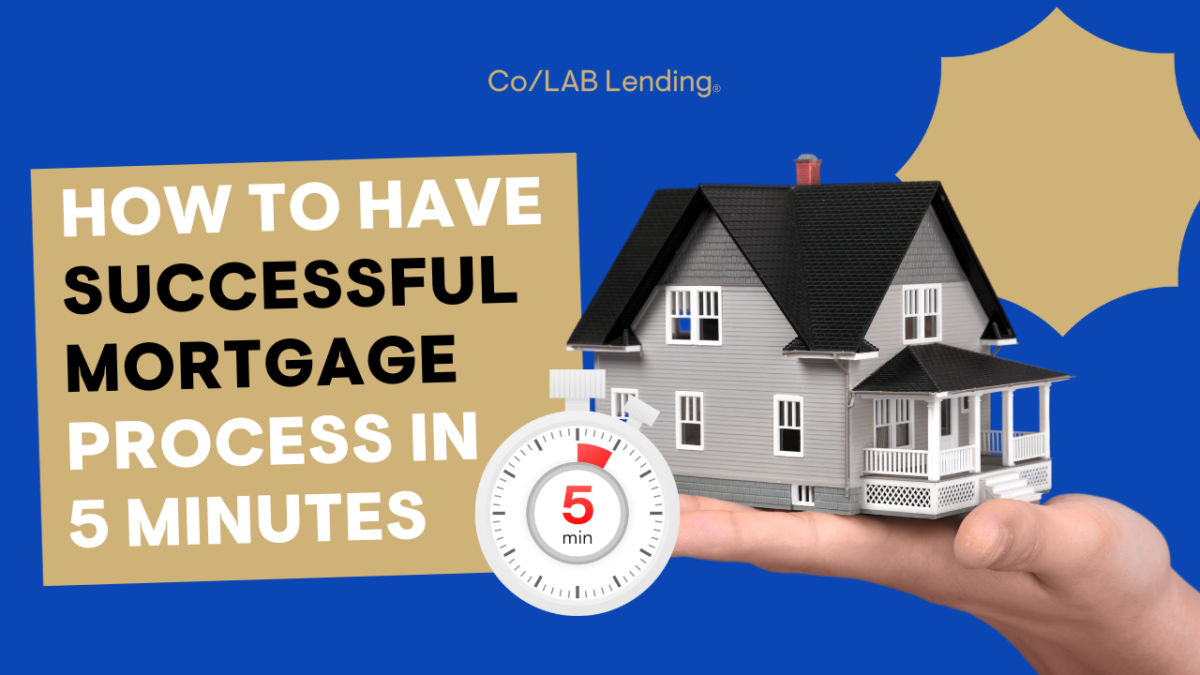 Mastering the Successful Mortgage Process in 5 Minutes
Understanding the Mortgage Process
Owning a house is a part of many people's life dreams. It's easy to focus on the end goal, but there's a lot that needs to happen before you get the keys and step into your new home for the first time. But the successful mortgage loan process sounds confusing most of the time.
Buying a home for most people means getting a mortgage loan. It's a phrase you've probably heard thrown around a lot, but until you start pursuing one, you may not realize all how complex the process really is. You might feel overwhelmed, confused, and unsure of what first steps to take. That's OK! You're not alone. Almost every person who starts this process feels the same way that you do. Let's break the successful mortgage process down into six simple steps.
Key Steps in the Successful Mortgage Process
Successful Mortgage Process Step 1: Make Your Decision to Buy
This probably sounds pretty straightforward—and a bit obvious—but the home buying process is complex and demanding. Owning a home also is a multi-year investment. What do you envision for your home? Is it a starter house that your family might outgrow in five years? Or are you putting down roots for the long haul?
It's important to ask yourself the right questions to determine if you're ready to start the homebuying process and what you hope to get out of it (besides, you know, a home).
Here's are some key questions to think about before you hit start pulling up home listings:
How long do you plan to live in your home?
This is the big one. This question serves as the foundation for the rest of the questions on this list. For some, this might be an easy answer, for others…not so much. Either way, you're going to want to think it over before you proceed with the rest of the homebuying process.
What is your life going to look like as a homeowner?
Are you looking to purchase alone or with a partner? Is starting a family in the cards? Or do you plan to use your home space for work or hobbies? The answers to these questions will impact your wishlist for your potential home.
What are your personal and financial goals during the period you'll be living in this home?
For example, do you plan to change jobs at some point so that your finances may change – a possible increase or decrease in salary? You don't want to have a mortgage that binds you to your current job, especially if your goal is to switch to a less stressful work life while living there.
There are plenty more questions to consider but these can serve as a starting point. Once you decide you're going to move forward, you'll need to make a few decisions. You need to assemble the best team possible to guide you through the process and look out for your needs and interests. The core members of this team are your mortgage loan officer and your real estate agent. Once you've selected them, they can point you to other team members, such as appraisers and home inspectors.
Successful Mortgage Loan Process Step 2: Select and Meet with Your Loan Officer
The decision is made: You want to buy a home! Now it's time to get down to the nitty-gritty. You'll need to find and meet with your loan officer to start looking at mortgage options and work on getting pre-approved.
Finding a loan officer can be daunting. Many of you probably feel the most comfortable walking into your personal bank and working with someone there. However, if that is the option you're leaning toward, you should do yourself a favor and get a second opinion on what mortgage options will work best for you.
This will be one of the biggest purchases of your life. You need someone who will lay out multiple mortgage options and help you pick which one is best for you. Your loan officer should walk you through how much money you'll need to purchase and what you can expect your monthly payments to be, among other items.
One last thing. When you've found the right loan officer, stick with them. When it comes to gathering documentation for the homebuying process—your W2s, bank statements, etc.—it'll go more smoothly if you present these items to the same person each step of the way.
Successful Mortgage Process Step 3: Make Your Wishlist and Meet with Your Real Estate Agent
You've been slogging through paperwork but now it's time for the fun stuff, right? Looking at homes! But do you know what you're looking for in a home well enough? And do you have the right person guiding you?
A big mistake first-time homebuyers make in this part of the mortgage process is not having a real estate agent. You want to find an agent because that is someone who can help guide you, look out for your interests, and fight for what you want when the time comes to put in an offer on a home.
When you meet with your real estate agent, they're going to want to know a lot about your ideal home. Have your wishlist ready. That includes things such as the desired size of the home, location, and any sort of fixtures or features that are important to you. Once you've filled your real estate agent in on what you're looking for, they're going to start sending you emails of houses to view. Then it's time to hit the streets and start looking at homes.
Successful Mortgage Loan Process Step 4: Put in an Offer and Get Ready to Race
Your search has been successful, and you've found a home you want to purchase! If all goes well, your real estate agent will help you put in an offer and it will be accepted by the seller. Now the race begins: it's time to complete your loan application.
Before we get to that, there are a few things that happen between Steps 3 and 4. One is that you will be parting with some of your money. When you write the offer, you're going to be writing a check for what's called the deposit or the earnest money deposit. You'll be writing a check that's going to go toward the total amount you need, but it's telling the seller, "Hey, hold this for me while I apply for my mortgage." This amount typically falls between $1,000 and $5,000. Keep that checkbook out because you're also going to be writing a check for the home inspection and a check for the appraisal.
Now, back to the loan application. This process has a lot of steps and can seem neverending for buyers. The national average is about 50 days from the start of the application to closing on a home, but there are definitely mortgage loan officers out there who, depending on your loan product, could get you closed between 35 and 45 days. It's important to have all the documentation you need to provide for your loan officer, otherwise, you could run into trouble that turns into significant delays.
Successful Mortgage Process Step 5: Navigate the Mortgage Process
Submitting your mortgage application officially kicks off the mortgage process. The paperwork is in, your interest rate is locked, and your information is sent to underwriting for review. Underwriting is the bank assessing your financial risk for receiving a loan. Basically, the bank is just double-checking that you'll be able to afford the mortgage payments required to purchase the house. That requires them to conduct due diligence on behalf of the bank and for you as well.
If all goes well, you'll get notified that your loan is approved. Approved means the bank is committing to giving you the money to purchase the home as long as you meet their conditions. This requires turning in more documentation ASAP—you may feel like you're turning some items in twice but just go with it—and then you're on to the last piece: clear to close.
Clear to close means all the I's are dotted and the T's are crossed. The bank is willing to close and transfer money to you to be given to the seller.
Successful Mortgage Loan Process Step 6: It's Time to Close
This is it. You made it. You just need to make sure the deed and the mortgage are recorded and any other closing business is finalized. Then it's time to get the keys to your new home. Congratulations! You have officially become a homeowner.
You have officially become a homeowner.
Mortgage Consultation Today!
Talk to a Co/LAB Lending Loan Officer to discuss your mortgage options. Our team is happy to answer your questions and help guide you to the perfect mortgage options.