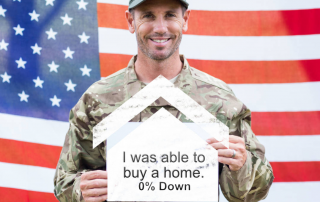 Top 10 Benefits of VA Loans for Veterans and Active-Duty Members
According to the U.S. Department of Veterans Affairs, 21 million veterans and service members live in the U.S. today but only about six percent of have purchased a home using a VA home loan in the past five years. Because there is such a surprisingly low portion of the military population utilizing this exclusive mortgage, it begs the question: are veterans not aware of this option, and if they are, do they know the benefits?
VA loans are available to veterans and most active-duty members after six months of service. Additionally, spouses of military members who died while on active duty or from a disability caused by their service can qualify. In fact, according to the VA, "more than 3,000 surviving spouses purchased a home with their fallen partner's VA benefits in 2015."
Members of the reserves and National Guard must wait six years to apply unless called into active duty sooner, in which case they may apply after 181 days. During times of war, this term may be as low as 90 days.
Conveniently, the application process for a VA loan can generally begin prior to completing six months of service or acquiring the Certificate of Eligibility. By and large, VA loans are going to be any veteran or service member's best mortgage option, and here is why:
Benefit 1: No Down Payments for VA Loans
The most enticing aspect of a VA loan for most prospective home buyers is that a down payment is not required. Almost every mortgage from FHA to conventional looks for at least 3.5 to 20% down. Moreover, if you're on the lower end of that range, you'll be looking at a pretty significant increase in interest in addition to the cost of purchasing private mortgage insurance (PMI).
However, when using VA loans, even with little to no money, veterans and members of the military can circumvent PMI altogether. With PMI prices as high as 1% of a property's value, potential homeowners are looking at an additional $2,500 a year for a $250,000 home.
Benefit 2: Reusability of VA Loans
With all the benefits of VA loans, you would think there would a limited number of times one could apply for this mortgage option. However, as soon as you pay off your mortgage, you're entitled to another VA loan. Similarly, if you've refinanced your VA loan with another mortgage, your entitlement to another VA loan is actually restored.
Benefit 3: Permanent Eligibility for VA Loans
Once you've received your Certificate of Eligibility your entitlement to a VA loan is permanent. Long time veterans who served decades ago still have the same access to these benefits as younger servicemen and women. Eligibility is based always based on the time and period served as opposed to how long ago you were in active duty.
Benefit 4: VA Loans – Backed by Government, Borrowed from Banks
While it would seem like the loan itself would come from the VA, the money actually comes from banks, credit unions, and mortgage companies. However, the government provides insurance to lenders, otherwise known as the "VA guaranty." As such, even if a veteran forecloses, lenders will be reimbursed.
Benefit 5: Lower Risk and Lower Rates with VA Loans
As of August 2017, the online finance publication, The Mortgage Reports, found that VA Mortgage rates were a whopping .33% below that of conventional loans even with low down payments. This is because with VA-backed mortgages, lenders see veterans as lower risk, and they're guaranteed to get repaid. Interestingly, VA loans come with some of the lowest foreclosure rates of any type of loan.
Benefit 6: Refinancing Options with VA Loans
Veterans can use VA loans to refinance their existing mortgage when interest rates drop. To help streamline the process of refinancing (hence the nickname "streamline refinance"), The Interest Rate Reduction Refinance Loan(IRRRL) allows homeowners to lower their rates without a new appraisal, bank statements, or W-2s.
Veteran homeowners without a VA loan are also in luck. The VA cash-out loan is available to eligible veterans who have a different loan option currently. By turning your home's equity into cash on hand, you can take out a bigger and better loan than you currently have. The difference between your old and new loan is issued to you at closing.
Benefit 7: VA Loans and Low Credit Scores
It's far more difficult to be disqualified from VA home loans. Because these mortgages are still borrowed through a private lender, there will still be some credit stipulations. However, the VA guidelines do not have a credit score requirement.
Because of leniency and the VA guaranty, lenders are apt to consider borrowers with lower credit scores, rockier financial history, and even prior bankruptcy.
Benefit 8: Funding Fee Waivers for VA Loans
In order to ensure future veterans have the same opportunity for VA loans as their older counterparts, there is a "funding fee" charged with the loan. The cost of the funding fee is generally around 2% of the mortgage amount.
However, if you've been disabled because of your service, are on active duty pay, or are receiving retirement, you're exempt from the fee.
Benefit 9: VA Loans for Condominiums
With a VA loan, borrowers can purchase a condominium. To ensure an appropriate community, the VA maintains a list of eligible locations. The VA also provides a Condominium Search Tool for military men and women looking for a smaller home.
Benefit 10: Easy Application Process for VA Loans
To check for eligibility, the VA requires you to obtain your DD Form 214. One this document is received, visit a VA-approved lender that can help you request your Certificate of Eligibility, or you can visit the VA's eBenefits website to receive your documents directly.
Mortgage Consultation Today!
Talk to a Co/LAB Lending Loan Officer to discuss your mortgage options. Our team is happy to answer your questions and help guide you to the perfect mortgage options.