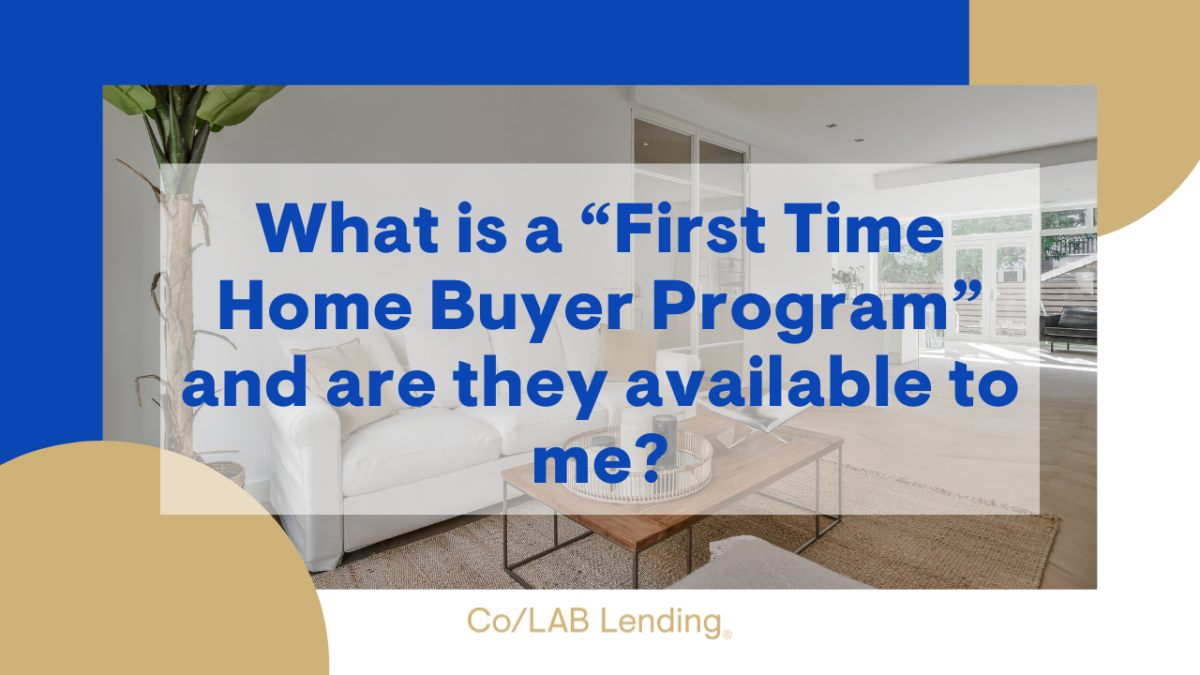 First Time Home Buyer Programs: Your Guide to Accessibility – Co/LAB Lending
Exploring First Time Home Buyer Programs
In an industry where the first-time homebuyer makes up anywhere from 35-50%* of the purchases made nationally, a question we see quite frequently is… "Do you offer any First Time Home Buyer Programs"? First-time homebuyer programs benefit new home buyers every year. Low to moderate-income individuals and families benefit the most. One of the biggest benefits is that these programs assist new home buyers who have lower credit to secure financing. There can be some confusion as to what is actually considered a first-time buyer's program and what isn't. Let's break them down!
The Role of FHA Loans in Home Buying
The Federal Housing Administration (FHA) works with local lenders nationwide to offer mortgages to people who may not qualify for conventional financing. The FHA insures these loans which makes lenders feel more comfortable extending financing to borrowers with lower credit scores, higher debt-to-income ratios, and smaller down payments.
These programs aren't just that straight forward… like all loan programs, the FHA option has its own costs to help lenders cover their "risk", operating, and service costs. With an FHA mortgage, you are required to bring a minimum of a 3.5% down payment, along with an "upfront mortgage insurance" and monthly mortgage insurance that can last the life of the loan.
One of the most frequent reasons we see clients using the FHA option is because of the "sellers assist" option. What this means is that 6% of the sales price can be given from the seller to the buyer to aide in covering the costs associated with this loan. You can find out more about FHA loans by visiting the HUD.gov website.
Understanding USDA Loans for First Time Home Buyers
Similar to the FHA program, this option is guaranteed by the USDA (United States Department of Agriculture). While this program generally requires a lesser debt to income ratio, and higher credit score, the USDA loan has a few very unique options for first-time buyers that make it a wonderful choice.
The greatest value to buyers is that the USDA mortgage requires ZERO DOWN PAYMENT! Another appealing feature is that the mortgage insurance affiliated with the USDA program is almost half of the FHA option. The other very popular feature of the USDA mortgage is that, just like the FHA program… you can receive 6% seller's assist! This combined with the zero down payment requirement allows a borrower to spend very little at closing.
The biggest caveat to this loan program is the geographical restrictions. The USDA will only lend to programs within their "rural" areas. While this may seem like living in a farm community, I assure you, you would be surprised as to where the USDA will allow you to buy as 90% of the country is within its geographical map. Another factor to consider is that the USDA does have income limit restrictions that vary from area to area. Your mortgage broker will verify if you qualify.
VA Loans: An Option for First Time Home Buyers
Veterans and an FTHB (first time home buyer) have an additional option provided by the U.S. Department of Veterans Affairs. These loans come with lower rates generally affiliated with all the government-backed mortgages. Not only do VA loans offer lower rates but they also include the option for a 0% down payment. The bigger perk here is that aside from a one-time "funding fee" during origination, the VA loan has no mortgage insurance at all. This helps to keep monthly mortgage payments lower. Each veteran's service and discharge can be very different. You will need to provide a copy of DD214 so your mortgage broker can access your certificate of eligibility. If you believe the VA loan is an option for you, seek some assistance from one of our licensed originators.
Conventional Programs for First Time Home Buyers
There is a pretty large assumption amongst potential homebuyers, that conventional mortgages will require 20% down. Some believe that the number to be 5%, but the truth is… there are conventional loan programs with as low as a 3% down payment! These programs start for borrowers at or above a 620 FICO score. With conventional loans, you will find that the better your credit is, the lower your mortgage interest rates will be.
Mortgage insurance is required when making a down payment lower than 20%, however, just like your interest rates, this is determined through multiple factors like a credit score. This MI, however, will drop off once you have reached 78% equity in your home, dropping your monthly payments! Seller's assistance is still available with these loans and can range anywhere from 3 to 9%
Tips for Buying a Home
Before beginning any home search you should always begin by speaking with a mortgage broker and finding out exactly how much home you can afford. Federal home buying programs are there to help you but it's imperative to have a clear understanding of what you can and cannot afford.
Buying a home is a major commitment. If you haven't considered talking to a financial advisor before you buy you should. Financial advisors can show you the long-term financial impact of buying a home will have on your future. Our mortgage originators have developed working relationships with quite a few advisors in their area. Part of our job is to make sure you are making the smartest financial decision. Feel free to ask your mortgage broker to recommend a financial advisor.
Mortgage payments are just the tip of the iceberg when it comes to financing a home. Make sure you calculate closing costs and down payments. Knowing your costs upfront will avoid sticker shock later. Ask a Mortgage Loan Originator with Co/LAB Lending for more information, each and every member of our team takes pride as a mortgage broker in providing our clients with the most and best options for each of their unique scenarios.
*Statistics from the national association of Realtors (NAR)
Mortgage Consultation Today!
Talk to a Co/LAB Lending Loan Officer to discuss your mortgage options. Our team is happy to answer your questions and help guide you to the perfect mortgage options.