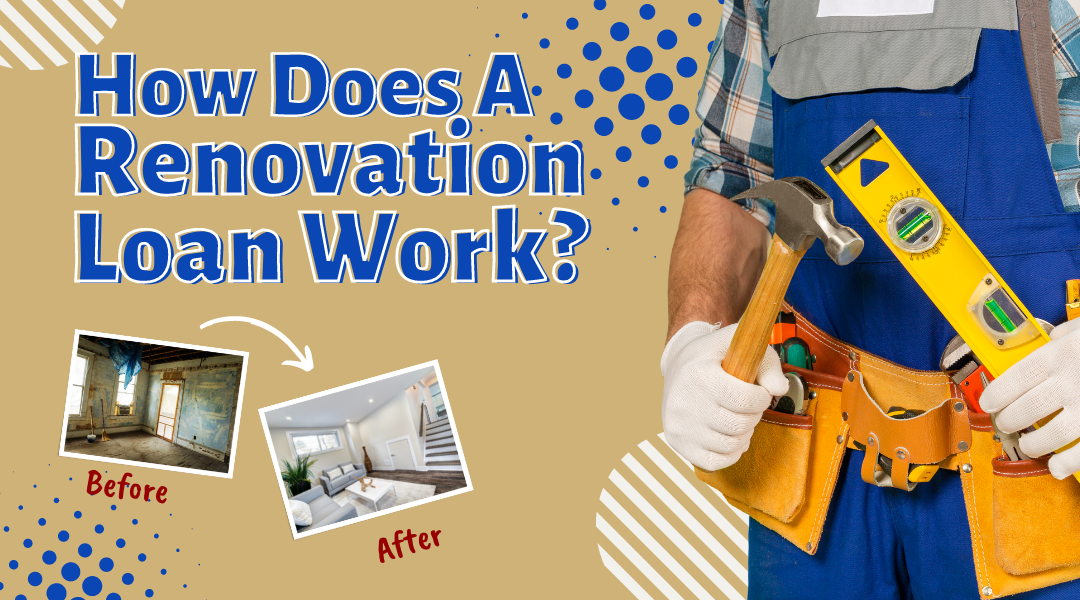 Understanding Renovation Loans: A Comprehensive Guide
"Make your home as comfortable and attractive as possible and then get on with living. There's more to life than decorating." —Albert Hadley.
"Make your home as comfortable and attractive as possible and then get on with living. There's more to life than decorating." —Albert Hadley.
Have you ever thought of having a renovation loan, but you didn't because you were unaware of how does a renovation loan work? Did you hear it from a friend or a relative but feel like another one of those loans that only sound fancy but take a lot of your time and energy to reach you? Imagine the days you spend at home looking at the ceiling with boredom or waiting for something unique to happen as you notice the little details of your space. Isn't that something we often do? But, ending up noticing the small leakages, gaps, and repairs needed in your home can certainly be a mood-wrecker, making you feel exceptionally uncomfortable in the space you should be most comfortable in.
What can be done now? Is there a way you can fantasize about your home's small details that are the odd parts of its interior, one's you never really bothered to notice otherwise? Or should you get up and use your savings to hire professionals and renovate those areas of your home that you only look at when you're trying to feel cozy and comfortable in your space? As unwanted as this situation may be, there are many details in our living space that often get away from our sight when we're busy in our challenging lives. Yet, once you do notice, it's crucial that you get complete those repairing tasks and get your space comfortable and attractive for your personal satisfaction; after all, design and decoration aren't all that matters if there's a rotten base underneath that design.
Worry no more, as the renovation loan is undoubtedly a reliable option for you to make peace with your desire to re-gain the comfort of your space and not spend all your savings to get that comfort. Yes, with a renovation loan, you can achieve that satisfaction of renovating everything in your home that needs to be fixed or improved. So what's keeping you from enjoying this ease? Is it the lack of understanding of this loan? Well then, let's go ahead and explore how does renovation loan work.
Understanding Different Types of Renovation Loans
Starting with the basics, a renovation loan or a home renovation loan is the answer to all the renovation demands of homeowners. It is a source to access funds that are needed to fix up your home as a homeowner. Such loans can be attained in the form of mortgages, including built-in fixer-upper funding, or otherwise, as personal loans taken by homeowners. The only requirement of the renovation loan is to show proof of money spent on the renovation paid to a contractor, despite the type of loan you choose. Hence, as long as you're planning to use the loan in the said way, you can easily attain a home renovation loan and continue with the process using proof of payments. Isn't that a great and smooth way to get all those tiny leakages and wall cracks you've been trying to avoid for months, all fixed collectively? Indeed, a dream come true for all homeowners that find it hard to afford investments for their home's improvement and renovations.
How Do Home Renovation Loans Work?
Speaking of having a magical solution to renovate your home without having to use your savings or go through long and tiring loan processes, how does this loan really work? Now, if you're planning to buy a home that needs certain repairs, you can reach out to different home loan options that can help you with that. Yet, choosing to use a home renovation loan and how it will work for you solely depends on the type of loan financing option you choose to apply for.
With an understanding of the diverse financing options, it can be easier to understand how does renovation loan work.
Some specific home renovation loan offering programs that you can opt for include:
FHA 203(k):
This is a government-backed loan that includes the cost of home repairs in the overall loan amount. However, this loan is only open for buyers that have a lower credit score. Since this loan is a more expensive option as compared to the other home renovation loans, it consists of higher mortgage insurance premiums for borrowers. These borrowers are allowed to apply with smaller down payments, while the mortgages get an upfront fee. This fee is included in the overall loan principle of FHA, making it an essential additional cost for the buyer. So while you can pay small, it may cost you more than other loans. The convenience you get with this loan is that it is divided into complete and streamlined options of payment. However, you can't choose the type of payment by yourself, as it depends more on the state of your property.
What Is Its Benefit? 
This loan is ideal for serious of significant home repairs. It serves well for making minor repairs that fit in the budget of $35,000.
Fannie Mae Home-style®:
While the Fannie Mae Home-style® works similar to the FHA loan, it doesn't only restrict access for the buyers with low credit scores only. What makes this loan ideal is the fact that borrowers only have to deal with a single loan with one monthly payment and lower interest rates; once they choose to go with the Fannie Mae Home-style® loan. But how does renovation loan work when you're opting for the Fannie Mae Home-style® finance method? It's simple! This loan lets you choose between a 15 – 30-year mortgage term, accompanied by affordable/adjustable-rate options. The final loan amount in this loan type of mainly based on the main value of the home after it is completely repaired. With all this, the Fannie Mae Home-style® serves as an ideal option for those homeowners that have an exceptional credit score and also access to competitive interest rates, making the loan process and home renovation smooth and affordable for them.
What Is Its Benefit? 
This loan is ideal for repairing things in a home, as required by an appraiser. It also supports the need to make changes by the homeowner, whether in terms of structural or cosmetic changes/repairs in the home.
Jumbo Renovation:
According to this home renovation loan type, it is accessible with conventional mortgages and used for non-structural home repairs. These repairs mainly focus on the slight and significant changes that add value and sturdiness to the entire home, including outlook and interior. Yet, what makes it less accessible for others is the feasibility of this loan for only high-priced homes. Getting this loan is only possible if your home is already not covered by any other home repair loans.
What Is Its Benefit? 
It is an ideal loan for home projects that need improvements or repairs in the home, as per the borrower's demands.
EZ "C" onventional:
Similar to the Jumbo Renovation loan, this loan also serves as an option combined with conventional mortgages for the non-structural repairs inside the home. The difference in this loan as compared to the Jumbo Renovation loan is that it doesn't only limit its service to high-priced homes. Apart from that, this loan also focuses on adding value to the home's exterior or interior.
What Is Its Benefit? 
It is ideal for low or middle-priced homes, covering renovations required and selected by both; the appraiser and the borrower.
USDA Rural Development Home Repair Loans:
Last but not least, if you're planning to understand how does renovation loan work and opting to get one for your property, there's another loan financing option you can consider. This is the USDA-based loan that funds through a Rural Development program. With the help of this financing of the loan, you can attain security and decency in your home through diverse investment and/or repair options. This loan program works on the income-based eligibility of the homeowner, along with the home/property's rural location. This refers to the demand of up to 50% of the median's income. Hence it's essential to evaluate whether you fit in these loan requirements well or not before opting for it.
What Is Its Benefit? 
It is an ideal loan that covers the improvement or renovation of new appliances, roof, windows, foundations, plumping areas, electrical areas, and other necessary home-related upgrades needed to improvise the convenience, security, and health inside the home environment.
Conclusion:
Depending upon the different types of home renovation loans and their diverse financing sources, it is evident that each loan works differently. Therefore, it's crucial to have a deep understanding of the type of home renovation you need to make your living space convenient, cozy, and exceptionally relaxing, especially for your leisure time. Once you're familiar with the renovation demands of your home, you can reach out to the ideal home renovation loan that doesn't go out of your affordability or loan processing portfolio.
Now, are you ready to recreate your home without having your personal finance fully drained? Then go get that loan and make sure that you never have to sense the cracked walls and draining pipes next time you're doing nothing at your home.
Mortgage Consultation Today!
Talk to a Co/LAB Lending Loan Officer to discuss your mortgage options. Our team is happy to answer your questions and help guide you to the perfect mortgage options.