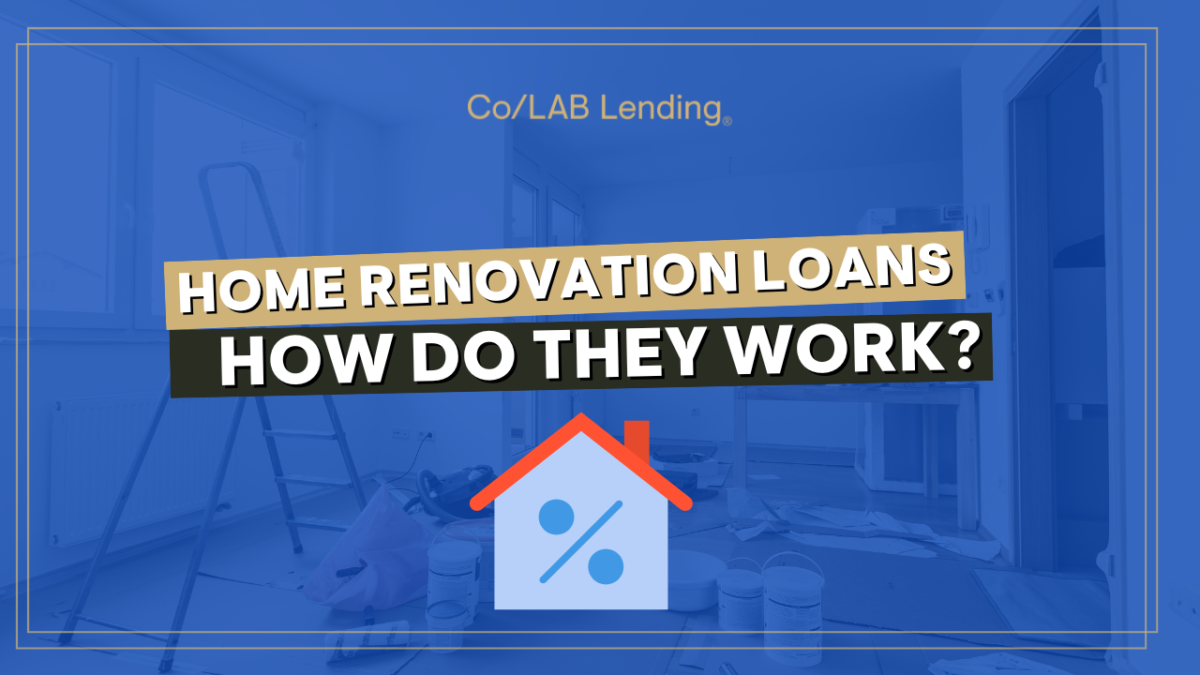 Home Renovation Loans: How Do They Work?
Renovation Loans Are A Rising Trend Among Home Buyers
It's hard to ignore how much more common it is to see homeowners taking on home renovations these days. There is no doubt that much of the popularity of doing home renovations can be attributed to the popularity of HGTV and the success of many of its' shows like Fixer Upper, Property Brothers, and Love It or List it.
More and more homeowners are accepting the challenge of turning a has-been into a must-have.  Transforming ugly spaces into magazine cover quality living spaces is what people want. There is a certain attraction to putting your own mark on a home and also something exhilarating. But the truth is, home renovations aren't going away any time soon.
Why? Well, in a word – Inventory.
Inventory is low for several reasons. Currently there is a lack of affordable first-time homebuyer properties. First-time homebuyers account for nearly 46%* of the market. That's a lot of buyers looking for homes that aren't with-in their price range.
Secondly, interest rates have been slowly rising. This will gradually slow the market as more and more people stay put. This trend will continue if interest rates remain on the rise meaning homeowners could begin to stay put longer than the current home rate of ownership of 8.09 years**.  Will it be 9 years, 10 years, more?
Another reason could be that sellers may decide to not put homes on the market until they not only have already decided to move, but they've also already found the home they want.
There are many other possible reasons for the current inventory levels that I could spend hours telling you about, but today I want to focus on another reason why renovations have become so popular – the financing.
Homebuyers, especially first-timers, feared the thought of taking on any kind of renovations because of the financing. They've been told that getting renovation financing was impossible, it's more expensive, they take much longer and that finding contractors to do the work was hard. However, now the stigma associated with the renovation finance process is disappearing among buyers.
I am here to day to tell you that all of this isn't true. The home renovation finance process really isn't that much different than if you were trying to get a traditional loan. And guess what? Closing times can be comparable to other loans. Estimated time for a renovation loan to close is just 45 days.
I won't pretend that there isn't any work involved with them, there is worked involved with all loans. My team and I are here to help walk you through the process. You shouldn't be afraid of renovation loans either so let me explain how the process works. It's one of my most frequently asked questions.
Let's begin:
Step One: Preapproval and Max Budget
The first step is to speak with your loan officer. They will obtain all necessary information, pull credit and run the numbers and determine what type of renovation loans you qualify for and what your max budget or purchase amount is. For example, your max budget is only $150k, then the total purchase price (+) renovations cannot exceed $150K.
Step Two: Choosing A Realtor and Contractor
 Next, you will want to choose your realtor and contractor. If you aren't already working with a Realtor, ask your loan officer for a recommendation. They've worked with many in your area and may be able to suggest someone who has worked on renovation deals before.  The same applies when selecting a contractor. Speak with your loan officer about a recommendation. There is a good chance they have worked with experienced contractors they can match you with for your needs. If you decide to find your own contractor, make sure they are licensed in the state that you are purchasing for, and have required insurance. When you have a team of people that are experienced in this process, you are already off to a great start.
Step Three: Search For A House
 For most, this is the best part of the process, searching for your ideal house. Here is where you get to imagine your vision of the perfect home. Visit possible options and think about what your custom tailored dream kitchen or bathroom will look like. What other updates would you like? What other updates are needed: The roof, leaking basement, or new windows? Close your eyes and imagine the possibilities or watch an episode of "fixer upper" to help inspire you.  Remember, a renovation loan doesn't have to be done on just a foreclosed property or home that looks like it is about to fall over, it can be done on a perfectly good home that just needs a makeover.
Step Four: Finalize Sales Agreement And Contractor Bid
Once you make an offer on your perfect home and your offer is accepted, you will want to have your contractor come out to the home and walk through all the work that you want to be done.  Keep in mind that you may need to-do items to the home that aren't necessarily pretty to look at, like new electrical, however, depending on your budget, you can get all the items done to the home that is on both your needs list and wants list.  Your contractor will need to provide you with a written bid or estimate outlining all the work that will be done.
One thing to note is that renovation loans do have a unique process for contractors to follow when submitting bids. Make sure your contractor is aware of what lender you are working with and that they are ok with the process.
Step Five: Start The Loan Application Process
Once you have your accepted sales agreement to purchase the home, and your final bid or estimate from your contractor, you can start your loan application with your loan officer.  The loan officer will need both the sales agreement and the bid for the work to be done before the loan application can be started. From here you will proceed with the loan process as normal and, just like with a traditional purchase transaction you can be ready to close in about 45 days.
Step 6: Closing Time
After your loan is approved and all necessary paperwork is provided, it's time to finalize the process. This is called The Closing.  At the closing, you will sign all your final paperwork and get the keys to your new home.  The seller will get their money for the homesale and the rest of the money is put in a separate account with your lender. This money will be disbursed to the contractor as laid out in the estimate.  A portion of the funds is released at the closing for your contractor to begin the work and, depending on how large of a renovation you are doing, the money will be released in phases after certain projects are done and signed off on from a certified inspector.  Your lender will control all the funds for the renovation work and communicate directly with you and your contractor.
Finally, you can begin your renovation (literally, immediately after closing) and once it's finished sit back, relax and enjoy your new space, the space that you customized, the dream home that you imagined, and made a reality.
That's it. Just six straightforward simple steps. All your fears and doubts about considering a renovation loan should be washed away. But, if they're not and you still want to renovate, the right loan officer can walk you through the process and make it as stress-free as possible.
Sources:
*Genworth First Time Homebuyer Market Report (https://miblog.genworth.com/first-time-homebuyer-market-report-05-18/)
**Attom Data Solutions (https://www.prnewswire.com/news-releases/us-median-home-price-appreciation-decelerates-in-q2-2018-to-slowest-pace-in-two-years-300686714.html)
Mortgage Consultation Today!
Talk to a Co/LAB Lending Loan Officer to discuss your mortgage options. Our team is happy to answer your questions and help guide you to the perfect mortgage options.