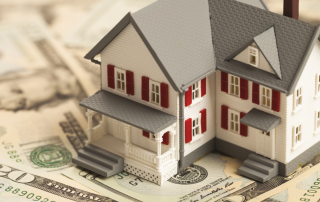 The Down Low on Escrow: What it is and How Does it Work?
If you're currently looking for a home, chances are you've been hearing the term escrow quite a bit. Despite how frequently the phrase is used in the home buying and selling process, a thorough understanding of the word seems to elude people.
For that reason, we're here to give you the down low on escrow.
What Is Escrow?
Escrow, sometimes referred to as impounded, reserved, or prepaid funds, is the temporary period/process during which an impartial third party holds money during a substantial transaction. This financial arrangement helps to regulate and secure payments between a buyer and seller.
When Is Escrow?
Escrow begins when a buyer and seller have agreed to terms about a given transaction (in the case of this blog, the purchase of a home). When the prospective homebuyer is ready to make an offer on the property, they'll write an earnest money check (this is a deposit in which a buyer shows "good faith" in the transaction and is sometimes used as a bargaining chip to gain additional time to seek financing) that will be handled by a third party.
Once the money is in escrow, neither the homebuyer nor the seller can touch the money without fulfilling all of the requirements outlined in the contract. Once these terms have been met as per the "escrow office," attorney, and/or escrow company, escrow ends (at least in most cases, more on that later).
Why Escrow?
Escrow is useful when a buyer and seller are conducting a sale in which a significant amount of money is being exchanged and a variety of terms need to be met in order for the payment to be released. A sale like this creates a sort of catch 22. However, the benefit of escrow becomes apparent in its ability to resolve this stalemate. Let me explain.
In the case of a home sale, the seller may not want to hand over the deed without the assurance of a payment, and the buyer may not want to make the transaction without the guarantee of the house meeting the terms of the contract. Similarly, the seller may not want to begin meeting the requirements of the contract without having an earnest deposit.
Escrow then, protects both parties. The seller can't hold the buyer's cash ransom as a negotiation tactic, and the buyer has to come up with an earnest deposit. If the agreement can't be met, no money is exchanged.
Who Manages Escrow?
When you start looking for a home and/or looking for financing, you may hear your real estate agent and mortgage broker talking a lot about escrow. Escrow funds are held by a third party, and in the case of real estate, an escrow agent. An escrow agent can be a title company, notary, or attorney. Their job is to impartially secure these funds and assure closing terms.
This money can also be used to make payments towards homeowners insurance and property tax. Some lenders will require you to have an escrow account set up if you put down less than 20% for the home. From this impounded account, home insurance and property taxes will be paid automatically. Moreover, if you put less than 20% down on a home, it's likely that you'll be required to purchase private mortgage insurance as well.
How Can Escrow Get Held Up?
In some cases, escrow doesn't close when the purchase is complete. For instance, if the seller needs to stay in the house until their new home is ready, you may sign a "rent-back" agreement wherein the seller pays you an agreed upon rate for the duration of their stay. In this case, a portion of the seller's funds will be held in escrow until they've moved out and the property is checked for new damages.
Escrow can also be held up if something is noticed on the final inspection of the home. If the sellers cannot make the repairs by the closing date, money can be held in escrow until the conditions are rectified. Similarly, if you're purchasing new construction, funds can be held in escrow until the work is completely finished.
What Happens After Escrow Closes?
The closing of escrow occurs when the purchase is complete. An escrow officer or escrow agent will ensure that all the terms have been met, documents are signed, and funds are exchanged.
After the closing of escrow, both the homebuyer and seller will receive documentation and a final closing statement. Be sure to hold on to this paperwork as it is critical for your income tax returns.
Lastly, and quite obviously, the house now belongs to the homebuyer and the seller has their proceeds.
If you're in the process of purchasing a home and need financing you will want to speak to a mortgage professional.
Mortgage Consultation Today!
Talk to a Co/LAB Lending Loan Officer to discuss your mortgage options. Our team is happy to answer your questions and help guide you to the perfect mortgage options.