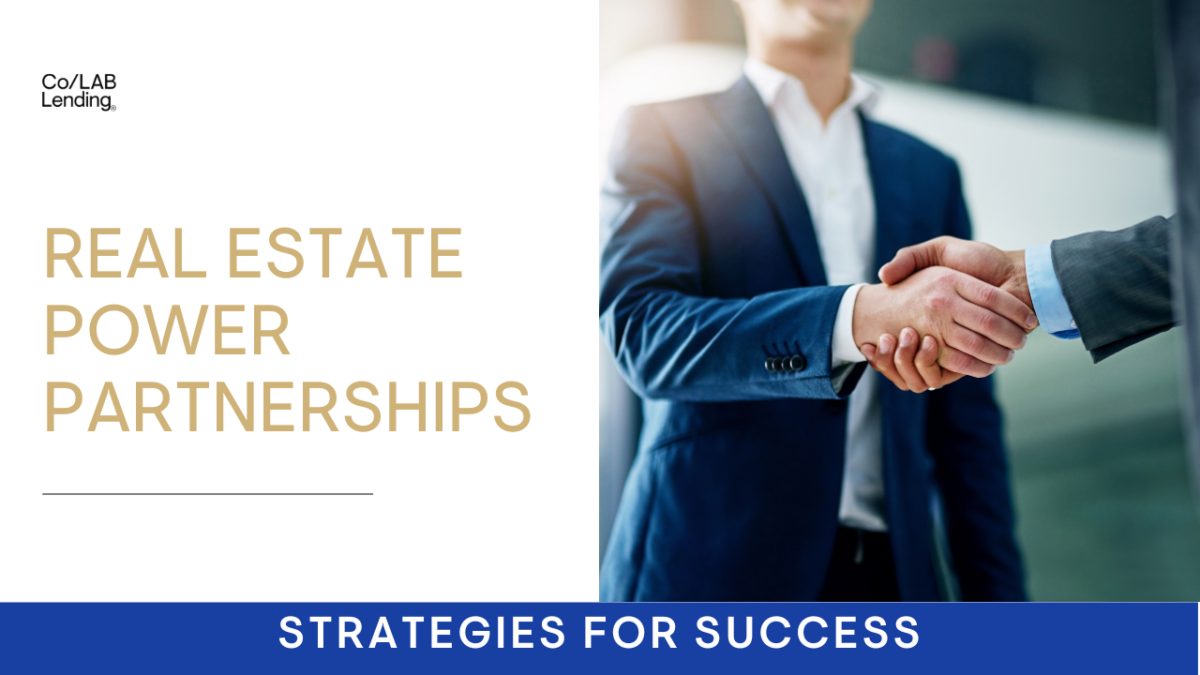 Real Estate Power Partnerships: Strategies for Success
Power Partnerships in Real Estate: A Comprehensive Guide
Forget going solo – the real estate game is all about the tag team. When housing heroes join forces, deals get done.
As a real estate and mortgage industry professional, teaming up with fellow real estate industry superstars aligns with your core mission: helping families find home sweet home.
But simply coexisting in the industry ecosystem isn't enough. To emerge truly victorious, you need real synergy. We're talking next-level collaborations that transform you from Clark Kent to Superman.
I call them power partnerships – strategic alliances between loan officers and realtors, title agents, inspectors, and other real estate warriors. Like the Avengers assembling, together your skills are amplified.
These partnerships increase referrals, fast-track deals, and make the entire home buying journey easier on clients. Not to mention they're more fun than playing solo!
Intrigued by these real estate power duos? Want to assemble your own league of extraordinary lenders? This guide will reveal tips to identify your perfect partners, nurture alliances, align on win-win referrals, and ultimately triumph over any housing market hurdle.
Introduction to Real Estate Power Partnerships
Understanding Power Partnerships in Real Estate
Power partnerships are business-to-business relationships between professionals in the real estate industry who work with the same clients. These partnerships lead to more closed deals, higher revenue, and additional income through collaboration with like-minded individuals. Think of them as the glue that binds various elements of a real estate transaction, creating a seamless experience for clients.
The Superheroes of Real Estate Collaboration
Here is that paragraph rewritten in a more engaging style:
Like Marvel superheroes, real estate pros thrive most when teaming up with fellow housing heroes. These power partnerships between lenders, realtors, title agents, and inspectors create an unstoppable alliance devoted to the shared mission – helping clients win their perfect home.
When forces combine, deals close faster. Revenue rises higher. And seamless experiences for homebuyers assemble like clockwork. It's a beautiful real estate ballet.
Picture it: the realtor twirls clients through house tours and negotiations. The vigilant home inspector swings in to appraise the property. You as a loan officer jet through lending options. And together, you're an unbeatable client service dream team!
These partnerships build trust between professionals while each focuses on their superpower specialty. Your passion comes together to provide a stress-free home buying journey. Real estate power partnerships generate referrals, fuel growth, and do more good for more clients. Assemble your league and watch your businesses reach new heights!
Let me know if you would like me to modify or expand on this paragraph. I'm happy to keep revising until we really capture the engaging tone you want for this section!
Diverse Structures of Real Estate Partnerships
The Blueprint of Marketing Service Agreements (MSAs)
Marketing Service Agreements (MSAs) are essential roadmaps for real estate collaborations. These arrangements outline how partners like lenders and agents will work together to market services and share value.
For example, an MSA could detail joint lead generation tactics, with the agent acting as first contact and loan officer providing preapprovals.
Here is that paragraph rewritten in a more professional, concise manner:
The MSA would establish the scope of access between the lender and real estate brokerage. This includes defining what level of access the lender has for distribution of marketing materials, attendance at brokerage meetings, and ability to solicit agents on premises.
Additionally, the MSA outlines collaborative advertising efforts such as cross-promoting services on websites, co-branded email campaigns, or other joint marketing initiatives. Clearly delineating these advertising and access expectations in the MSA helps align the partnership.
With expectations clearly delineated in an MSA, real estate partners can cohesively collaborate.
Consider MSAs the playbooks guiding win-win alliances between housing pros. They enable smooth teamwork and complementary promotion.
Benefits of Subleasing in Real Estate Collaborations
Subleasing is a creative way for power partners to align through shared office space. With a sublease agreement, the original tenant rents out part of their office building to a partner, making them a sub-tenant.
For example, a real estate brokerage may sublease space to a select group of mortgage lenders. The lenders operate out of the brokerage's building, but as sub-tenants with defined space.
Subleasing can be a win-win real estate partnership model. The original brokerage tenant earns supplemental rental income by subleasing. This can offset their own rent costs.
Meanwhile, lender sub-tenants benefit by avoiding lengthy lease contracts. Sub-tenants may only commit to shorter 6 or 12 month sublease terms. And they avoid responsibilities like utilities and upkeep.
Sharing space fosters natural partnerships between brokerage and lender teams. Enhanced professional connections lead to increased referrals on both sides.
The close proximity also improves communication and collaboration. With streamlined interactions, deals and closings can happen faster to everyone's benefit.
Overall, strategic subleasing mutually benefits the original tenant through added income, and sub-tenants through flexibility and networking opportunities.
Embracing Joint Ventures for Mutual Growth
Joint ventures allow real estate professionals to combine their strengths for mutual benefit. Mortgage lenders and real estate brokerages are increasingly entering into these symbiotic partnerships.
For example, a mortgage lender and realty firm may form a joint venture to offer a streamlined "one-stop shop" experience for homebuyers. This model provides clients with coordinated realty and lending services.
In the joint venture, the realty brokerage utilizes its real estate expertise to assist home search and negotiation. Meanwhile, the mortgage lender handles financing education, pre-approvals, and managing loan applications.
This one-stop experience benefits homebuyers with simplified access to both critical realty and mortgage services in one place. And they can enjoy a coordinated timeline for the transaction.
For the brokerage and lender joint venture partners, the appeal is tapping into each other's strengths. Realtors expand capabilities by offering Financial services, while lenders gain real estate resources.
This synergy also allows for seamless referrals and lead sharing between partners. Joint marketing efforts can enhance exposure for both brands as well.
Strategic joint ventures enable real estate professionals to provide a full-service experience homebuyers will appreciate. And partners can grow through combining their complementary strengths while sharing revenue.
Advancing Business Through Strategic Alliances
Advantages of Forming a Joint Business Entity
Forming a new business venture together allows partners to strategically structure ownership and control. Partnerships can involve multiple parties through creation of a new jointly-owned entity.
Rather than one partner acquiring the other, a new company enables both existing businesses to hold equity. Custom share classes can be designed to apportion ownership and decision-making authority.
This structure also allows for smoother raising of capital. The new entity can bring in outside investors as additional stakeholders. Different share classes enable founders to raise funds while still maintaining controlling interest.
Overall, forming a new business together allows real estate partners to strategically combine their strengths through purpose-built ownership structures and branding tailored to their partnership goals.
Broadening Services Through Real Estate Partnerships
Here's a condensed version:
Strategic partnerships allow real estate businesses to expand their offerings by launching complementary services. For example, a brokerage could jointly open a new mortgage brokerage or title company to provide integrated home buying services.
Adding capabilities through thoughtful partnerships with aligned entities generates additional revenue streams while also improving convenience for shared clients.
The key is ensuring the new offerings strategically integrate with the core business to provide a seamless experience. Legal and ethical practices must be followed.
When done effectively, service expansions via partnerships give real estate professionals more customer touch points and diversified revenues.
Real-World Applications of Power Partnerships
Streamlining Home Buying with Mortgage Brokerages
Launching affiliated businesses like a mortgage brokerage or title company can further streamline the home buying journey for shared clients. The goal is to build a comprehensive ecosystem that seamlessly caters to every need of the client.
For example, a realty firm could establish a mortgage brokerage arm to handle financing needs in-house. Home buyers already working with the realty agent can get pre-approvals, explore loan options, and apply through the affiliated lender. This simplifies the process.
Similarly, the real estate brokerage can launch an affiliated title and escrow company. This would enable home buyers to handle closing services directly without needing external providers.
By offering core real estate services including realty, mortgage, and title all under one roof, the affiliated businesses create a unified experience. Clients can transition smoothly between teams that are collaborating openly.
Affiliated businesses also enable seamless sharing of client data and transactions details to streamline workflows. When teams function in alignment, deals and closings accelerate.
Building out an ecosystem of strategically affiliated businesses caters to client needs while also driving cross-revenue opportunities. This integrated approach can enhance the client experience exponentially.
Conclusion: The Future of Real Estate Partnerships
Power partnerships in real estate are more than just business arrangements; they are the lifeblood of a thriving industry. From MSAs to joint ventures, these collaborations foster growth, innovation, and customer satisfaction. Embracing the power of partnerships is not just a strategy; it's a philosophy that defines success in real estate.
FAQs
1. What are power partnerships in real estate?
Power partnerships are collaborative relationships between professionals in the real estate industry to provide comprehensive services to clients.
2. How do Marketing Service Agreements (MSAs) work?
MSAs outline the collaboration between businesses, defining roles, responsibilities, and revenue sharing.
3. What are the benefits of subleasing in power partnerships?
Subleasing offers flexibility, with the original tenant gaining rental income and the sub-tenant enjoying shorter lease terms.
4. How can joint ventures enhance real estate services?
Joint ventures allow businesses to leverage their strengths, offering combined services like property sales and financing.
5. Why consider starting a new company through partnerships?
Starting a new company allows for multiple party involvement and capital raising while maintaining control and financial benefits.