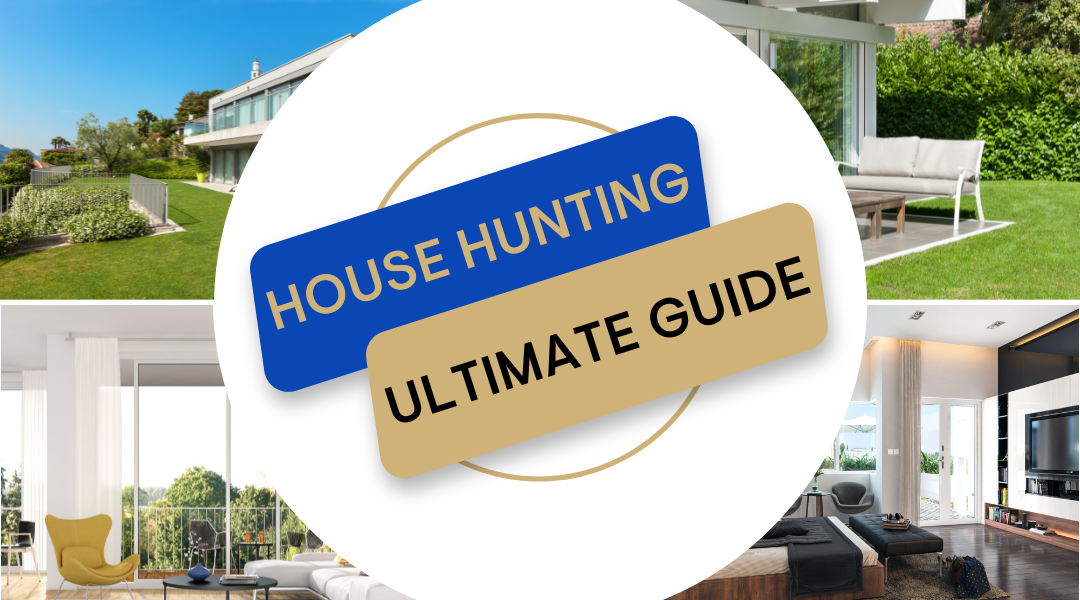 The Ultimate Guide to House Hunting
.
"Home isn't where you're from, it's where you find light when all grows dark."       ― Pierce Brown
Does the idea of house-hunting sound like an exciting and reliable process for you to look for your dream house? Evidently, the process of finding a house that can make you feel like your paradise on earth every time you step inside it is a dream we all hold within ourselves. Having a home that is perfect in every way and fulfills our needs makes that certain place an exception in this chaotic world.
And why not? Even with the tons of splendid locations present on earth, you can't settle everywhere, right? It's the feeling of being safe, comfy, and at home that makes you feel exceptional at one certain bricked home – as compared to every other place you visit on earth.
Having that said, buying a house may be a huge decision, but what's more important and stressful is the process of choosing the house you want to purchase and move your family in – as that's what you and your family will call home among the millions and trillions of other living spots on earth. So it has to be special, comfortable, and complete in a way that no one living in the new home feels like something's missing, right?
To make this possible, one has to hunt for the ideal house that can secure their and their family's present and future inside it – with each memory you create in that home. Hence, hunting for a house can be the toughest and most exhausting process of all, especially with so many homes offering tons of facilities and unique layouts – it's always a struggle to decide what's good and what's not.
Now, are you also going through the same struggle? Worry no more, as we're here to help you get through this with our guidelines on effective house hunting.
The Definition and Meaning of House Hunting
What is house-hunting exactly? Is this one of those only documentary shows where a few people visit different historical homes and look into their structure and present condition? Well, maybe not. It's nothing like the shows – as you're not aiming to find a home and live there for a few days to get some content. Instead, you're looking for a home where you can peacefully spend the rest of your life without feeling unwelcomed, limited, or odd in your space.
It's like choosing a brainstorming location for a writer or a motivation for a painter. No, no – this doesn't mean you have to be either one to be able to find the perfect home for yourself. But instead, looking into the home options as an inspiration where you will be handling your professional tasks and personal life affairs is surely a smart way to make the best pick.
With the different homes offering a certain quality in itself, whether it's a posh study room, a humungous kitchen, or properly structured rooms overall – you need to know what's your place and whether the homes you're hunting have that space or not. In addition, understanding your family's needs in a home is also equally crucial.
In simpler terms, understanding your needs in a home and hunting for a home that fulfills these needs by exploring tons of options is the ideal definition of house hunting. Initially, this can be a struggling and highly bizarre process, but the end result of having the home of your dreams is evidently something worth all the time and energy spent.
Essential House Hunting Tips for First-Time Home Buyers
As a first-time homebuyer, you be quite uncertain and stressed on whether you're making the right start or approach to home hunting or not. Don't worry; you're not the only one facing that amount of pressure. As a matter of fact, whether it's your first or fifth time searching for a home you can finally land in for the rest of your life – it's always hard to be confident and certain about how to proceed further.
Hence, in case you are stuck on where to start, here's a short guide on what you should really do before getting your hands full with home listings and making an unprepared decision that would simply make you hit rock bottom. We're sure you don't want that, right? Well then, here's what you should focus on beforehand:
First things first, opting for a mortgage is a good plan, but it's not always smart when you're unaware of your financial affordability condition in the first place. So while you're creating a list of must-haves for your new home and pointing out what shouldn't be there at all – make sure you think about what you can also afford in the must-haves. You surely don't want to end up finding the best house for you and your family and then stepping back because of your weak financial condition.
To avoid this, make sure you focus on payment guidelines and strategies. This involves paying in cash only – and not opting for house-hunting until or unless you can't pay for a house in cash instantly – as you won't wanna lose the home, you fall in love at first sight just because you were late with your payment.
Now since having all that cash on your own isn't a piece of cake, it's important to ensure that other than your savings, the mortgage payment you're going to receive to buy your dream home does cover 25% of your take-home pay. After all, when you have cash in hand – what's there to stop you from buying what you set your eyes on? Nothing – unless what you like isn't already sold!
Make Down Payment Savings:
Other than the upfront buying price of your dream house, the down payment is also something you should be concerned about in advance. When it comes to money, nothing is going to be sorted if you leave it for later. Hence, having a down payment of any less than 10%-20% from the total house price is not going to help you enjoy the peace you're aiming to achieve in your new home.
Not to mention the extra amount that you will be paying in interest and the fees of estate agents, etc., will evidently add pressure to your financial goals. To avoid that, make sure you have a down payment of at least 20% saved to get financial stability while and after you complete your home hunting.
When it comes to loans, one thing no one should consider is expecting them to be approved later and making purchases in the present. It doesn't work that way – as loan approvals are as uncertain as anything else in life. Hence, the smart way to not end up in a mess after hunting the ideal home for yourself is to get your mortgage preapproved. Once that happens, you don't have to worry about money and can actually invest in the home you fall in love on first sight – without wasting time.
Finding a Real Estate Agent:
Lastly, to avoid complications, frauds, and extra time investment in confused decision-making, it's always better and smarter to opt for professional help in advance. So once your financial issues are resolved, and you have a stable bank balance to proceed with house-hunting, look for the service of a reliable real estate agent. This agent will give you access to different listing services. In addition, they also simplify the overall house-hunting and buying process for you.
Avoiding the Top House-Hunting Mistakes
Even when it's not your first time hunting for a home to buy, there are certain mistakes of house-hunting that should be avoided to make the process reliable and simpler in every way. It includes:
Not having an estate agent on board for home hunting
Not getting your finance shielded with a pre-approved mortgage
Confusions on what features or facilities you want in your home
Not making instant moves to self-visit, analyze, and inspect the home
Getting distracted with the sparkling features and not paying attention to the necessitates
Paying attention to the outer decor instead of the inner base and structural condition of the home
Not looking into the neighborhood and outdoor environment of the home
Conclusion: Mastering the Art of House Hunting
Do you still have questions about the house hunting process? Click here to get a clearer and more detailed insight on effective house-hunting.
So that's all to our detailed guide on house-hunting, guys. Using this insight, you can evidently make better decisions about home hunting. Good Luck!
Mortgage Consultation Today!
Talk to a Co/LAB Lending Loan Officer to discuss your mortgage options. Our team is happy to answer your questions and help guide you to the perfect mortgage options.
Tags In