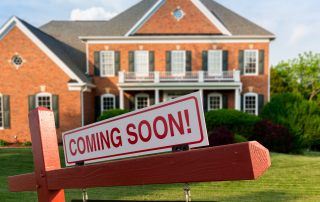 5 Tips for Preparing Your House For Listing
The Last One Might Surprise You!
When it comes to preparing your house for listing you don't have to remodel your home to increase the likelihood of it selling. Often, a little elbow grease, yard work, and some TLC (in this case treated lawn care) can make the difference between a quick sale and a house that sits on the market.
1. Turn on Your Inner-Buyer When Preparing Your House For Listing
Think about what sold you on your house when you bought it. In addition, think about what you were looking for in your new house. Were the countertops sparkling? Was the floor shining? Were the walls free of fingerprints? Repair and/or replace any items or fixtures that are broken.
It's important to rid your home of personal family items (i.e. family photos, A+ school assignment refrigerator decor, heirlooms, etc.) Buyers want to imagine the house as theirs, not a previous owner's. Your house should look (and smell) like a product that has been freshly removed from its packing.
2. Clean Like It's Spring
It's obvious, but as a reminder, you need to clean from floor to ceiling. Remove clutter, empty and organize closets, and dust those long-neglected nooks and crannies. Make yourself a checklist of household chores that are usually forgotten, such as dusting heating vents, fan blades, the fireplace mantle, and any kind of trim or molding. Remember to tighten any loose doorknobs, fix leaky faucets, fill holes in the drywall, and scrub oily residue from the sticky tack.
3. Showcase the Space
If possible, remove heavy, bulky furniture from the home. When decor is simple and light, rooms look more spacious, which allows the buyer to better imagine his or her own furnishings throughout the house. In addition, limit the number of items in your closets and clear the countertops of mail, extra appliances, and knick-knacks. Clutter not only looks messy but also visually limits the space.
To enhance each room, open all the windows to let natural light in. Bright rooms look bigger and feel more inviting.
4. Repaint Any Accent Walls
Splashes of color are great, but they're also a very personal touch. For this reason, return any bold accent walls to a neutral tone and let the future buyer decide what he or she likes. If you decide to repaint, be meticulous with your job. Keep a wet rag on hand for any mishaps and cover the floor with a tarp in case of spills.
5. Curb Appeal (Possibly the Most Important for Preparing Your House For Listing)
According to research by HGTV, landscaping is the second most important home renovation to maximize return at resale. In fact, an investment in curb appeal has an average return of 100%, meaning whatever money you put in has the potential to double at the time of sale. Top ranking Erie County agent and seasoned Seller Representative Specialist Stacey Santos agrees, "New kitchens and baths are going to be where most of your money is spent… [however] curb appeal is really important. Add a little dimension with a porch, landscaping, a new front door, your lights, [etc.]."
While this may seem like a major undertaking, it doesn't have to be. There are many landscaping projects you can tackle yourself and affordable companies you can hire to handle the rest.
"Buyers see everything, " says Mark Conklin, owner of Team Turf, a fertilization and weed control company that specializes in improving turf health and treating trees and shrubs for the disease. "You need healthy-looking plants. If buyers see things are half-dead, it's going to take away from the house." Research shows that Mark is, well, right on the mark. On average, expensive kitchen and bathroom redos only rack in a mere 2% higher return than proper yard maintenance and repairs.
"It makes a big difference." Mark asserts. "Plants should be properly trimmed and you should have a nice variety… Beautiful flowers for a spring sale of a house will really add value. They add color, and the color is very important in the landscape."
You may be asking yourself, how are the other houses on the block achieving such a flawless looking lawn? Most likely, their owners are fertilizing and using weed blockers. "The important service we provide [during the spring] is applying the crabgrass pre-emergent. It's important to time that. A pre-emergent forms a protective barrier to keep crabgrass from germinating," explains Mark.
A little professional treatment gives your lawn that lush look that buyers are craving. By investing in a healthy lawn, you'll minimize weeds, keep plants healthy, avoid having to do a full landscape renovation down the line, and reduce the amount of chemicals that need to be used to achieve this aesthetic. "Keeping the amount of chemicals you use to a minimum is important too. By thickening the lawn, you don't need to use as many [treatments] to prevent weeds," says Mark.
Helpful Hints for Keeping Your Yard In Shape For Your House Listing
Mow your lawn at the proper height (three inches in the summer)

Invest in routine lawn maintenance to avoid major investments later

Go with a grub control to ensure healthier turf
Tips to Decide Which Fertilization Company to Hire
Make sure they test PH levels

Go local. They'll know the area better than national companies

Ask your friends, family, and neighbors for recommendations

Look for staff who have a professional demeanor and appropriate attire

Check the quality of their work

Ask about their experience and industry knowledge
Ensure a Successful Sale
If you're ready to put your house on the market, ensure you have a successful sale by following these five tips: understand your buyer, clean thoroughly, minimize clutter, apply a fresh coat of paint, and give your yard some attention. If you're looking for an experienced fertilization and weed preventive company near you, call Team Turf at 814-796-1111 or visit their website, teamturferie.com.
Mortgage Consultation Today!
Talk to a Co/LAB Lending Loan Officer to discuss your mortgage options. Our team is happy to answer your questions and help guide you to the perfect mortgage options.