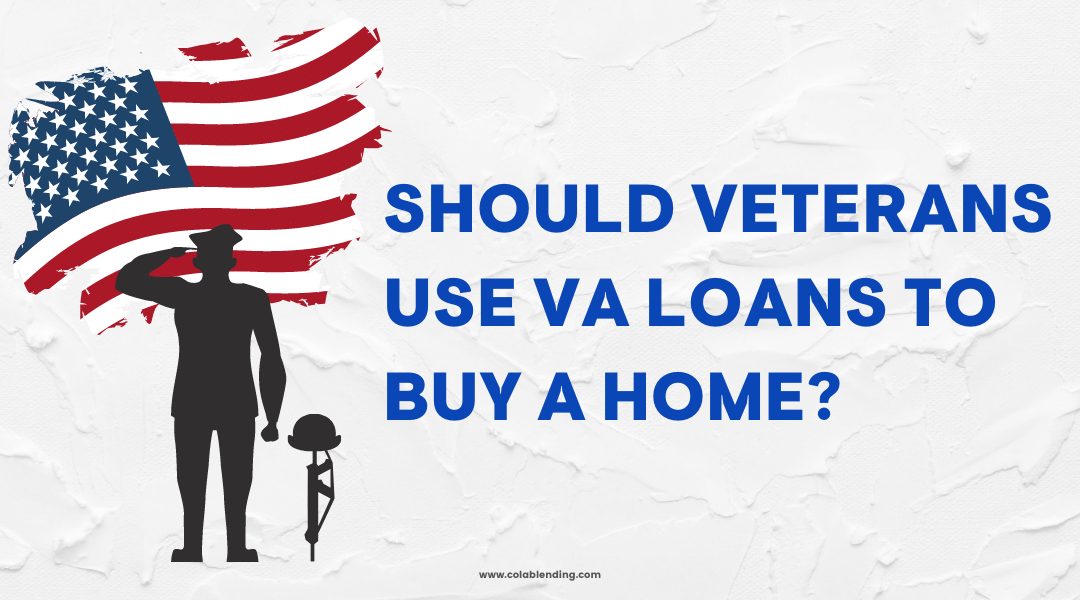 Understanding VA Loans: A Guide for Veterans
A Comprehensive Guide to VA Loans for Veterans
Buying a home can be daunting for anyone, including military veterans. But did you know there are special home loans out there available to only veterans? Should Veterans Use a VA Loan to buy a home? Let's find out!
The U.S. Department of Veteran Affairs (VA) offers several programs for veterans looking to purchase, refinance, or improve a home. If you're a veteran interested in purchasing a home, an option you have is using a VA Home Loan. These loans are provided by private lenders, such as banks and mortgage brokers. The VA guarantees a portion of the loan, enabling the lender to provide you with more favorable terms. Often, these home purchases can be completed without requiring a downpayment or private mortgage insurance. That said, qualifying for a VA loan isn't all that different from other traditional types of loans.
Is buying a home with a VA loan the right option for you? Here are three things to consider:
Documents you'll need
The process you'll go through.
What differs between the VA home buying process and the traditional home buying process.
As a veteran, you have earned and deserved the ability to use your VA benefits, including those offered through the VA's Home Loan program. Having a better understanding of what the VA process entails will help you make the best decision for you.
What documents do I need?
For the most part, you'll need to gather the same documents that people traditionally turn in as part of pre-qualifying for a mortgage. That includes W-2s, pay stubs, and bank statements. As a veteran, you'll also need your DD Form 214, also known as your Certificate of Release or Discharge from Active Duty. You'll need to present this document to your loan officer in order to receive a certificate of eligibility for a VA home loan (If your loan officer doesn't ask for this document, that's a red flag). That certificate of eligibility will tell your loan officer important information such as how much of a loan you are eligible for or if you can use your VA benefits at all.
Presenting the DD Form 214 is a top priority. You don't want to find out late in the loan process that you cannot purchase the home you want because of something revealed on your certificate of eligibility.
Making the Decision: Is a VA Loan Right for You?
The process of acquiring a VA home loan is similar to a traditional mortgage. You're still meeting with a loan officer to present the aforementioned documents, receiving a pre-approval on a mortgage, meeting with real estate agents to look at homes, and participating in all the other intricacies of the home buying process. Every veteran's situation is different so the length of time it takes to get a loan will vary.
When using a VA loan, it's important to remember that Veterans Affairs will play a role in the process because it wants to ensure any home it is backing with a loan does not have any outstanding issues. Take for example the step of appraising a home. Appraisal means that a certified appraiser visits the home and determines its current worth (not to be confused with the asking price). Banks require appraisals to ensure the worth of a home is accurate. Traditionally, if you are seeking to buy a home with a $300,000 asking price but the appraisal of its worth comes back at $280,000, you have no recourse to get the price adjusted. If you're purchasing the home with a VA loan, the VA requires justifications to be given for the discrepancy and can even ask for a second appraisal. You can't do that with any other loan types. It's one of the reasons VA loans are an excellent option.
What are the major differences between a traditional and VA home loan process?
The major differences are in the details. First up is pre-qualifying for a mortgage. As part of this step, your loan officer will determine your income by reviewing financial documents as well as verifying your work history to ensure you will be able to pay back the home loan. A VA loan is much more strict about your work history. For example, let's say while acting as a member of the military you worked in mechanical operations.
If you took a civilian job as a mechanic at a car dealership, you can be qualified for a VA loan based on that income. If you took a position as a bank teller, you will not qualify for a VA loan. The VA wants to ensure that veterans have been in the same line of work for two years when applying, so your civilian job should correlate to your military work experience.
Second, how much you're qualified for and how that is determined is different from the traditional process.
Loan officers look at income and subtract any debts reflected on your credit report (e.g. car loans). This determines the amount you qualify for. When it comes to a VA loan, other costs are factored into calculating your debt-to-income (DTI) ratio. Your debt-to-income ratio is the percentage of your gross monthly income spent on monthly debt payments like rent, credit cards, and student loans. For a VA loan, other expenditures such as child care and utility bills also are factored into the equation. Both types of expenses are plugged into a residual income calculation, the results of which help determine your eligibility for a VA loan. The term residual income refers to the money left over after all your bills are paid. It's best to be honest with your loan officer upfront about your spending so they have the most accurate information available for determining your loan eligibility.
Lastly, VA loans are a little more lenient when it comes to debt-to-income ratios. Most home buyer loans won't go above 43 percent. On the other hand, VA loans may be as high as 50 to 60 percent. There is an additional wiggle room in these situations. For example, if you are a veteran who is not currently receiving disability benefits but will in the future, you can factor that income into your DTI ratio. This flexibility allows more veterans to get into homes.
If you've decided that using a VA home loan is the best option for you, it's important to find an experienced loan officer who can help you and keep the process running smoothly so you can move into the home of your dreams.
Mortgage Consultation Today!
Talk to a Co/LAB Lending Loan Officer to discuss your mortgage options. Our team is happy to answer your questions and help guide you to the perfect mortgage options.