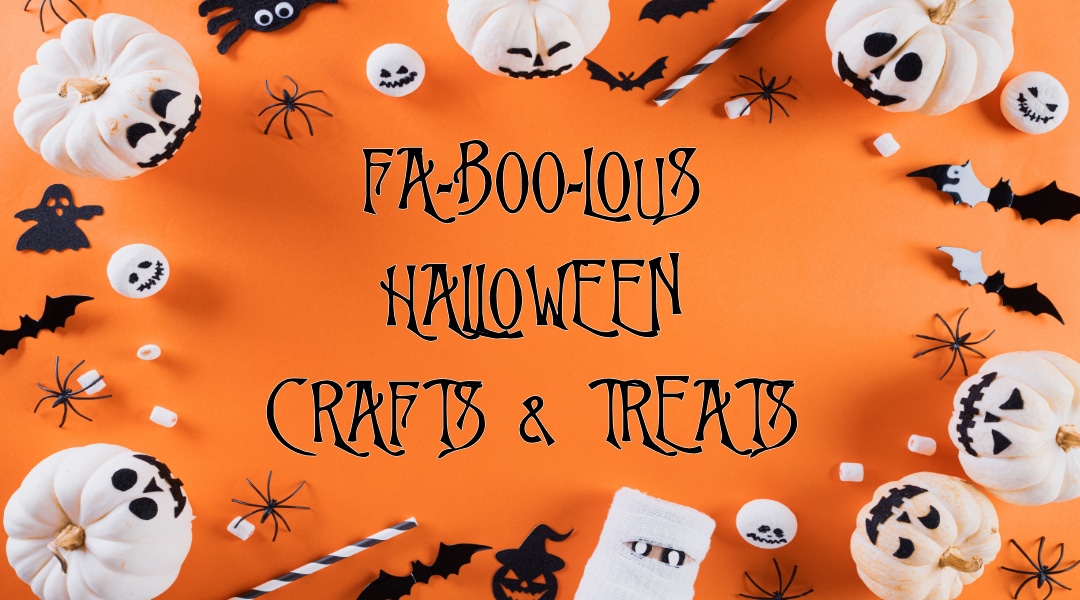 Fa-boo-lous Halloween Crafts & Treats
.
Halloween is my favorite time of year! It always made me feel good about myself. It's the one time of year that you can be whatever you want with little to no judgment. Not everyone celebrates Halloween, but a lot of people love to participate in things that are part of the day/season. Let's have some Halloween Crafts & Treats
Things like pumpkin carving, dressing up, trick or treating, apple picking, corn mazes and so much more! I am going to talk about Halloween crafts and recipes you can make by yourself or with someone else, including little kids.
Children love Halloween, at least mine do. I have a six-year-old, a two-year-old, and a four-month-old at home. My two older kids love Halloween almost as much as I do. So far, we've already chosen our costumes and bought the perfect pumpkins for carving. Carving pumpkins is always fun but this is just a friendly reminder to always be careful with knives around the young ones. I want Halloween to not only be fun but also be safe for you and your family.
Decorating Pumpkins
When I think of Halloween, the first thing that comes to mind is pumpkins! Who doesn't love carving pumpkins? When it comes to having small kids, pumpkin carving might be a little worrisome. If you don't want knives around your children there are other ways to decorate pumpkins! I have a few ideas to share.
Pumpkin Coloring
The first is pumpkin coloring. I give my children sharpies/markers or paint. Sharpies would be more for older children who can control the item in their hands since we obviously don't want to have a small child coloring all over themselves. Washable paint or markers works for letting the kids get messy without worrying about the mess. Let them go wild with the paint by going outside if the weather permits or by laying down a newspaper or old blanket. Kids love to paint and will have so much fun!
Crayon Dripped Pumpkin Art
Here's another great idea. Have you ever heard of melting crayons to make art? If so, you see where I'm going with this. Put crayons onto the pumpkins without the paper covering. Grab a hairdryer and turn it on HIGH! Now, point it towards the crayons and watch them melt, leaving a cool design on the pumpkin. Let the wax dry and you have a cute pumpkin. You can use an orange or a white pumpkin.
Make Your Own Pumpkin!
So a fun idea that came up while I was searching the internet for fun crafts to do with my kiddos, was glittered pasta pumpkins! Honestly, this is such a fun and simple idea. You're going to need macaroni noodles, pasta wheels, green, red, and yellow food coloring, alcohol, glue, and glitter is optional. 
Think about all the fun your kids will have. They can help you add the food coloring to the alcohol in order to dye the pasta. Once it's dyed and dried, they get to put it together. They are going to have a blast creating a pumpkin out of pasta wheels. If you visit the link above, one of the girls uses her macaroni wheels to make a big pumpkin while the other girl uses them to make three smaller pumpkins. Let your kids be creative and have fun with it!
What Time Is It? It's Time To Bake!
One of my all-time favorite things to do is bake during Halloween. I love making super delicious treats for all my friends and family to eat. Normally, chocolate chip cookies are my go-to and I try to add fun things like sprinkles or frosting to them.
One recipe I found recently while looking for an idea for a Halloween party I am attending, is pumpkin chocolate chip cookies. They sound so delicious! Let's take a look at the recipe!
Ingredients:
1 cup pumpkin puree
1 cup granulated sugar
½ cup vegetable oil (can sub with canola oil)
1 large egg
1 Tablespoon pure vanilla extract
2 cups all-purpose flour
2 teaspoon baking powder
1 teaspoon ground cinnamon
½ teaspoon pumpkin spice
½ teaspoon fine sea salt
1 teaspoon baking soda (optional)
1 teaspoon milk (optional)
1-2 cups chocolate chips
Instructions:
Preheat the oven to 350°F. Line a baking sheet with parchment paper or a baking mat. Set aside.
Combine pumpkin, sugar, vegetable oil, vanilla, and egg in a large bowl. Mix until smooth.
In a separate bowl, whisk together flour, baking powder, ground cinnamon, pumpkin spice, and salt. If you'd like a fluffier cookie, dissolve the baking soda with the milk and stir into the wet ingredients.
Add flour mixture to pumpkin mixture and mix just until combined. Finally, stir in chocolate chips and stir just until combined. Do not over mix.
Drop cookies on by the spoonful about 2 inches apart or use a medium cookie scoop. Add a few extra chocolate chips to the tops if desired.
Bake for 10-13 minutes, or until a toothpick comes clean and the bottoms are lightly brown. Check one and bake 1-2 more minutes if the center is not quite done.
Remove from the oven and allow to cool on the pan for 5 minutes and then transfer to a cooling rack. These taste even better the next day.
Don't those sound so yummy? I honestly cannot wait to try these out! I love pumpkin flavored desserts, so these cookies are going to be top-notch. I just know it.
Now, let's move on to something a little more kid-friendly. Of course, your children can help you make the cookies listed above but this dessert is so simple! What kid doesn't like dirt cake? You're probably thinking, eww dirt? It isn't real dirt of course; it's crushed up Oreos which are so delicious!
Recipe Notes
It helps to get the decorations ready ahead of time. If you are making the skeleton, you might want to do that ahead of time since it takes about an hour to set.
When making the candy skeleton, just put a small amount of the melted white chocolate chips on your spoon. This helps keep the melted white chocolate from getting into the small areas on the candy mold easier.
Use a blender or food processor to crush up the cookies into crumbs for the best results. If you don't have a blender, then place the cookies into a large, sealed bag and roll over the cookies with a rolling pin.
Make sure to place any leftovers in the refrigerator.
Ingredients
2 packages vanilla instant pudding (3.4-ounce boxes)
4 cups cold milk
2 cups thawed Cool Whip (8-ounce container)
1 package chocolate sandwich cookies like Oreo's, crushed (15-ounce package)
Decoration suggestions for Graveyard
candy pumpkins
square or rectangular cookies for tombstones
To make candy skeleton
Instructions
In a large bowl, combine the vanilla instant pudding and cold milk. Whisk for two minutes. Let it sit for five minutes.
While pudding sets, crush up the cookies in a blender until they are very fine crumbs.
Add the thawed Cool Whip to the pudding and gently combine ingredients.
Scoop the pudding mixture into a 13×9 pan (or similar size pan) and spread out evenly.
Sprinkle the crushed cookies over the pudding.
Decorate with cookies as tombstones, candy pumpkins, skeletons, or edible decorations of your choice. Just place them gently on top of the dirt cake.
Keep chilled in the refrigerator until you will be serving it.
To make candy skeletons
Place white chocolate chips in a microwave-safe bowl. Place them in the microwave and heat them on high for 45 seconds. Stir and if needed heat for additional 15-second increments, stirring after each one until the white chocolate is melted and creamy.
Using a spoon, carefully drizzle the melted white chocolate into a skeleton candy mold.
Once you have all the sections of the candy mold filled, place it in your refrigerator to set, about an hour. When it is fully set, the candy will pop out easily.
Place the skeleton pieces gently on the dirt cake by laying them down on top of the cake or having them stick out of the "dirt".
Just think of how happy the kids will be getting to make this as well as getting to eat "dirt"! Any kid would love to have this. It's fun especially if you add pumpkin candies, gummy worms, and if you feel up to making them, the skeletons.
This year keep Halloween fun and safe for your family. This year, no matter the weather, I know my kids will enjoy decorating and baking for Halloween regardless if the weather permits them outdoors for trick-or-treating. My kids have been begging for decorating and baking for days now. It's time to get to it!
Mortgage Consultation Today!
Talk to a Co/LAB Lending Loan Officer to discuss your mortgage options. Our team is happy to answer your questions and help guide you to the perfect mortgage options.