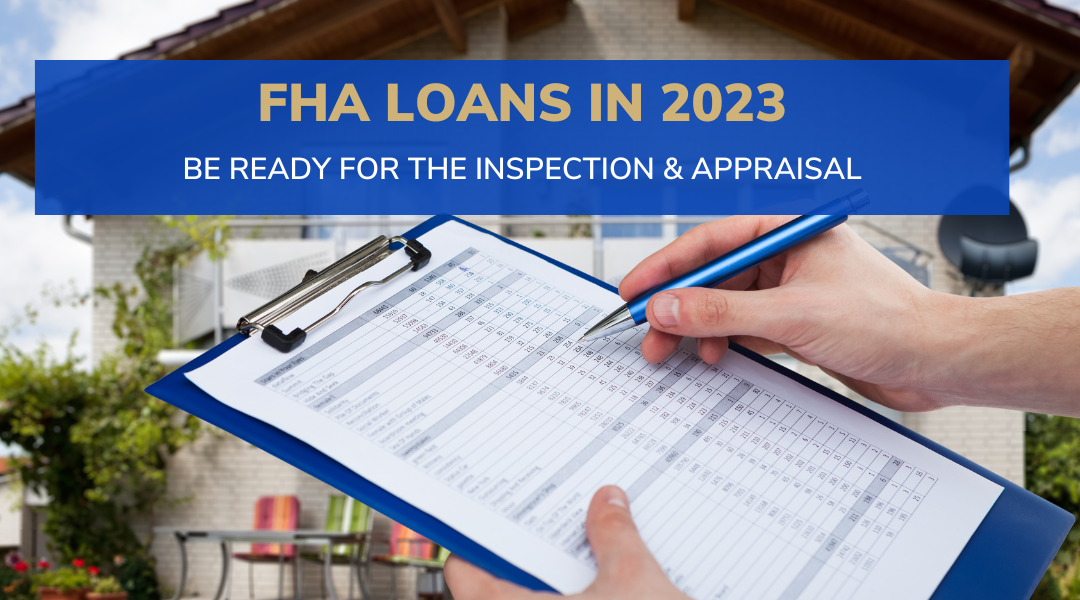 2023 Guide: Preparing for FHA Loan Inspection & Appraisal
.
Today I am going to give you a list of some of the most common items that are flagged when you are buying or selling a home that is subject to FHA loan rules and guidelines when it comes to the FHA inspection and appraisal.  Knowing these items can help you prepare your home for inspection so that you can successfully pass an FHA appraisal with flying colors. I am also going to explain some of the solutions for those times when an FHA appraiser requests more repairs than you can financially afford to fix.
Please keep in mind that the items I mention in this blog are not all of the FHA requirements, but more an overview of the most common items that we see getting flagged with the homebuyers and sellers we work with at our Mortgage Broker.
If you're considering applying for an FHA mortgage to purchase a home or accepting an FHA Buyer when selling your home, it's important to be aware of the process and what is required of the home that is going to be inspected during the homebuying & mortgage process. One key part of this process is the FHA inspection, which must be conducted by a licensed appraiser. This blog post will explain what you can expect from an FHA inspection and 5 common reasons why homes fail to meet eligibility requirements. By being prepared and informed, you can help streamline the homebuying process and avoid any last-minute surprises.
It is not uncommon to hear both sellers and real estate agents saying things like,
"This home is not eligible for FHA financing" or "I would rather accept a conventional mortgage buyer than have to go through the FHA appraisal process with an FHA buyer."
As a mortgage broker who helps buyers with FHA loans many times, we find that there are a lot of misconceptions about what HUD or the U.S. department of housing would like to see with a home that is undergoing FHA financing and inspections.  Getting an FHA mortgage is about a lot more than the market value of the home.  We also see that a regular appraisal for conventional loans can have the same challenges that an FHA appraisal has, making it important to address most issues with a home no matter which type of financing the homebuyer is getting.
Preparing Your Home for an FHA Inspection: A Guide
If you're in the process of buying or selling a property, keeping your home up to FHA minimum property standards and understanding home safety hazards is essential for passing an FHA inspection. Home sellers should keep safety hazards – like exposed wires, broken stairs, lead paint, etc. – in mind and also be sure that all systems are functioning correctly as per the FHA's minimum requirements. Additionally, it's important to not only conduct a thorough cleaning but to also make any necessary updates to your house to ensure it meets minimum standards, and to maximize the chances for a successful FHA home appraisal. Taking these steps will help to ensure that everything runs smoothly when preparing your home for the big day!
In order to do this, I suggest you take the following steps:
Ask your real estate agent for a list of all the FHA safety hazard items
Conduct a walk-through both inside & outside of the house, creating a list of anything that could be flagged by the FHA inspector
Fix the items on your list before any inspections or appraisals are completed
If additional requests show up on the appraisal, correct anything you are able to quickly, so you can close on the home on time
5 Common Issues Making Your Home Ineligible for an FHA Mortgage
Curious about whether your home qualifies for an FHA mortgage? It is important to know the FHA appraisal guidelines when determining eligibility. Make sure your crawl space meets all standards, as older homes particularly can be ineligible if any problems are found there. Additionally, necessary repairs must be identified and addressed in order to maintain eligibility—even minor issues like chipped paint or peeling wallpaper can disqualify a home. It is essential to work with an experienced real estate agent who stays up-to-date with FHA appraisal regulations in order to ensure the home remains eligible.
While there are many small items that you can easily correct, there are a handful of larger items that will stop an FHA loan in its tracks if you are not able to fix them before closing.
1. Lead-Based Paint Hazards – Home sellers must have any lead paint hazards addressed prior to the home being approved for an FHA mortgage loan.  This must be done with a lead-based paint-certified painter.
2. Well & Septic Distances- FHA requires that any property using an FHA mortgage, that has a well & septic system in use be scrutinized by the appraiser.  The number one thing an appraiser must confirm is that the home's well is located a minimum of 50 feet from the septic tank, 100 feet from the septic tank's drain field, and a minimum of 10 feet from any property line.  If your systems do not meet the distance test, the buyer can request an exception with FHA if the distance differences are minimal.  For big discrepancies, FHA & USDA mortgages will not be accepted.
3. Structural Integrity – Any structural issues such as sagging floors, broken stairs, cracked foundations or walls could cause an FHA appraisal to be denied due to safety concerns.  I have also seen lenders not approve Conventional & other loans if there are structural issues.
4. Local building Codes- make sure that the house will pass local building codes when it comes to any additions, accessory units, and well and septic systems
5. Mold & Mildew – If mold or mildew is present anywhere on the property it could constitute a health risk and thus will need to be remediated in order for the property to pass FHA appraisal requirements.  Mold remediation can be expensive, so don't ignore this one.
First-Time Home Buyers: Tips for Using an FHA Loan
Buying a home can seem like an overwhelming process; however, using an FHA loan can make it a bit easier. If you're taking this route, there are some key tips to keep in mind.
First, familiarize yourself with the minimum property requirements outlined by the FHA so that you are certain about what type of house you're looking for and have an idea of what repairs might be needed later down the line. For example, if you know you need to use an FHA mortgage when buying, do not waste any time viewing and putting offers in on homes that are HUD owned or "as-is" because this means that the seller will not correct and update any items that are flagged on the appraisal, leaving you frustrated and out the cost of the appraisal and any other required items.
Additionally, get acquainted with the FHA inspection checklist so that you know what details are important to note when making an offer on a property. If you are aware ahead of time of the things that will need to be corrected, you can make them part of your offer to the seller.  This will help you avoid spending money on the appraisal and deposit if you encounter a seller who is unwilling to make any changes during the negotiation stage.
Finally, make sure to use an FHA-approved appraiser who is trained to judge whether a property meets minimum criteria and determine its market value. You can do this by working with a lender that offers FHA mortgages.  With these three tips in your back pocket, you'll be well on your way to owning your first home!
Finding an Experienced Real Estate Agent for FHA Loans
If you are considering purchasing a home using an FHA loan, it's important to find a real estate agent that has extensive experience in purchase agreements and mortgages. A good place to begin your search is with friends or family who have used local agents in the past. You can also read through reviews online, as these will give you a much better insight into the quality of service they provide and to look for their credentials and specialty.
Another option is to check with mortgage lenders directly, as they may be able to refer you to reputable real estate agents who understand how to handle purchase agreements and appraisals related to FHA loans. Do your research thoroughly so that you can have confidence in knowing your purchase agreement and the mortgage lender will provide the best possible outcome.
4 Red Flags that could mean a Home is not ready for an FHA Inspection
If you're planning to apply for FHA loan financing, chances are you've heard that a home inspection is required. But what qualifies as an FHA-approved house and what might be considered a safety issue when looked at under the lenders' microscope? There are four red flags to watch out for that could mean your home is not ready for an FHA inspection, including safety issues such as defective wiring, water heaters in need of repair, inadequate ventilation, and improper plumbing. With these possible issues in mind, it pays to explore how your home can best meet FHA standards before applying for loan financing.
Electrical System – Any exposed electrical wires or faulty wiring can result in a failed FHA inspection, as this presents a fire hazard and is considered unsafe and unacceptable by the standards of the FHA appraiser.
Plumbing Problems – Clogged drains, leaking pipes, water pressure/flow issues or other plumbing problems must be resolved prior to the approval of the loan by an FHA appraiser if these are identified during their inspection process.
Water Heater- a very simple item that we see tagged frequently is the hot water tank's safety valve.  If not working, it will need to be corrected and a reinspection is required to check if this has been done.
Handrails on stairs both inside and outside are often requested by the inspector.
FHA loans are a great option for many home buyers but there are certain things that can make your home ineligible for an FHA mortgage. By understanding the FHA requirements and taking the necessary steps to prepare your home, you can avoid having your house fall through at the last minute because it doesn't meet inspection standards. If you want to learn more about FHA Loans and what to expect click here to see a video on FHA loans.
Mortgage Consultation Today!
Talk to a Co/LAB Lending Loan Officer to discuss your mortgage options. Our team is happy to answer your questions and help guide you to the perfect mortgage options.