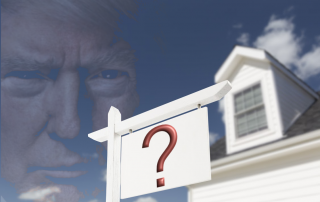 The Predicted Effects of Trump's Presidency on the 2017 Housing Market
Times are changing in the housing market. Predictions range from another housing crisis apocalypse to significantly appreciating home value. Whether or not you voted for the 45th President, here are some educated guesses about what the 2017 housing market landscape will look like.
Elimination of the Mortgage Interest Deduction:
As it stands, it seems unrealistic that the mortgage interest deduction will be totally cut. It's more likely that a cap will be placed on how much a homeowner can actually claim. Interestingly, while this seems to be a source of fear for many homebuyers, only about one-fifth of households actually use the deduction, according to research by Tax Policy Center of the Urban Institute and Brookings Institution (cited by theHuffington Post).
The Forecast for First Time Homebuyers:
Trump and the Republican Party plan on implementing some serious deregulation, reductions, and reforms over the next four years, and are already taking the bull by the horns in 2017. One order of business is to repeal, or at the very least, refine the Dodd-Frank Wall Street Reform and Consumer Protection Act (Dodd-Frank).
The idea behind this bill was to prevent capitalistic mortgage lending, to make the terms of a loan more transparent, and to prevent greedy brokers seeking higher commissions to steer their clients toward products that are not in their best interest.
While that may not sound like good news, there is a bright side. As Dodd-Frank is trimmed back, there is a good possibility of lending institutions becoming more aggressive in the market place. This would allow consumers to select from a wider array of mortgages with better terms. With more loans to choose from, buyers will have better opportunities to find the products that fit their needs.
Predictions for the Less-Than-Perfect-Credit Holders:
On top of having more options to choose from—should Dodd-Frank be repealed—banks may be more willing to provide financing as Trump and the Republican party gear up to privatize Fannie Mae and Freddie Mac. This means less regulation and more loans. A possible outcome of this deregulation could be easy approval for borrowers and more competitive terms among the lenders.
Likelihoods for Homebuyers looking to Build:
Ostensibly, Trump's infrastructure projects, which will rely heavily on skilled laborers, could actually strip homebuilders of help. There is some fear that home construction workers will shift to these government jobs.
Moreover, with Trump's stance on immigration, there is a possibility for a considerable rise in the price of building a custom home, as many business utilize immigrant workers. The more short-handed homebuilders become, the higher construction worker's wages will climb. This could lead to custom homes becoming more costly to build.
Conversely, some economists believe Trump's administration will loosen regulations on new construction. This would significantly reduce the price of custom homes even with the raise in wages. Robert Dietz, a chief economist for the National Association of Home Buyers (NAHB) stated, "Just under 25% of the cost of a newly built home is due to regulatory burdens." Without these bureaucratic policies, major expenses could be cut, leading to a decrease in the overall cost of construction.
Forecast for the Home Seller:
While the National Association of Realtors (NAR) reported a 10 month low in pending home sales this past November, the Northeast region of the United States continued to gain sales. This is good news for home sellers in the New England and Mid-Atlantic States. However, even sellers elsewhere in the U.S. should hold tight; the NAR blames a "brisk upswing in mortgage rates" for this decrease in buyers.
The Rise in Rates:
Mortgage rates have climbed noticeably since Trump's election.According to Forbes, "the 30-year fixed mortgage rate in the United States [has risen] from about 3.5% on Election Day to nearly 4.2%, making it more costly to finance a home purchase." That being said, rising interest rates are often a signal of a thriving economy, which also indicates property appreciation.
The Bottom Line:
Change is always inherently a little scary, but know this: homes are going to continue to be bought and sold despite an uptick in interest rates, a decrease in regulation, or fluctuating building costs. While it may take more saving, more research, or just more frugal purchasing, homebuyers will continue to find homes that suit their needs and loans that work for their financial position.
As it's easy to feel lost in a time of transition, find a mortgage broker who can steer you in the right direction.
Mortgage Consultation Today!
Talk to a Co/LAB Lending Loan Officer to discuss your mortgage options. Our team is happy to answer your questions and help guide you to the perfect mortgage options.