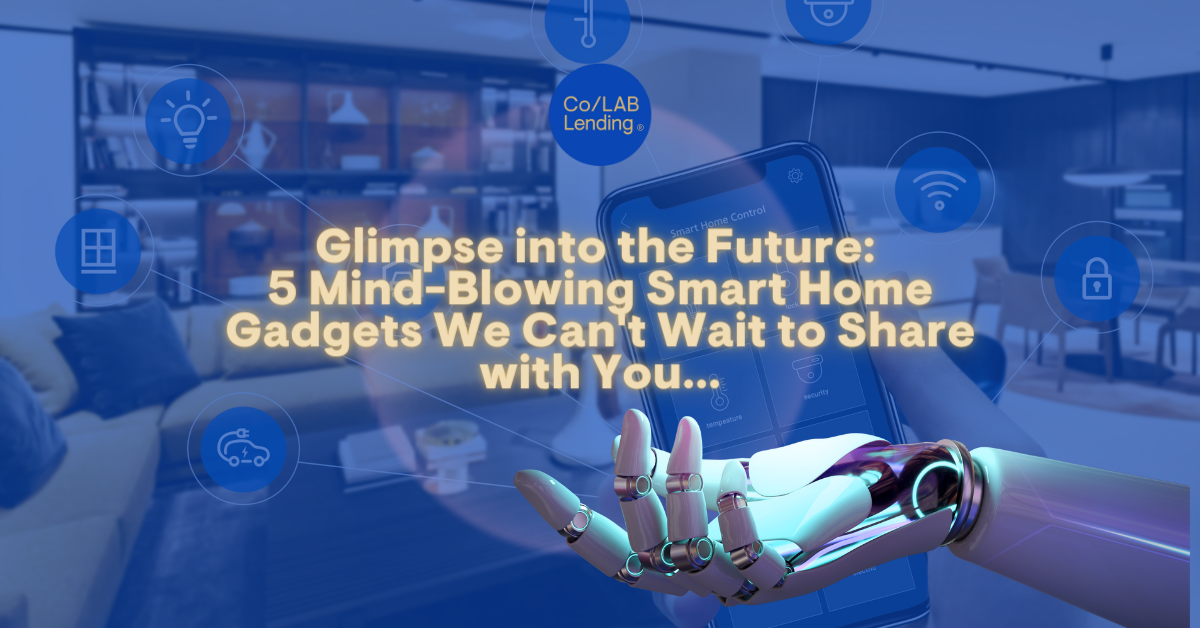 5 Smart Home Technology Gadgets We Have, That We Think You'll Love
.
Technology is taking over almost every aspect of our daily lives. First, it was large clunky desktop computers (remember those?), the internet, then digital cameras and cell phones, then MP3 players, then came the smartphones. These basically combined all the above together into a single device that fits into our pockets. Even the cars we drive every day have become so much more than just an engine with four tires and a steering wheel. They have speaking navigation, Wi-Fi connection, cameras to see around the entire outside of the vehicle and some can even park themselves. Word on the street is they'll be driving themselves soon. And now Smart home technology gadgets!
Let's talk about our homes. They're no different. Even they can't escape the onslaught of smart home gadgets that we as people and a society love. We can't get enough of technology and for good reason. Smart home technology devices and gadgets are helping make our daily lives simpler, easier, and even more fun.
Our team is always talking about the latest electronic gizmo we just purchased at the water cooler. And why not? These things are amazing. In this blog, we thought it would be fun for our team to share some of our favorite home technology gadgets, how we use them, why we love them and why we think you must have them! 
Maybe you're already in full-swing with turning your home into a fully automated technological marvel. Maybe you're still trying to figure out what a FireStick is. Either way, we hope some of our favorite home tech toys will help you see the potential of adding more of these smart toys into your home.
We asked our team to tell us about their favorite smart home technology and here are the responses they gave us.
1. Schlage Encode WiFi Deadbolt
Monica Karnes, Pipeline Manager
"My house is full of technology. The kids love it! But, one of the things that I love the most is our Schlage Encode Smart WiFi door lock." Monica says, "It's connected to our home network and a phone app which makes checking on the door status easy even when I'm at work".  She told us there is an app you can download to keep yourself informed (if you wish) whenever the door is locked or unlocked and that she doesn't ever have to worry about the kids forgetting their keys. "When I am away, it's easy for the family to get in to take care of the dogs. I can let people in even from no matter where I'm at." Another one of the Schlage Encode the best feature is it's ability automatically secure itself if you leave and forget to lock it.
2. Roku Streaming Stick
Tatiana Reza, Loan Partner & Opie Hughes, Loan Officer
Tatiana and Opie both had the same response when asked what their favorite home technology device was – The Roku Streaming Stick+ for your television. Cord-cutting isn't just a fad. More and more homeowners are ditching cable or satellite in favor of subscriptions to Netflix, Amazon Prime Video, Hulu, and others. Tatiana and Opie aren't any different. The best thing about it? Opie says in the past, previous Roku's, although they were still "The Bomb", required multiple remotes to be used to control the tv functions. Now he says, the streaming stick comes with a remote that controls the tv power and volume. For Tatiana, "Its been forever since we've had cable so I enjoy not having an extra bill. Lots of apps on there you can use to watch TV :)".
3. Nest Thermostat
Eric Varner, Marketing Director
Turning his home into an automated machine is sort of a goal of Eric's. He's already made use of smart locks, WiFi-connected garage doors, Google Home(s), and lights but the number one smart home technology he loves the most is the NEST 3rd Gen Smart Thermostat. "One of the coolest features is being able to control the temperature from my phone no matter where I am at. It also connects to my Google Home so I can just tell it what to set the temperature to. It's that easy." But what really blew him away was comparing his cooling and heating bills over a full year and finding out that overall his bill was cut a little over $500 for the year! 
4. ADT DIY Home Security
Jen Cornman, Loan Partner
What's a home without proper home security? That's why Jen has made use of one of the ADTs home security kits that she set-up herself. "This is a simple install and a great product for the money. Not to mention the peace of mind in knowing that your home is protected." she said, "Once it was connected to my WiFi I was able to see inside my home from the cameras and monitor all the overall security anywhere. We have glass break protectors on all of our windows and all of the doors are secured with an alarm as well." Jen did say there was a small glitch when setting it up but technical support solved it in less than a minute with a quick phone call. "It's obvious peace of mind having it."
5. Amazon Echo with Alexa
Adam Weaver, Director of Operations  & Nate Cobler, Loan Officer 
One of Adam's favorite smart home technology products is Alexa. Right now he is just in the beginning phases of automating his home but already loves using the Amazon Echo with Alexa for listening to music, getting news, and weather. Adam says, " I don't have quite the full setup but I know some people that do have a pretty nice home automation setup through Alexa that includes connected appliances, lights, entertainment system connectivity, door locks, and all that good stuff. makes for a very convenient lifestyle setup. I hope to get there."
Nate also mentioned he has an Alexa and although he doesn't use it for much his wife does. "My wife uses Alexa frequently when she cooks. It's useful for digging up great recipes setting timers, and listening to music while you cook."
Not everyone in our office had a smart home product. Honestly, it was a little shocking. But, after spending some time talking about them and all of the awesome benefits we know we piqued their interest. It won't be long before they dive into the technology. Once you've caught the home automation technology bug it's hard to let it go.
Once you've caught the home automation technology bug it's hard to let it go.
Mortgage Consultation Today!
Talk to a Co/LAB Lending Loan Officer to discuss your mortgage options. Our team is happy to answer your questions and help guide you to the perfect mortgage options.
Tags In