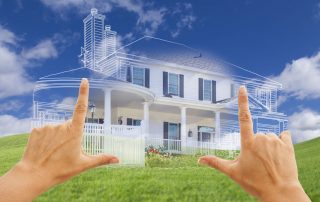 Choosing the Right Builder for Your New Home Is Crucial — Here Are the Questions to Ask
Building new or buying a SPEC home is an excellent decision for any homebuyer who is looking to tailor a home to his or her lifestyle. When beginning this journey, the most common first question a homebuyer asks is how can I find the right builder?From a Broker to You: How Do I Pick the Right Builder?
"It should not be a stressful process. It should be seamless and a fun experience," Natalie Washburn, broker for Maleno Real Estate, asserts. "But, it's all about knowing what to expect from the builder and their process." Natalie, is a PA Broker with over 14 years of experience. Below, she outlines the important questions to ask your builder before breaking ground to assess if they're right for you.
How long have you been in business?
What is your time frame? Will you put that in writing?
What is your warranty program?
Will there be a walk-through during the process?
Do you offer any energy efficiency packages?
How energy efficient are your homes?
Do you have any third party testing that comes in to prove these efficiencies?
What kind of foundation are you using?
Do you share material specifications prior to construction?
Will I be able to follow up with you after the home is constructed?
Can I bounce ideas off of an in-house designer?
Benefits of a New Home
While buying a previously owned house has its own advantages, Natalie also highlights some of the many benefits of building a new house or buying a spec home:
Energy Efficiency

:

 "You can always go back and replace your countertops or your flooring, but you can't go back and fix the insulation or the 2×6 studs in the walls." These all make a huge difference when it comes to your utility bills.

Working within Your Budget

:

"When you begin a remodeling project, you risk opening up a whole new can of worms, which can eventually lead to being over budget. With new construction, you pick the products that work for you."

Quality over Quantity of Space: 

"Square footage isn't as popular as it used to be. Today's trend is leaning toward smaller homes with charming details as opposed to massive houses with [run-of-the-mill] qualities."

Getting what you want: 

"When you build new, you truly get what you want and customize it to your family's lifestyle."
Custom Home vs. Spec Home and Those Who Build Them:
Knowing what you're looking for will determine what kind of builder you need. For that reason, we decided to list some of the customizable options for homebuyers.
Custom Home Builder: This builder will customize your house from the foundation to the roof top. This construction can take place on land you already own or in a development. These custom homes can be any size, from a massive, regal estate to a smaller, more charming home. The loans for new construction can be borrowed by both the builder and the prospective homebuyer, with the latter being the more common mortgagor.
Spec Homes: As the name suggests, "spec" homes are constructed by builders who are speculating that a homebuyer will likely come along and purchase the house. These homes are semi-customizable, and the price generally includes the options that are available. Custom features may include materials used, minor floor plan adjustments, and small additions.
 Shopping Around Made Easy:
 Not all institutions have construction loan products, so you may have to do some shopping around. A mortgage broker can be your best option if you want to save time and money, as they'll be able to highlight options from multiple banks and lenders. Moreover, they'll be able to educate you on any taxes or deposits that are obscured in the paperwork process.
If you're looking for the right builder for your new house or need help find the right home? Natalie and her team at Maleno can help you get started.
Now we want to hear more about you! Share, like, or leave a comment below.
Mortgage Consultation Today!
Talk to a Co/LAB Lending Loan Officer to discuss your mortgage options. Our team is happy to answer your questions and help guide you to the perfect mortgage options.