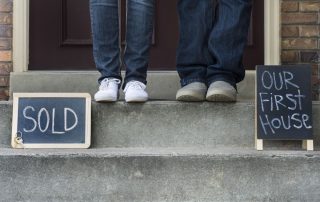 FHA Loans: Is It The Right Loan For Your Home Purchase?
So you want to learn more about FHA loans, you've come to the right place.
Let's start with some background knowledge.
These are mortgage loans that are insured by the Federal Housing Administration, hence the acronym   FHA. They've been around for over 80 years.
FHA loans were created to help reduce foreclosures and defaults that occurred during the 1930s. It was also a way to provide the government with an insurance policy, so to speak, to reduce the loss it took if loans were defaulted or foreclosed on. It was a stepping stone in putting a shot into the housing market. One of the other primary objectives of the FHA loans were to assist those with little money an opportunity to begin their "American Dream."
FHA loans are geared more towards first-time homebuyers because of the looser credit qualifications, the low down payment, and attractive interest rates compared to conventional loans. However, anyone is eligible for an FHA loan as long as they meet those credit qualifications. Let us repeat that: Anyone is eligible for an FHA loan, even on the purchase of a second home.
You might be asking yourself: What are the qualifications? How much is the down payment?
It doesn't really take much to qualify for the program. As is true with any loan program, the credit score has a lot to do with it.
The higher the credit score the better chances of qualifying for a loan. Also, the interest rate you receive is dependent upon your credit score.
FHA doesn't require you to have a perfect credit score. Borrowers can have a minimum credit score of 500 or above. With that being said, falling between 500-579 you are required to put more down.
The normal down payment on an FHA loan is 3.5 percent but that is only eligible to those that have a credit score of 580 and above. The 500-579 range would have a 10 percent down payment.
When it comes to the down payment, the funds don't necessarily have to be all of the borrowers. Borrowers, depending on the credit score again, are allowed to get a gift. The gift must come from an immediate family member — parents, siblings, spouse, etc.
Borrowers must pay an upfront funding fee and a monthly mortgage insurance premium on FHA loans. The mortgage insurance premium is paid for the life of the loan unless you refinance into a conventional loan.
The upfront funding fee is 1.75 percent of the loan amount. The mortgage insurance premium is .85 percent of the loan amount.
For example purposes, the upfront funding fee on a $100,000 loan would be $1,750 with a mortgage insurance premium of $600. Now the $1,750 fee is a one-time fee. The $850 premium is spread out over the 12 months so the monthly payment would be $50.
FHA has a loan limit on a county-by-county basis. To see how much your limit is for your county you can visit the FHA website.
After learning these useful tidbits, you as a first-time home buyer might be thinking the FHA loan might be right for you.
However, you should always speak to a mortgage professional because there are many other options and programs that might be a better fit for your needs.
Mortgage Consultation Today!
Talk to a Co/LAB Lending Loan Officer to discuss your mortgage options. Our team is happy to answer your questions and help guide you to the perfect mortgage options.