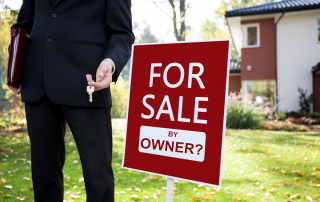 For Sale by Owner (FSBO) Versus For Sale by Real Estate Agent
.
While it's commendable to consider taking on the arduous process of selling your home by yourself, it's best that you do some research before deciding to try FSBO. Sure, you may save on the commission fee, but the adage "a penny saved is a penny earned" may not always apply to real estate. Here's why:
Agents Help to Maximize Your Price
The biggest perk (and really the only perk) of FSBO is the savings on commission. But is it really worth it? "Statistics will show you that using an agent actually gets you a higher return on investment," says Joni Spearly, REALTOR®, and Master Certified Negotiation Expert (MCNE).
And as it turns out, she's right on. According to a 2016 National Association of REALTORS® study, "the typical FSBO home sold for $185,000 compared to $240,000 for agent-assisted home sales." That is a staggering 29.73% increase in price between the FSBO and agent-assisted homes.
So, let's do some math together using the usual 6% commission model (which is not necessarily set in stone).
If you sell your home for $185,000 without a realtor, you're taking home about $183,000 after taxes.
If you sell your home for $240,000 then your agent receives $14,400. That's $225,600 for you before taxes and probably closer to $223,200 after taxes.
Granted, this is a pretty rudimentary equation to determine your take home pay and there are many other elements to consider; however, everything being equal, it illustrates something quite simple: just because you're paying an agent doesn't mean you're walking away with less. In fact, in this particular example you're making nearly $40,000 more.
Aliana Steinbugl, REALTOR® and marketing guru for the Joni Teaman Spearly Group, says it simply: "When you use an agent, you're going to get more offers from a larger pool of buyers, which in turn boosts your potential for maximizing your return or maintaining offers very close to your listing price."
Spearly couldn't agree more. She even adds, "Agents maximize the return for both the seller and buyer." This is because a good agent always understands the goals of their client, be it the kind of house they're looking for, their price range, the location, etc.
Agents Know How to Market
"Marketing is needed regardless of location," says Steinbugl. And these days, the marketing initiative of agents goes far beyond a few flyers and an ad in the newspaper. From traditional print ads to major online marketing and advertising, most agents are pulling in leads from a multitude of sources—and these are quality leads, not Sunday morning open house browsers.
"Agents use listing services, market to their sphere of influence using flyers, emails, social media, and Craigslist, and of course utilize sites like Zillow, Trulia, Realtor," Spearly says. But even more importantly, she asserts:
"Most agents have a pool of buyers who they're already working with. So if we list the house for the seller it's already getting out to buyers who are already contracted with an agent. All those buyers are seeing it right away… These buyers are pre-approved! They're not just random people looking through the neighborhood."
Agents Have Niche Neighborhood Knowledge
"Many times," notes Steinbugl, "FSBOs price themselves inappropriately, both too high and too low because they don't have access to comparable sales or the experience of a realtor." Although there are online tools for the job, such as the Zestimate (which is currently in the midst of a lawsuit due to its inaccuracy), Pricing Scout, or the basic Realtor.com estimate, the accuracy is always debatable.
This is precisely why many homebuyers and home sellers are still leaning toward a realtor to help with pricing. "It's a double-sided sword," says Steinbugl. "If you price your home too high you're chasing the market, and if you price our home too low you're losing money right of the bat."
Some FSBOs go a step further and double down on their research by using online sources as well as visiting the courthouse for additional property value information, tax assessments, and other useful key real estate data. However, there is still no substitute for representation.
"An agent is going to represent you and ensure the price of the property is aligned with their local market. This is huge because the local market changes frequently," says Spearly. "We want to be sure buyers aren't overpaying for homes and sellers aren't underpricing their homes."
Agents Are Negotiation Machines
Because well-seasoned agents generally know the pricing of homes in specific areas, they can negotiate more effectively by using cold hard facts about the home, the neighborhood, or even using the furnishings as bargaining chips, alongside an array of other tactics.
"We have strategies for so many different scenarios," Steinbugl states. "We help supply options to buyers and sellers during the negotiation phase that a FSBO might not think of." Whether it is deciding which appliances come and go with the house, a reduction in contingencies, or highlighting the buyer's pre-approval status, agents have experience to back up their hunches when it comes to what they believe will get the contract signed.
"There are three arenas where we negotiate and use our skills. One is at the time of the offer, two is during the inspection process, and three is sometimes the appraisal," says Spearly. Obviously, at the time of the offer, agents find ways to sweeten the deal on both ends. However, you may find that during the inspection process you have to "kick the tires" so to speak. The best way to see what needs work is by bringing in a home inspector to give his thoughts.
During the appraisal phase, agents can showcase buyers who are in a good financial situation, especially in a hot market. The reason for this is that if appraisals come in low, buyers who are marginal on their loan qualifications have a higher risk of not receiving financing for the home.
On the seller's end, it's possible to negotiate out of the appraisal contingency. This helps ward off strong borrowers from using a low appraisal to their advantage and dragging down the price of the property.
To Sell By Yourself or Not To Sell By Yourself
Whatever you decide, we hope you find the house of your dreams or crush it on your sale. However, know that if you do it alone, there is a laborious stack of paperwork (and possible litigation) that can be daunting for those selling solo, not to mention the major time investment.
In fact, homes being sold by realtors generally sell nearly 20 days earlier than FSBOs, according to research by The Real Estate Trainer. Conversely, nearly 20% of FSBOs end up relisting on Multiple Listing Services.
Mortgage Consultation Today!
Talk to a Co/LAB Lending Loan Officer to discuss your mortgage options. Our team is happy to answer your questions and help guide you to the perfect mortgage options.