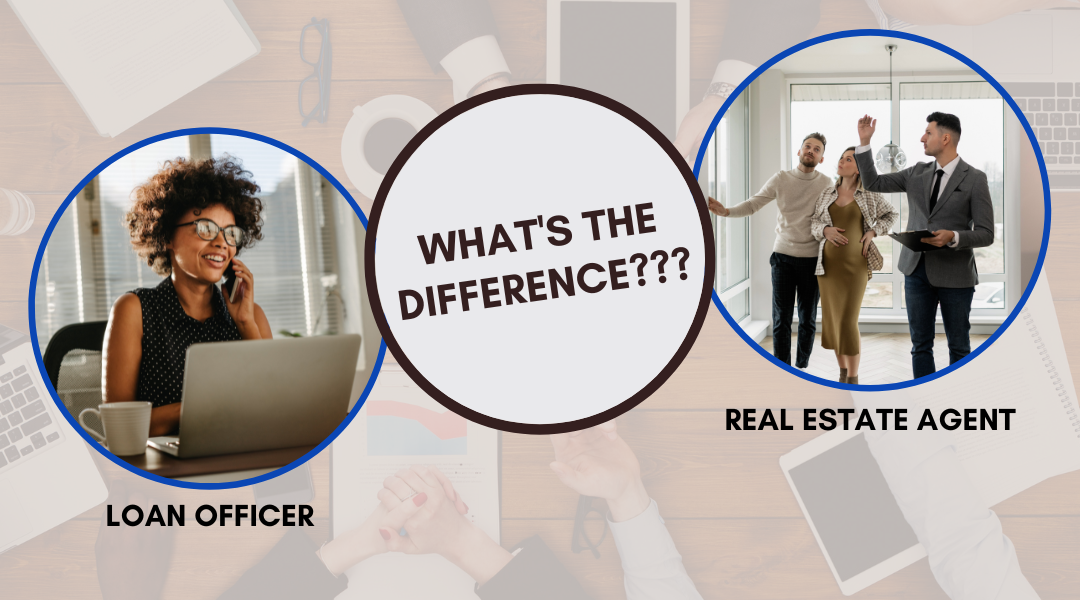 Loan Officer vs. Real Estate Agent: Understanding the Difference
.
You're finally ready to buy a house. Exciting! But as you start your journey, you might be wondering: Do I need a loan officer? Or a real estate agent? What's the difference? Do I need both?
There are a lot of terms, acronyms, and people that play some piece or role in the real estate buying and selling process, and although you don't need to know all of the details, you need to understand the impact & help that these professionals provide to you, so you don't lose thousands of dollars in mistakes (which we do see happen every year)
Don't worry, we're here to help clear things up. Below, we'll break down the key differences between loan officers and real estate agents so you can decide what's best for you.
Unveiling the Role of a Loan Officer
A loan officer is a professional who helps potential homeowners secure financing for their home purchase or refinance. Knowing who is a mortgage loan officer can be confusing at times because of the various names that they can be identified by.
Mortgage loan originator

Loan Officer

Mortgage Broker

Mortgage Specialist
They all mean relatively the same thing!
A loan officer is someone who works at a bank, credit union, and other financial institution. Their job is to help people like you get loans with the best terms & interest rates to buy a house. 
The best Loan officers are professionals who work with you to find the best loan terms for your needs, by searching and comparing different lenders and mortgage loans. 
Yes, there is more than one type of home loan. There are actually hundreds of loan programs that potential buyers can choose to apply for. Your loan officer will act in a way, like your financial advisor, and should explain some of the best mortgage products and loan options for your specific situation.  Loan Officers help negotiate rates and fees with lenders (and even give advice on remodeling or consolidating debt). 
A loan officer will sit down with you and ask about your income, your debts, and your financial history then pull your credit score. They'll also ask about the property you're interested in buying so that they can match the loan products to the house too. Based on all of this information, they'll give you a loan offer. If you accept the offer, they'll work with you to get the loan approved and funded. 
Some of the documentation that a loan officer will request from you are:
Bank statements

Pay stubs

W2's

Tax returns

and much much more
Loan officers will secure documentation from lenders and from you,  in order to keep the loan application process moving along smoothly- all before any money changes hands! 
One of the most important roles a loan officer has is keeping your mortgage loan process moving smoothly and ON TIME!
They provide important documents and process milestones, such as:
a pre-approval letter (which you will need when you put an offer in on a house),

The Conditional approval when the bank's underwriter approves your loan

Clear to Close
Loan Officers know how important it is that their clients get into a house quickly and get their offer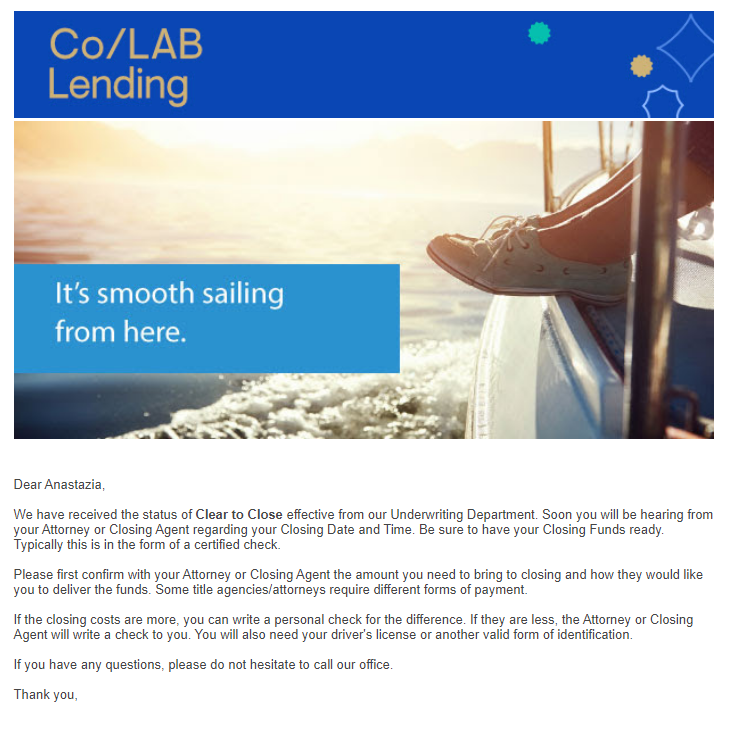 accepted, so they should offer quick responses and updates to you and your real estate agent when looking for a home.  Then when you are in the thick of getting a mortgage loan approved and working toward closing, they should have a system in place to update all parties in the transaction.
Here is an example of some of the notices that our loan officers at Co/LAB Lending send out when their homebuyers "Apply for a Mortgage,"  "Get Approved," and are "Clear to Close"
The Essential Role of a Real Estate Agent
A real estate agent is a professional who helps people buy, sell, or rent properties. Real estate agents typically work with multiple clients at a time and are paid a commission on the properties they sell or rent.
Unlike loan officers, they don't lend money, but they are experts in the real estate market. They help buyers and sellers find each other and negotiate prices or terms for their client's needs with listing brokers who bring them into negotiations as well (or may even be representing multiple parties). The best of these professionals will work hard to get you exactly what you're looking for and not just because it's commission driven!
They'll help you find a house that's within your budget and meets your needs. They'll also help you negotiate with the seller to get the best possible price on the property. Once you have an offer accepted on a house, your real estate agent will still be involved. They'll help you coordinate all of the different professionals who need to be involved in the process, from home inspectors to loan officers.
Real Estate agents are typically employed by licensed brokerages and work on commission (meaning they only get paid if they successfully help their client buy or sell a house). In order to become a real estate agent, one must complete some formal education and pass an exam.
Key Expectations When Buying Your Next Home
Even though real estate agents and loan officers have different roles when helping you during the home-buying process, they both have many similarities when it comes to working with potential clients. First, they both are working toward the same goal for you: the day your house and loan closes! They should be looking for the best deal for you and your family, and help educate you on the process and the local market. They work long hours to find the best way to get you into a home you feel comfortable with, for your individual financial situation.
Your Guide to Getting a Home Loan
The main difference between loan officers and real estate agents is their focus. Loan officers are focused on financing, while real estate agents are focused on sales. This means that loan officers will work with you to get pre-approved for a mortgage and help you find the best financing options available. Real estate agents, on the other hand, will help you find properties that fit your budget and needs and negotiate the sale price on your behalf.
Another key difference has to do with education and training. While becoming a loan officer requires completing some formal education (high school diploma) and passing an exam, becoming a real estate agent also requires an exam, but it is a different test.
Lastly, it's worth noting that many people choose to use the services of both a loan officer and a real estate agent when buying or selling property. Top agents like to work with a local lender who knows the market conditions and who will understand your financial needs. Both professionals should have your best interest in mind, so you confidently find the perfect home and the best interest rate.
If you're not sure whether you need one or both of these professionals, the best thing to do is reach out to someone who can assess your specific situation and give you tailored advice.
Do I need both in today's market?
You don't necessarily need both a loan officer and a real estate agent, but having both can make the home-buying process smoother and less stressful, as well as save you a lot of time and money. A loan officer can help you get pre-approved for a mortgage and find the best possible financing options, while a real estate agent can help you find properties that fit your budget and needs and negotiate the sale price on your behalf.
The best loan officers and real estate agents in your area will be working together, on your behalf, as a team. They have developed strong relationships helping other homebuyers that came before you. They will guide you, answer your questions and be a united front that makes the sometimes stressful process become more manageable.
Each year when our team helps hundreds of homebuyers, it is worth noting that the clients that have the hardest time during the loan process are the ones that are involved in a private sale or "for Sale by owner" when a real estate agent is not involved.
This is because, the average homebuyer is not as familiar as a real estate agent is about the steps in the process, when they need to happen, and who to contact to complete the task at hand. Is this a problem? It can be if it comes to some of the critical dates and requirements that are in a sales agreement (which is a legally binding agreement)
As an example: Most sales contracts state that a buyer must make an official loan application within 10 days of all parties signing the sales agreement. This is the first of a handful of dates with tasks tied to them. We find that most buyers are not aware of the consequences that can occur if they do not respect these guidelines. If you are buying a For Sale By Owner with this clause in it, and you now have an accepted sales agreement on 1/2/2023 where you have given a $5,000 Deposit to be held. Do you know how to protect yourself and when you need to do what steps that are required of you?
Let's say you contacted a home inspector to walk through the home on 1/10. The inspector sends you their findings report on 1/11, and you notice a few issues with the home that could be very expensive. On 1/12 you type up an addendum or request that you want to be addressed before you are willing to move forward with purchasing this home and send it to the seller. The seller calls you on 1/13 and tells you that they do not want to address the issues you found because they have a backup offer with no inspection needed.
You are bummed, but feel ok about the decision, and ask them to write your $5,000 check back to you. The seller's attorney reaches out the next day and asks you to provide proof that you have applied for your mortgage and where the appraisal process is.
Confused, you reply that you did not apply for the mortgage, as you were going to do that once you knew the house was ok after the home inspection. The attorney replies back that you should contact your representative to walk you through your responsibilities as a buyer. You don't have a representative? You did this on your own!
The problem is that you didn't have someone experienced in the process and your legally binding agreement stated you must make loan application within 10 days of the agreement being signed, which was 1/12, two days ago. Now what?
You have just lost the house you wanted, and you are now going to lose the $5,000 deposit check you gave them because you did not complete your required steps on time.
This can happen with:
Reply to inspections

Mortgage Loan Commitment by the lender you choose

Not meeting the closing date
Buying a piece of real estate will be one of the largest financial transactions that you will ever participate in, so I highly advise you to use both the services of a good realtor in your area, as well as a loan officer who works with and will educate you on the options you have available to you when purchasing.
Who Else do I need?
Real Estate Agents and Loan Officers are not the only professionals who help you get to the finish line when it comes to getting a mortgage. There are a number of professionals in the real estate industry who all play a vital role in helping you get the house and money you need. A few of the other names you will hear once you have found a house and are working toward getting your keys are:
Home Inspector

Home Appraiser

Mortgage Processor

Mortgage Underwriter

Loan Closer

Title Agent

Attorney
So, there you have it! The key difference between loan officers and real estate agents is their focus. Loan officers are focused on financing while real estate agents are focused on the houses in the market.
Loan officers and real estate agents are both important professionals in the world of real estate. If you're not sure whether you need the services of one or both of these professionals, the best thing to do is reach out to someone who can assess your specific situation and give you tailored advice.
For a FREE virtual or in-person consultation, click here and answer the questions so our team can connect with you and help guide you on the right path toward owning your own home.
Mortgage Consultation Today!
Talk to a Co/LAB Lending Loan Officer to discuss your mortgage options. Our team is happy to answer your questions and help guide you to the perfect mortgage options.
Tags In