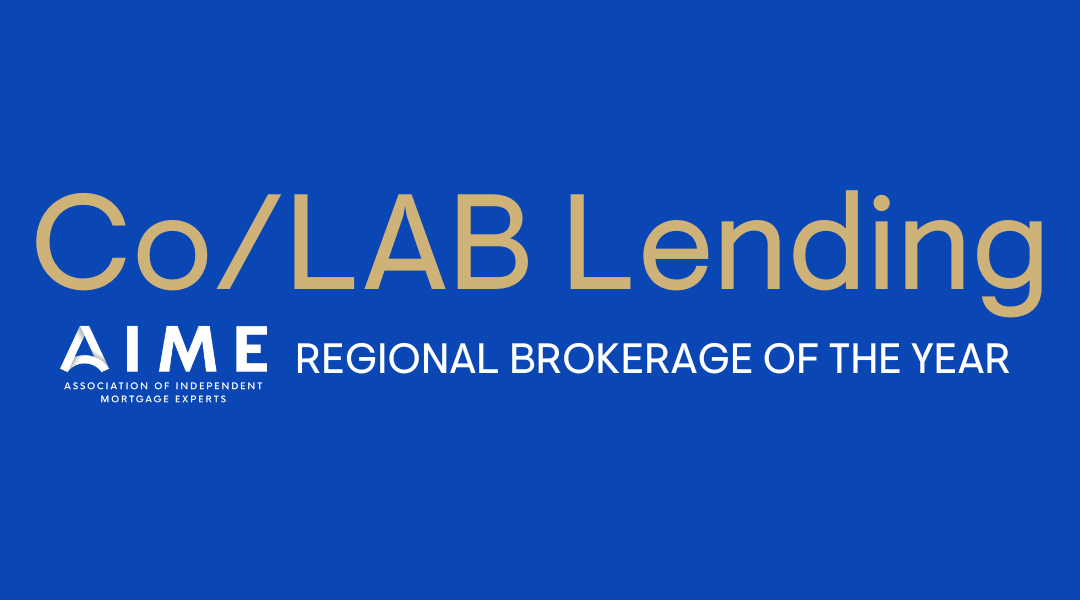 Co/LAB Lending Named 2023 Regional Brokerage of the Year by AIME
FOR IMMEDIATE RELEASE
Naples, Florida – Co/LAB Lending, a leading mortgage brokerage firm originally based in Pennsylvania and now licensed in multiple states, has been named the Regional Brokerage of the Year by the Association of Independent Mortgage Experts (AIME). The award recognizes Co/LAB Lending's outstanding contributions to the mortgage industry and their commitment to delivering exceptional customer service, innovative solutions, and dedication to their clients' financial success.
AIME's Brokerage of the Year award is one of the most prestigious honors in the mortgage industry and recognizes top-performing mortgage brokers who demonstrate excellence in client satisfaction, business growth, and industry leadership. Co/LAB Lending was selected as the Regional Brokerage of the Year for their exceptional performance in these areas.
"We are thrilled and honored to receive this recognition from AIME," said Andres J. Munar, Co/LAB Lending's Owner & President. "This award is a testament to the hard work and dedication of our team and their unwavering commitment to delivering personalized, innovative mortgage solutions to our clients."
Originally based in Pennsylvania, Co/LAB Lending has been providing mortgage brokerage services to clients across multiple states, including North Carolina, Ohio, Florida, Virginia, Puerto Rico, Maryland, and Texas, for many years. They offer a wide range of mortgage products, including conventional loans, FHA loans, VA loans, and jumbo loans, among others, and are dedicated to delivering customized, tailored solutions that meet the unique needs of each client.
"We believe that every client is unique, and we work closely with them to understand their financial goals and develop a mortgage solution that fits their specific needs," said Megan Marsh. "Our team is passionate about helping our clients achieve their dreams of homeownership, and this award is a testament to the hard work and dedication that goes into every mortgage we help secure."
Co/LAB Lending's commitment to innovation and customer service has made them a top-performing mortgage brokerage, and the AIME Regional Brokerage of the Year award is a well-deserved recognition of their achievements. As they continue to grow and expand their services, Co/LAB Lending remains committed to providing exceptional mortgage solutions to clients across the multiple states in which they are licensed.
To learn more about Co/LAB Lending and their mortgage brokerage services, please visit their website at www.colablending.com
Mortgage Consultation Today!
Talk to a Co/LAB Lending Loan Officer to discuss your mortgage options. Our team is happy to answer your questions and help guide you to the perfect mortgage options.
Tags In