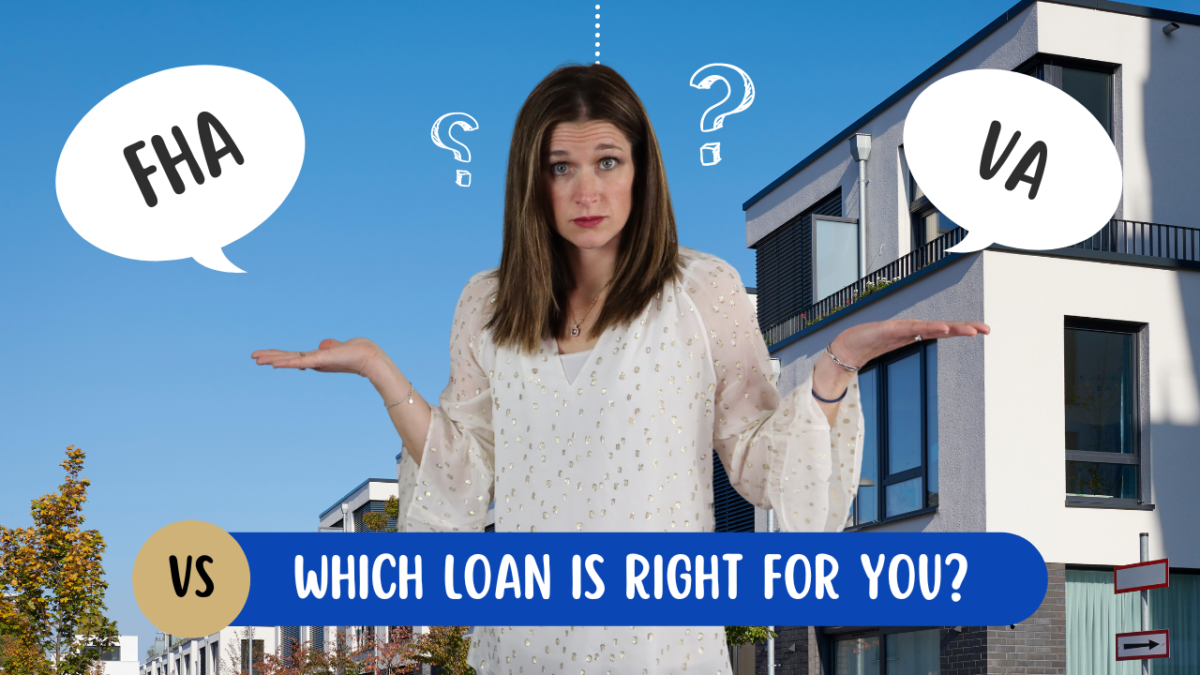 FHA vs VA Loans: A Comprehensive Comparison
.
When it comes to purchasing a home, there are a variety of loan types to choose from. FHA and VA loans are two of the most popular loan types available today, but deciding which one is right for you can be difficult. This blog will walk readers through the pros and cons of each type of loan, comparing their differences and giving readers a clear way to decide which loan type is right for them. So let's get started discussing fha vs va loans and which is the best option for you!
Understanding FHA Loans
FHA loans are government-backed loans that require only a 3.5% down payment. They also have less strict credit requirements than other types of loans, making them ideal for first-time homebuyers or those with lower incomes. On the other hand, FHA loans do come with certain restrictions; you must live in the home as your primary residence and pay mortgage insurance premiums throughout the life of the loan, but the flip side of this is that anyone can qualify and use an FHA loan to purchase and use the benefits of this loan type when purchasing.
If you would like to learn more about how to use an FHA loan to purchase your next home or some of the unique rules and guidelines that come with FHA loans, make sure to check out our "Ultimate Guide to FHA Loans"
The one caveat to FHA loans is when we are talking about veterans.  Anyone who has earned the right to use their VA benefits and qualify for a VA loan, should consider a VA loan over any other type of financing, including FHA.  Unfortunately, there are many loan officers and banks that do not understand the differences of these two mortgage types, and they unknowingly use an FHA loan with a qualified veteran.  Keep reading on to understand why FHA loans should only be used with veterans as a last resort.
Types of FHA Loans:
FHA Purchase loan- 203B

FHA Refinance

FHA Streamline Refinance

FHA Renovation Loans- 203K
Exploring VA Loans
Now let's get a high level overview of what a VA loan is.  VA loans are backed by the U.S. Department of Veterans Affairs and offer veterans and active military members an opportunity to purchase a home with no down payment required. They also do not require any private mortgage insurance premiums throughout the life of the loan, making them an attractive option for those looking to save money on their monthly payments. Like FHA loans, VA loans typically have an added closing cost that Conventional and non Government loans do not have, Funding Fees.  Borrowers should keep this in mind when deciding which option is best for them.
Eligibility for VA Loans
It might surprise you to learn that not every single veteran qualifies for a VA loan.  There are some standard minimum active-duty requirements that need to be met in order to use these benefits.  The requirements vary based on if you are a service member or veteran and when you served.
The best way to find out if you qualify is by requesting a COE or Certificate of Eligibility.  You can request a COE online right now on eBenefits.
When you go to the eBenefits website, you may need to sign in with your Premium DS Logon account. If you don't have a Premium account, you can register for one there.
Learn more about how to request a COE or contact your loan officer, who can also assist in requesting one for you.
Service Members– who have served for at least 90 continuous days (all at once without a break in service) meet the minimum requirements
Veterans- will need to look up when you serve.  You can find this information on the VA website here  (excluding those that served between 8/2/1990 to present) must meet the following requirements:
At least 90 days of non-training active duty service OR

At least 90 days of active-duty service including at least 30 consecutive days OR

6 creditable years in the National Guard and you were discharged honorably or placed on the retired list
Reserve Members
Surviving Spouse of a Veteran or spouse of a veteran who is missing in action or being held prisoner of war
There are still some service members who don't qualify based on the information above but don't give us yet.  There are some workarounds to this if you can prove you were discharged for one of the following reasons:
You must have been discharged for one of these reasons:
Hardship

The convenience of the government (you must have served at least 20 months of a 2-year enlistment)

Early out (you must have served 21 months of a 2-year enlistment)

 

Reduction in force

Certain medical conditions

A service-connected disability (a disability related to your military service)
Different Types of VA Loans
VA Purchase loan

VA Refinance

IRRRLs- Interest rate reduction loans

VA Cash-out refinance

Manufactured home loans

VA Renovation loans
What we are comparing:
FHA Loan
VA Loan

Down Payment

3.5%

0 Down

Interest Rate

Varies with the market

Varies with the market

Funding Fee

1.75% of the loan amount

** See chart below labeled Appendix 2

Mortgage Insurance

.85 and is paid for the entire 30 years (and even if putting 20% down)

Never any mortgage insurance

Borrowers & Co-Signers

Non-occupying Co-signer is allowed to qualify

Spouse is only allowed on the loan (with one exception)

Income & Jobs

2 year job history is required, but not in the same line of work

VA requires 2 years in the same line of work, and uses a residual income calculation as a 2nd safety guard against default

Property Inspection

Safety items are main concern, with rules around well & septic

Property Types

1-4 Units

1-2 units

Appraisal

FHA appraisal remains with property for 120 days

Documents Needed

DD214

Certificate of Eligibility

# of loans allowed at the same time

1, exceptions for 2

Can have as many as eligibility allows
Let's break down each of the items compared in the chart above, to understand what the impact will be on you and the mortgage you choose.
Down Payment:
One of the best features of VA loans is that it does not require a down payment.  This gives veterans the ability to purchase a home before they have been able to save a nest egg, or not use their nest egg if they choose not to. 
VA Loan Pro Tip:  If you are a veteran and you have money saved but are trying to decide if you use any of your savings for a down payment, look at the table in Exhibit 2 where it outlines the funding fee amount when putting 5% or more down.  The funding fee is reduced both for 1st time VA users, but the savings is the most for repeat users.  In the example with a $200,000 loan amount, you would be saving $3,900 by putting down a little bit by choice.
What is a
VA funding fee

and will I have to pay one?

If you're using a VA home loan to buy, build, improve, or repair a home or to refinance a mortgage, you'll need to pay the VA funding fee unless you meet certain requirements.  The funding fee is a cost determined by the Veterans Administration, that is collected and helps to fund the VA loan program and all of its benefits to the veterans that use it.  

The VA funding fee amount changes based on their disability status,  the amount of times the veteran has used a VA mortgage, and also on how much of a down payment the veteran decides to use.  This is different than with FHA loans, where the FHA MIP (Mortgage Insurance Premium) is always 1.75% of the loan amount.  Even if a buyer is putting 20% down, they will have to pay the 1.75% MIP charge when using an FHA loan.
You won't have to pay a VA funding fee if any of these descriptions are true for you:
You're receiving VA compensation for a service-connected disability

You're eligible to receive VA compensation for a service-connected disability, but you're receiving retirement or active-duty pay instead

You're receiving Dependency and Indemnity Compensation (DIC) as the surviving spouse of a Veteran

You're a service member who has received a proposed or memorandum rating before the loan closing date that says you're eligible to get compensation because of a pre-discharge claim

You're a service member on active duty who, before or on the loan closing date, provides evidence of having received the Purple Heart
https://www.va.gov/housing-assistance/home-loans/funding-fee-and-closing-costs/
Appendix 2: VA Funding Fees
| | | | |
| --- | --- | --- | --- |
| First VA loan use | If Downpayment is | VA Funding Fee | $ Amount on a $200,000 Loan |
| | < 5% | 2.3% | $4,600 |
| | 5% or more | 1.65% | $3,300 |
| | 10% or more | 1.4% | $2,800 |
| 2nd+ VA loan use | < 5% | 3.6% | $7,200 |
| | 5% or more | 1.65% | $3,300 |
| | 10% or more | 1.4% | $2,800 |
Mortgage Insurance
The second biggest advantage of VA loans is the fact that no matter what down payment a veteran chooses to use, there is no mortgage insurance on VA loans.  This benefit alone saves veterans thousands of dollars in a single year.
If a veteran is purchasing a home for $200,000, assuming interest rates and everything else is the same,  the amount of mortgage insurance that will be charged on the FHA loan, which doesn't exist on the VA loan,  is approximately $137 /month.  This alone adds up to
$ 1,644  each year
$ 16,440 over 10 years
$ 49,320 over the life of the loan
And this is not taking into account the opportunity cost and what that amount monthly could add up to if invested in other ways.
Applying for FHA & VA Mortgages
One of the biggest differences between FHA & VA is around who is allowed to be on the mortgage and help qualify.  Where FHA loans were made to help Americans qualify to purchase a home, by letting non-owner occupied borrowers assist in a buyer qualifying, VA loans do not have this flexibility.  
VA loans are very strict on who is allowed to be on a VA loan.  Only the Veteran and a spouse are allowed on VA loans.   Veterans cannot request to have their fiance, parents or children on VA loans.
Income & Job Requirements
There is a reason why VA loans have one of the lowest default rates of any type of mortgage in history, and it is because of the guidelines set around income.
Property Inspections & Appraisals
Another difference between these two government loans is the Appraisals and inspections required.  While both FHA and VA agencies prioritize safety when insuring a property, there are some conditions that only apply to one or the other.  Here are a few examples of some differences.
| | | |
| --- | --- | --- |
| | FHA Loan | VA Loan |
| | | |
| Pest Inspection | Not required unless the appraiser requests | Always required |
| Well & Septic Distances | | |
Finally, the appraisal ownership is very different for FHA and VA loans.  When a home goes under contract with an FHA buyer, the house is assigned an FHA case number.  The appraisal is identified with this case number and the report and value are tied to that house for 120 days, even if one buyer walks away and a new buyer takes over.  The same appraisal must be used if using an FHA loan.
A VA appraisal is not attached to the property, but instead to the Veteran.  VA loans have some of the most attractive appraisal flexibilities of all loan types on the market.  If the appraisal comes back and the value is low, the veteran can request the VA to review the appraisal with a 2nd appraiser.  If this 2nd appraiser agrees with the veteran, the VA will ensure a lender, even with a low appraisal.
Property Types
Documents Needed When Applying for FHA & VA Mortgages
For the most part, the documentation is the same when applying for an FHA and VA loan.  The difference comes in with the VA homebuyers who have to prove that they are eligible for VA benefits.  They do this by providing:
DD214

Certificate of Eligibility

Nearest Living Relative
Number of Loans Allowed at One Time
There is a lot of confusion around how many FHA and VA loans one person is allowed to hold at one time.  I am going to give you the answer here, but then explain the gray areas that a good loan officer can work within.
For FHA loans, HUD does not like one homeowner to have more than one FHA loan at a time.  This is because the FHA loan is made to be used as an owner-occupied financing option.  If you have two homes, one of them is not your primary residence.  Where the gray area comes in is when you need to purchase a new property and it would be difficult or not make sense to sell your current home.
VA loans, on the other hand, encourage veterans to use their VA benefits on more than one home.  This makes a lot of sense for any Veterans who might need to relocate quickly or frequently and could lose money if selling their home too soon.   
With all of this being said, when it comes to choosing between an FHA or VA loan, it's important to consider your individual needs and financial situation before making a decision. Both options offer unique benefits depending on what kind of borrower you are—so take some time to research both choices before committing to one type of loan over another! With that said, both types of loans can be great options for those looking to purchase a home without having to put money down or worry about private mortgage insurance premiums throughout the life of their loan. Ultimately, selecting either an FHA or VA loan can make homeownership more accessible—so start researching today!
Mortgage Consultation Today!
Talk to a Co/LAB Lending Loan Officer to discuss your mortgage options. Our team is happy to answer your questions and help guide you to the perfect mortgage options.