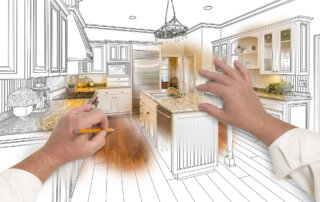 Four Helpful Things To Consider When Deciding To Renovate Home… or Buy New?
.
Almost all homebuyers come to a crossroads at which time they must ask themselves, should I buy new or renovate our current home? While initially, it would appear that these are the only two options, in reality, there are four:
Renovate your current home
Buy a new house
Build new
Buy a new house that needs renovations
Stacy Santos, Seller Representative Specialist (SRS) at Marsha Marsh Real Estate Services and seasoned house flipping veteran is here to give us some insights into the payoffs and pitfalls of home renovations.
1. Budget is The Big One
"Homeowners need to ask themselves about their budget, number one. I recommend a 10 to 20 percent cushion when deciding to renovate" Stacey advises homeowners and buyers. "Don't budget yourself so tight, because something always comes up."
Previous homeowners may have camouflaged their shoddy craftsmanship behind a layer of drywall, behind cupboards, under tiles etc., leaving the next home buyer or current owner to move plumbing, redirect heating ducts, replace electrical wiring, and take on other unforeseen snags.
"It's helpful if you've done the renovation in the past so you know what it costs. Or, work with an agent that has done renovations who can say, 'you need to allocate $10,000 here and $5,000 on floors,' or whatever it may be. People who haven't done these kinds of projects don't know what renovations cost so they're walking in blindly," Stacey says.
In fact, about 31% of homeowners go over budget, according to 2016 survey by Houzz. Moreover, the average expenditure of homeowners who exceeded their budgets was $31,100 over their more frugal counterparts.
"If you're not finding a home that is already renovated in your budget, then sometimes it's fun to go down 30, 40, or 50 thousand dollars and then put that money you saved into renovating the home. You can play around like that a little bit," Stacey asserts.
2. Location is Crucial
Have you ever heard the phrase "location, location, location?" This mantra couldn't be more apropos than when making your decision to renovate or find a new home. "Location is very important, you don't want to over-renovate something that is next to an airport or on a busy road," Stacey says.
While you want your home to be comfortable, resale should always be a consideration when remodeling. If you're never going to be able to recuperate the cost of your renovations than it's probably not such a good investment. "I prefer to buy cheap in a nice location and renovate it myself," Stacey divulges, "You can get more bang for your buck if you renovate versus building new or even buying a home that's already renovated."
3. Timing Is Everything
"It's going to depend on the time you have. It's hard to move into a home that you plan on remodeling. Living in renovations is especially difficult if you have children," Stacey says.
To ensure both your sanity and safety during renovations, here are some great tips from This Old House:
Keep painter's masks on hand to protect yourself from dust
Eat healthy and avoid eating fast food and take out regularly
Get "Do Not Disturb" signs to mark off areas of the house
Be a part of the transformation
Be appreciative to contractors
4. Small Changes Make a Huge Different
"Curb appeal is really important," Stacey says. "Add a little dimension with a porch, landscaping, a new front door, your lights… make it look really pretty and inviting." According to research by HGTV, landscaping is the second most important home renovation to maximize return at resale. While it may seem like an insignificant redo, the average return at resale is 100%, meaning if you invest $2,000 in the great outdoors, you'll walk away with $4,000.
"New kitchens and baths are going to be where most of your money is spent," says Stacey. "But I'm finding that buyers are okay with freshening those up. If the cupboards are older, I see people paint them, put new hardware on, and adding a fresh countertop." It turns out, Stacey's right; while kitchens and baths are generally far more expensive than landscaping, they only offer a 2% higher return on investment.
Taking the Renovation Plunge
"My advice to people thinking about renovating their current home is to keep up with their projects. Have a fund that you can put on the side to do a project a year, big or small," Stacey advises. Often, playing catch up after years of stagnant homeownership can become a huge hurdle come sale time. As such, a good strategy it to pick one project every year to keep your home updated, fresh, and if needed, fit for sale.
"My advice to people looking to buy something that they're planning on renovating versus buying something that is already renovated is this: if you don't have any desire for the work, then definitely look for something already finished … You need a lot of patience while you're renovating."
Although renovations are a massive undertaking, there are some intangible payoffs that can make it truly worthwhile. "When you renovate something yourself, it's a huge accomplishment," Stacey asserts. "And it's fun—it makes the home something that you can be proud of."
Know When You Need Help
If you are new to renovations, make sure you find a good real estate agent that can guide you through the process. A Realtor with a background in renovations can give you a good idea of the cost of remodeling, estimated resale, and possible problems with the property.
Remember, remodeling can be pricey. To make sure you have the best loan selection possible, find a mortgage company that can find a mortgage that fits your individual needs and goals.
Mortgage Consultation Today!
Talk to a Co/LAB Lending Loan Officer to discuss your mortgage options. Our team is happy to answer your questions and help guide you to the perfect mortgage options.