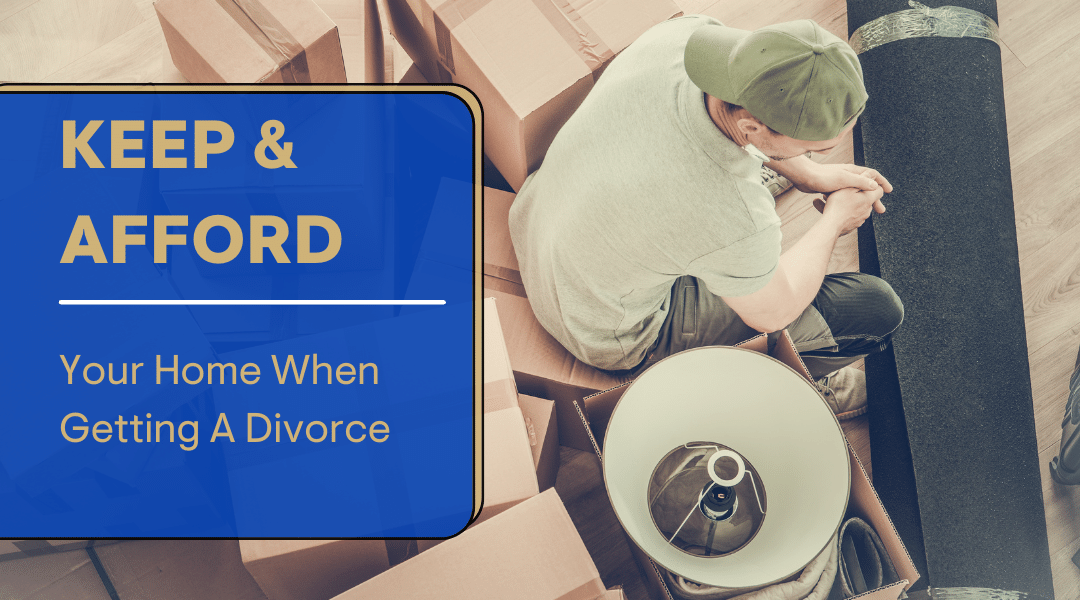 How To Keep and Afford Your Home When Getting A Divorce
I was born to be a mortgage broker and to serve others and I do it the best way I know how; through assisting those who dream of buying a home. My team and I Serve new homebuyers, repeat buyers, empty nesters, growing families, retirees, families who need to renovate their current home and even those who may be going through difficult times in their life, like divorce. I never like to see these types of situations but the fact is they are a reality and I do my best to make this part of their life go as smoothly as possible.
Often times, someone getting divorced comes to our office in need of help. Usually, they are a bit scared and even more stressed about the process of splitting up their assets and possibly losing their home. They are unsure, lost and confused about their options. They want to keep their home but don't know if it is possible. Most aren't even certain they can afford it. Will they be able to pay their spouse off too? Unlike bank accounts or 401ks, a house can't be split down the middle. It's more complicated than that. The advice typically given to the couple getting divorced is to sell the home and split the proceeds. Seems simple enough, but for many this means uprooting children from schools, leaving friends and neighbors and leaving a home they love. They don't want to do that.
I love helping people and part of my job is consulting homeowners going through a divorce with this decision. My team and I take great pride in helping families the best decision for themselves. I advise them by laying out for them their options.  Most people in the middle of divorce have no idea that there are multitudes of loan options available to them for home financing. You can keep your house and live in it too!
Avoid A Disastrous Outcome With Your Home During Divorce
Divorce can be ugly. However, if you are in a situation where you want to stay in your home first know that you have options. Start by speaking with a mortgage expert that can explain them to you and help develop a plan. In most divorce decrees, the couples have 90 days to sell the home or have one of the parties secure financing, put the home in their name and pay out the spouse that is leaving. If you walk into the wrong bank and speak to a loan officer who has little experience with divorce situations the result can be disastrous. That mistake could cost you thousands that you weren't anticipating.
I'll explain.
Most banks will only give you cash out up to 80% of the home's value. Below is a working example of how that would affect you.
Five (5) years ago you and your spouse purchased a home for $90,000. Today, the value of the home is $100,000 and you owe $70,000 on the mortgage. This means you have $30,000 in equity. Divorce laws vary from state-to-state but many states order spouses to split the equity. Assuming a judge orders an equal split you, as the buyer of the property, would owe $15,000 to your ex-spouse.
A traditional bank or inexperienced loan officer will start your loan, get the appraisal back at $100,000. The bank will lend you $80,000.
Now you have an $80,000 new loan. $70,000 pays off the joint mortgage, leaving you with $10,000. But, don't forget there are $3,000 of closing costs to you and now you have a total of remaining cash amount of $7,000. You owe your spouse $15,000. You're short $8,000!
This doesn't seem right or fair. You're still left in debt.
Walk Away With A Better Outcome During the Divorce
Finding the right loan officer can make a huge difference in the outcome outlined above. I just worked with a soon to be divorcee who went through this exact scenario. I'll call her Cathy. Cathy listed the home for two (2) months. It didn't sell so she tried unsuccessfully to refinance. Four (4) months later she was at risk of losing the home her and her children loved and didn't want to leave.
Experience had me asking her better questions about the home that most traditional or inexperienced loan officers would consider. I discovered that since the time they bought the home new they installed new flooring, and upgraded the bathrooms and added a new roof. They spent a total of $20,000 in upgrades. The previous lender never asked about the home's history, but I did because it matters.
Although Cathy was still feeling a bit hopeless and a bit reluctant she allowed me to get her started with the process of trying to keep her house. This was her second time doing so. The previous lender failed to put together a plan that worked. My team and I understood how difficult this was for Cathy and her family and we did everything we could to put her mind at ease. We carefully evaluated her entire situation and put a plan in place. Our experience told us Cathy's story would have a happier ending this time.
We ordered the appraisal and sent the appraiser the list of upgrades. This helped us secure a value of $105,000 this time ($5,000 more than the previous appraisal). In addition, because we are a mortgage broker we had programs from our lender partners that allow cash outs during divorce for up to 90%. You won't find that opportunity at any bank.
This time Cathy's result looked a lot different.
She now has a $94,500 new loan. $70,000 pays off the joint mortgage, leaving her with $24,500. There was $4,000 in closing costs. She had a remaining $20,500 to pay her spouse. It was enough to cover the $15,000. Cathy walked away with $5,500 she could use to pay off other debts, use for the kid's school, upgrade a part of the house, or any other number of things.
Cathy's road to this point had been a stressful one over the course of six (6) long months. When she finally closed it was a big sigh of relief. For my team and I, we were happy to see the stress wash away from her face the minute after she signed the last document.
If you or someone you know is currently going through a divorce and have questions about how we can help talk to one of our experts. Simply give us a call or request us to reach out to you by completing our free consultation request form.
Tags In