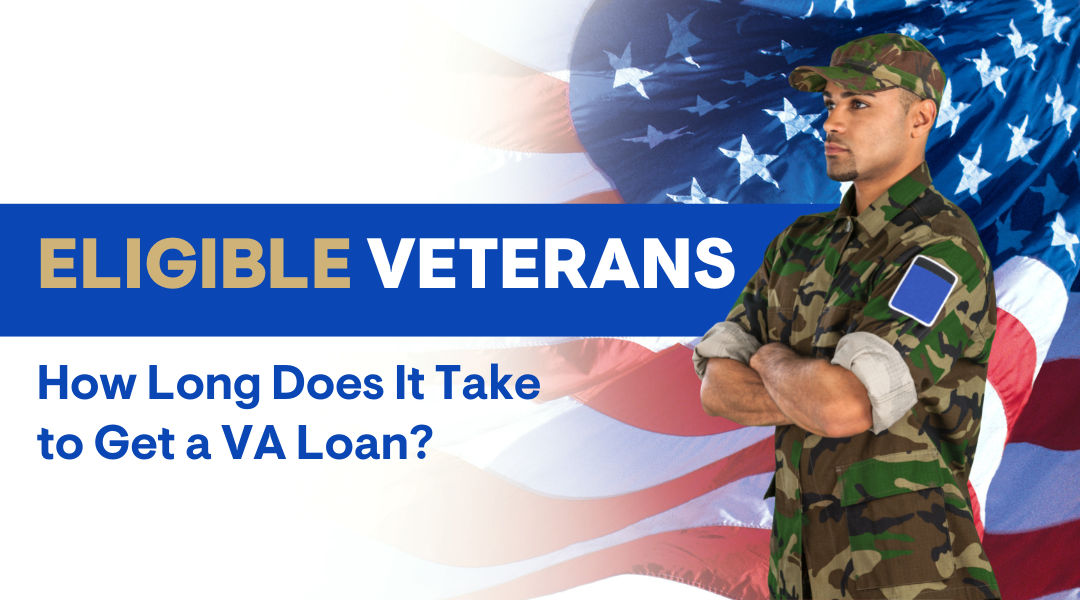 VA Loan Process: Timeline & Tips to Speed it Up
.
Eligible veterans often wonder how long it takes to get a VA loan. The answer depends on a number of factors, including the type of loan you're applying for and the lender you're using. In general, though, you can expect the process to take several weeks. Keep reading to learn more about the timeline for getting a VA loan and how you can speed it up!
Understanding the VA Loan Application Process
Eligible veterans often wonder what their VA home loan benefits are and how long it takes to get a VA mortgage. The answer depends on a number of factors, including the type of loan you're applying for and the lender you're using. In general, though, you can expect the process to take several weeks. Keep reading to learn more about the timeline for getting a VA loan and how you can speed it up!
The first thing to review is who is eligible for VA-backed loan options, assuming you have met the service requirements:
Active-duty service members – YES
National guard – YES
Surviving spouse – YES
A family member of a veteran – NO
Girlfriend or fiancé of a veteran- NO
How long does the application process take for a VA loan?
You may be curious about how long it takes to close a VA loan, and how different is it from conventional loans and other government loans. The VA loan program loan process involves several different steps, including working with a VA lender, VA appraisal, and the U.S. department of veterans affairs. While the exact timeline can vary depending on individual factors like credit score and location, generally speaking, it usually takes about 1-3 months for the entire application process for a VA loan to be completed when buying a new home. Ultimately though, timelines may depend on each particular VA lender's specific policies and processes, so it is important to reach out with any questions to the VA lenders you are considering using to help you get a mortgage.
No matter which lender you ultimately use, there are a number of steps that all VA loans go through that are listed below:
VA loan preapproval (should be completed before you have a sales agreement because it will guide you with the price range and va loan requirements you need to understand)

Applying for the VA loan (in order to get the most favorable terms, it is smart to check with more than one lender or use a mortgage broker who has multiple lenders to compare)

Submitting documentation and paperwork to the lender

Home appraisal ordered

Underwriting review to determine approval

Conditional Loan approval (this is good news!  The bank has agreed to give you the loan as long as you can get the additional information they need)

Retrieving loan approval requests

Appraisal, Title & Insurance complete & received by underwriting

Finalizing the closing documents

Signing of documents and receiving funds from lender

Making the first mortgage payment
Documentation Required for a VA Loan Application
VA loans are a popular financing option for veterans and active military members, but it's important to understand the purchase agreement that is part of its application process. A VA loan requires a VA certificate of eligibility and proof of income, but there are other requirements that need to be fulfilled before you can take advantage of the generous benefits offered by this type of loan. Beyond credit score checks and verification from employers, lenders may also ask for additional forms or documents that could prolong the application process. To ensure your purchase agreement is successfully processed, it's essential to prepare as much documentation as possible before you start the process.
VA loans require approximately the same documents as other loan types, with the addition of a few VA specific forms & copies:
DD-214 (Member 4 Copy)

Certificate of Eligibility (COE)

Proof of Income

Recent Pay Stubs

Tax Returns and W2s from the Previous Two Years

Bank Statements from the Previous Two Months

Statement of Service

Clear Credit History with a Minimum Score Requirement

Divorce Decree or Separation Agreement (if applicable) 10.- Valid Photo ID
Eligibility Requirements for VA Loan Applicants
Many veterans are interested in taking advantage of a VA loan, but don't necessarily know the minimum requirements needed to be eligible. To begin with, it's important to know that all service members must meet minimum property requirements for a home in order for the loan to be approved. This means that the condition of the house needs to such that it would qualify as livable and safe.
Credit requirements also exist when applying for a VA loan; however, lenders can be more lenient with minimum credit score still requiring approval on non-traditional credit sources such as rent and utility payments.
The biggest difference between VA loans and other types of loans eligibility is with the income & employment guidelines.  VA loans require the veteran to be working in the same line of work for a minimum of 2 years before they can get approved for a VA insured loan, where other loan types, FHA for example does not require borrowers to be in the same line of work but rather have a 2 year employment history.
One other step the VA takes on all loans they insure is that Veterans must pass a residual income test.  This means that not only do underwriters look at straight debt-to-income ratios, but they also perform this second income check to make sure the veteran will be able to pay all of their bills, not just their credit report bills.
Here is an example of what it looks like when calculating the debt to income and residual income for a veteran that has a household of 4 people: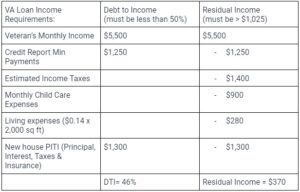 How long does it take to get approved for a VA loan after the application is complete?
Have you ever wondered how long it takes to be approved for a VA loan? The application process can be daunting on any mortgage, and VA loans are no exception. However, the great news is that the VA timeline is usually much shorter than one might expect. Applying and using a VA loan when you purchase takes no extra time than other loan types, like FHA or Conventional.
After your application is complete and the purchase agreement is signed, approval can take anywhere from a few weeks to 45 days until the actual closing date. Therefore, if you're looking to buy a home with a VA loan, be patient but also know there are great lenders available who will work with you to make sure that your application process is as smooth as possible.
Once approved, how long does it take to close on a VA loan and get funding from the lender?
When it comes to closing on a VA loan and getting the funding you need from the lender, many people want to know exactly how long they can expect the closing process to take. Typically, closing dates are agreed upon during the negotiation and sales agreement signing stage – however, additional requirements may be necessary in order to meet closing deadlines, so don't hire moving trucks just yet. Each situation is different and can affect closing time for VA loans; however, with the right guidance and expertise, most individuals should expect to have their closing finalized within 30 days of approval.
It's no secret that the VA loan process can be a lengthy one, but it can also be very efficient and fast if you help your loan officer and lender. The application process can take anywhere from days to weeks, depending on how quickly you can provide documents like your DD214. VA loan eligibility is quite strict and each applicant's personal financial situation must meet the requirements set forth by the Department of Veterans Affairs. Getting approved for a VA loan could take time as well, so it's important to have patience during this process. Then once approved, it usually takes between 20 to 30 days to fully close on the loan and schedule the day the title company and seller will receive funds from the lender.
Tips to Speed Up the VA Loan Process
If it is important for you to have your VA loan approved and closed in a fast timeline, there are things that you can control in the process, as well as factors to be aware of that, are out of your control. 
Things you can control during the VA loan process:
Believe it or not, our team has processed VA loans that have taken only 15 days from application to close!  This is record timing and for one main reason, amazing Veteran homebuyers!
Locate and have your DD214 or Certificate of Eligibility ready now, not when you find a house

Apply for the loan immediately and within a day or two of having an executed sales agreement

Provide any documents or answers to questions within 24 hours of requests from processors and underwriters.

Title & Insurance Agent you choose – discuss with your loan officer
Things that you cannot control during the loan process:
Appraisal Results & repairs needing complete

Title Issues that can arise

VA loan center speed of help if you need to pull them into your loan process
Although there is a certain difficulty involved with getting a VA loan, many people find that it's worth it for what it provides in terms of benefits and financial peace of mind in the long run.
Mortgage Consultation Today!
Talk to a Co/LAB Lending Loan Officer to discuss your mortgage options. Our team is happy to answer your questions and help guide you to the perfect mortgage options.